Supporters, critics of A's ballpark plan speak out in 5-hour hearing
Updated May 30, 2023 - 7:03 am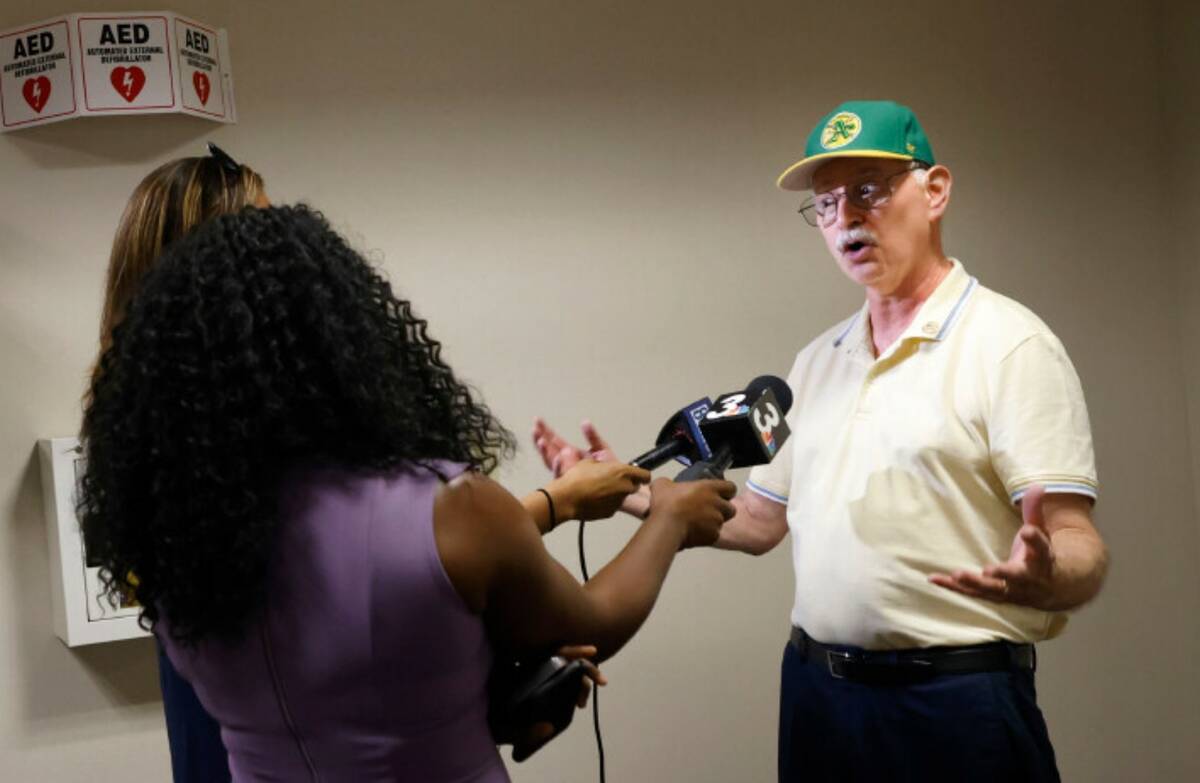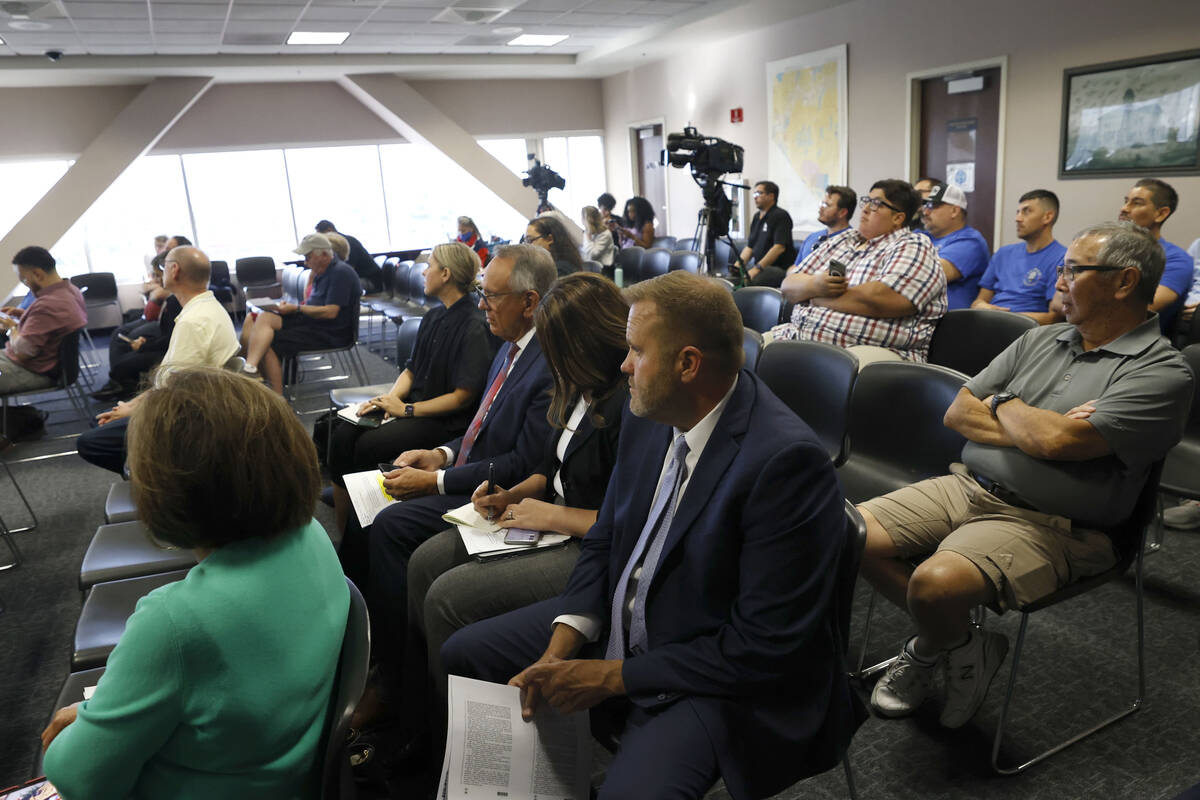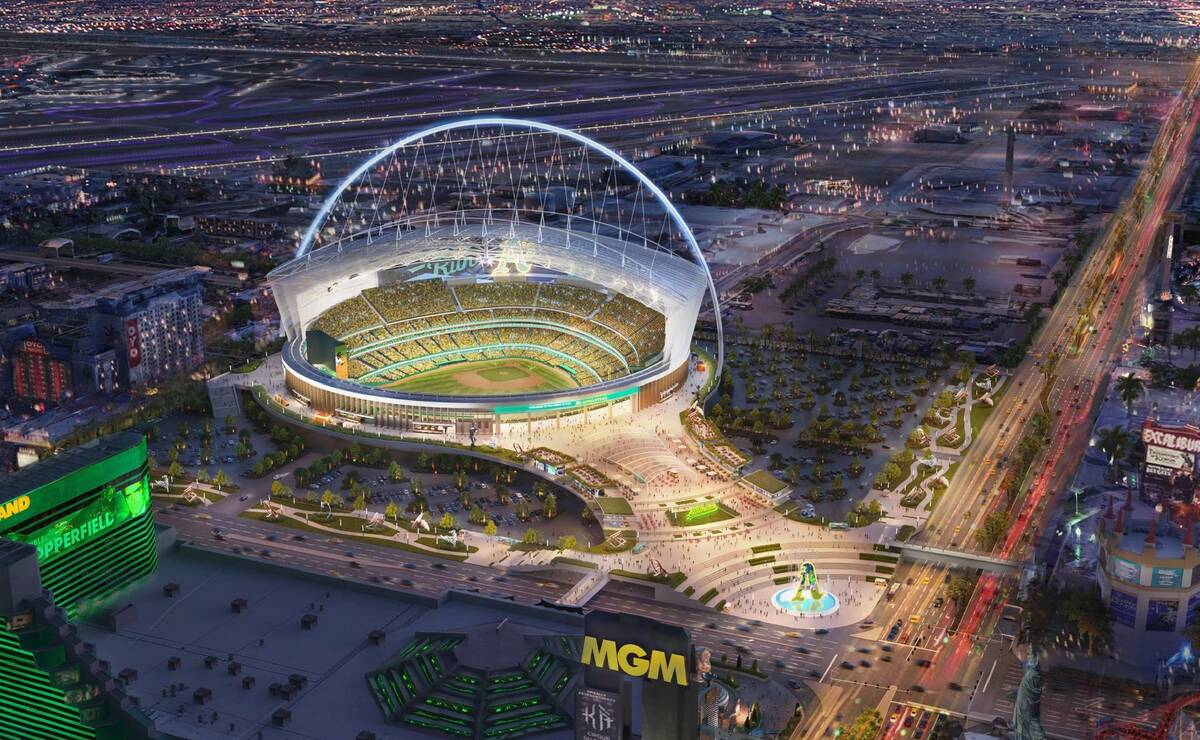 CARSON CITY — A plan to bring the Oakland Athletics team had its first chance to be publicly vetted by both lawmakers and members of the public Monday night in a meeting that lasted more than five hours.
Legislators directed dozens of questions at presenters of Senate Bill 509, a highly anticipated bill that would provide the baseball team with up to $380 million in tax financing for a $1.5 billion, 30,000-seat, partially retractable roof stadium. The ballpark, which the A's are expected to put no less than 1.1 billion into, would be located on the Tropicana site.
Although Gov. Joe Lombardo wasn't present at the joint meeting of the Senate Finance Committee and the Assembly Ways and Means Committee, his chief of staff Ben Kieckhefer kicked off the hearing.
"Las Vegas has proven itself as a professional sports town," Kieckhefer said. "We believe that adding Major League Baseball to Las Vegas Boulevard is the next logical step in that evolution."
The bill, introduced late Friday night after weeks of anticipation, would require the state to contribute $180 million in transferable tax credits. Clark County would fund $145 million of the project, $120 million of which would be generated by a tax district surrounding the area on which the stadium will be built.
State Treasurer Zach Conine, who helped present the bill, said the proposal is result of "negotiations and some tough conversations."
"The project would be sustained by revenues generated within the sports and entertainment improvement district," Conine said. "The state has limited its exposure throughout this project, making this a much more favorable deal to Nevada than we've seen in some other economic development projects."
The proposed stadium would be MLB's smallest ballpark, following the trend of stadium capacity getting smaller over the last several years.
The stadium size could create "an opportunity to drive demand," said presenter Jeremy Aguero, an analyst with Applied Analysis.
"What the A's are talking about doing is building a facility that is configured and designed to the size of demand," he said.
Compared with any MLB stadium built in the last century, the A's share of the cost to build the stadium would be the largest of any that included a public-private partnership.
The A's would provide the first $100 million towards construction costs, with the public paying the final $50 million.
The A's would be required to enter into a 30-year nonrelocation agreement in place, tied to the time frame that the bonds would be taken out by the state and county to finance the public portion of the stadium.
To ensure the public isn't on the hook for potential tax shortages to make the bond payments, the project will require essentially four years worth of bond payments in a reserve fund. Those funds would be able to make payments over that time if $0 in tax revenue was being generated on-site.
Gaming Leisure and Leisure Properties Inc., which owns the land the Tropicana sits on, would transfer ownership of the 9 acres to the A's ahead of construction. That land is valued at $180 million, according to Tropicana owner Bally's Corp.
Las Vegas Convention and Visitors Authority CEO Steve Hill, who co-presented the bill, said the location would be "an iconic spot" and that there would be "no place better in the world" to watch a baseball game.
Following construction of the ballpark, the A's would transfer the land and ballpark to the Las Vegas Stadium Authority, making it a publicly owned stadium.
The stadium authority would oversee the development, construction and operations of the stadium, similar to how the Allegiant Stadium deal is run.
As A's President Dave Kaval has noted in the past, the A's relocating to Las Vegas would not see their Triple-A affiliate, the Las Vegas Aviators, move out of the market. The A's see value in having both their MLB and high minor league team in the same market, with the A's playing at Las Vegas Ballpark in Summerlin.
Access
With the A's ballpark set to be on the Strip, the team noted that walking would be a major mode of transportation to the ballpark. Several parking garages surrounding the Tropicana site, mainly under the MGM Resorts umbrella, could be used for game day parking, similar to events at Allegiant Stadium, which is located just west of the south Strip.
The planned Boring Company Vegas Loop is also noted as a prime transportation option, with stations planned for the northwest corner and southeast corner of the ballpark site.
The project will be considered "high impact" by Clark County, Hill said. Despite that, the stadium's location will make it "walkable."
"Because of where the stadium is located, it will be one of the, if not the most, walkable stadium for attendees of games and concerts and other events," Hill said. "A third or so of the attendees at these games will walk from where they are staying in Las Vegas."
The A's plan to host 95 ticketed events at the ballpark each year, with 82 events being A's home games. Plans call for five concerts, three other sporting events, five community events and other events to be determined. Potential events noted by the A's include the WWE's Royal Rumble and Summer Slam, XFL games, MLS games, rugby matches, an MLB All-Star game and potential college matches.
Those events could lead to 2.6 million annual visitors to the ballpark, of which 762,000 would be from out of town and 405,000 being considered incremental visitors.
Jobs
The stadium will generate thousands of jobs, according to the team. The construction phase would generate more than 14,000 one-time jobs, tied to nearly $900 million in wages. The stadium would annually employ more than 8,000 people, with wages and salaries tied to those jobs adding up to $437 million.
During ballpark construction nearly $39 million in tax revenue would be generated. Once operational, the ballpark would generate $17 million in tax revenue. Nearly $11 million via sales and use tax, $2.8 million via modified business tax and $3.3 million deriving from other taxes.
Allegiant Stadium was projected to lead to a $620 million economic impact annually. The Raiders home stadium has smashed that projection, seeing a $1.8 billion economic impact last year.
Allegiant led to $21.7 million in room tax revenue in 2022, $31.3 million in sales tax, $14.5 million in gaming tax, $5 million in live entertainment tax and $5.3 in transportation taxes.
Presenters fielded multiple questions from lawmakers who pointed to low attendance at A's games.
"Their attendance is abysmal," Aguero said. "I don't think we should sugarcoat that in any way, shape or form. That is exactly why I think the A's are looking to find a new home. They want to bring their fanbase. They want to create new opportunities, create a new venue."
Aguero pointed to the success of sports teams, such as the Las Vegas Raiders and the Vegas Golden Knights. But Assemblywoman Daniele Monroe-Moreno, chair of the Assembly Ways and Means Committee, pushed back.
"The Golden Knights didn't cost taxpayers a dime," she said. "I think it's kind of apples and oranges in that comparison."
Support
Clark County Commission Chairman Jim Gibson, who testified in support from Las Vegas, said commissioners believe the plan's required commitment from the county is "fiscally sound."
"The county's commitment to issue $120 million in general obligation back bonds was not agreed to lightly," he said. "While I'm not able to predict with any certainty a positive outcome, I am certain that what you have before you for consideration is the best version of an agreement to bring the A's to Clark County with protected support of the public financing."
Scores of unions and labor groups also spoke in support of the bill, including the Culinary Union, Southern Nevada Building Trades Union, IBEW Local 357, the Nevada Franchised Auto Dealers Association, the Nevada Contractors Association, and others.
Opposition
But lawmakers heard more than half an hour of opposition to the bill, with many speakers raising concerns about the public financing piece of the plan.
Alexander Marks, a lobbyist with the Nevada State Education Association, called on lawmakers to prioritize education and teacher salaries.
"Why is this a priority? Why can't a billionaire do this on his own if it's so innovative?" Marks said. "Nevada has the choice to adequately fund our schools or instead give tax dollars to California billionaires. Decisions reveal priorities. Educators are begging this body and state to prioritize them."
Terri Shuman, a 64-year-old Las Vegas resident, said she has been an A's fan since she was 6. She supports the team coming to Las Vegas, but not with public funds.
She wants to see the $380 million go to Nevada's education and Time for 20, an initiative that calls for a 20 percent salary increase for teachers, a $20 per hour for school workers and an average class size of 20 students.
"There is only one more week before this session is up, and we need to get this settled," Shuman said. "It's only two more months before school starts again, and we are so shorthanded in our educators. We need help now."
Contact Taylor R. Avery at TAvery@reviewjournal.com. Follow @travery98 on Twitter. Contact Mick Akers at makers@reviewjournal.com or 702-387-2920. Follow @mickakers on Twitter. Review-Journal staff writer Jessica Hill contributed to this report.