'They should come here': Hall of Famer goes to bat for A's in Las Vegas
Updated March 20, 2023 - 7:02 pm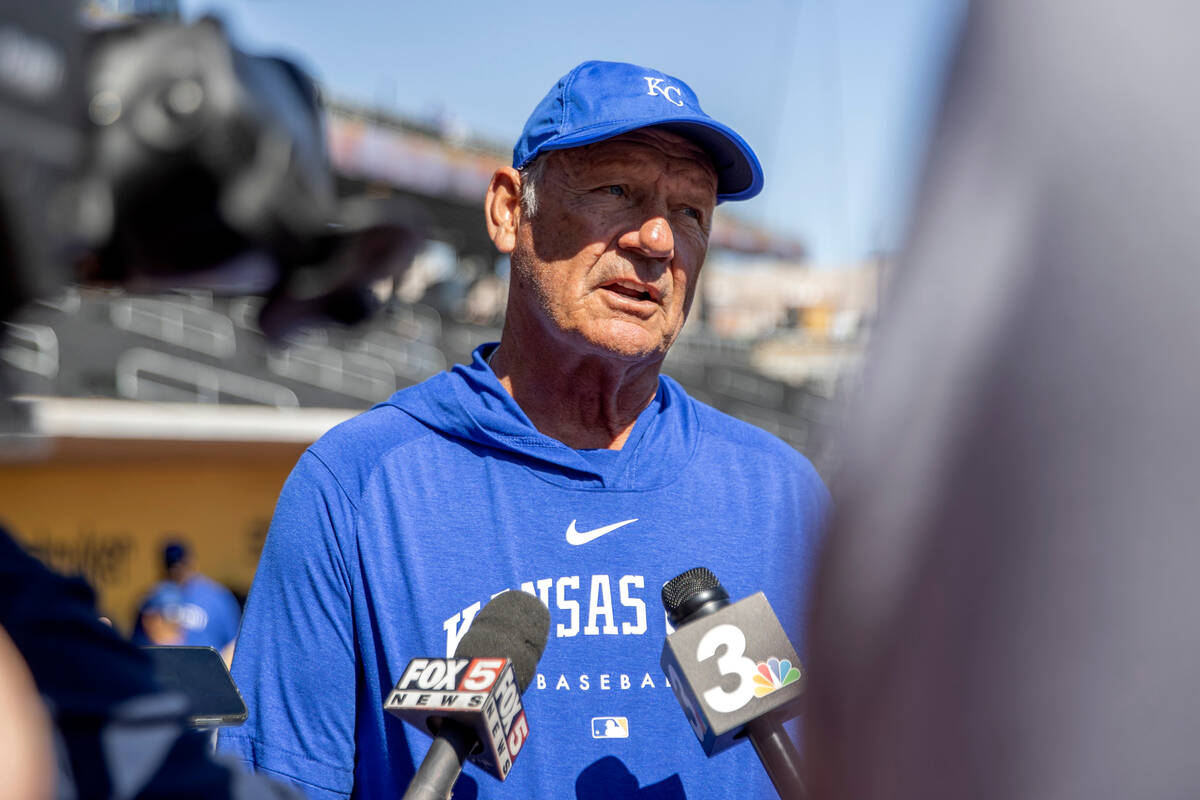 Hall of Famer George Brett loves baseball's time-honored tradition of standing around on the field during batting practice and swapping stories.
But there are some that probably shouldn't be told on the record.
"Oh, yeah, I was walking one day from The Mirage to Bellagio," he said, stopping short to laugh in acknowledgement he probably shouldn't finish that thought.
The Kansas City Royals' legend, who watched the team play the Colorado Rockies at Las Vegas Ballpark this weekend, is a big fan of the city.
To a point.
"I love this town, but I can only take it for three days at a time," he said. "Three days and I'm gone. It's the greatest city in the world but only for three days."
That would, in theory, make Las Vegas a perfect stop on the MLB travel schedule with most series scheduled for three games in three days.
Count Brett among those in support of the Oakland Athletics relocating to Las Vegas.
"They should come here," he said. "I was talking to some guys earlier, and I said if I was in the Oakland organization, I'd rather play Triple A than in the big leagues. That stadium is terrible. Terrible. And this is beautiful. And you've got Las Vegas compared to Oakland. Put it this way, I'm not going to Oakland on vacation. I'm coming to Vegas."
Those aren't just words. While Brett grew up in Los Angeles, he's now a die-hard Kansas City guy, including a strong passion for the Chiefs.
Royals manager Matt Quatraro never had been to Las Vegas, so Brett served as a bit of a tour guide Friday night, taking him to Tom Colicchio's Craftsteak at the MGM Grand.
Brett and his three sons make an annual trip to Allegiant Stadium for the Chiefs-Raiders game, and he has been coming to the city for years and loved attending major boxing cards.
It's those days that do make Brett wonder what Las Vegas would be like for MLB players in the city for a weekend series.
"I come here every year when the Chiefs play the Raiders and bring my three kids, and that's trouble. And I'm 69 years old," he said. "So I don't know what it would be like in your prime at 27 coming to Vegas."
It might not be great news for Raiders fans that Brett thinks the Chiefs are going to run the division for years to come.
"We're kind of spoiled in Kansas City having a quarterback that wears No. 15 and a tight end that wears No. 87 and having a coach that likes cheeseburgers," Brett said. "We lost Tyreek (Hill), and everybody said it wasn't going to be the same, so (Andy Reid) just devised a new offense. We had a three tight end offense for a while, and they were all good, so somebody is going to be open. They always have a good offensive scheme. Andy is a genius at that."
So Brett looks forward to continuing to come to Las Vegas to see NFL games and thinks one day soon he will be back to watch the Royals play in a new stadium on the Strip.
It just won't be for a four-game series.
Contact Adam Hill at ahill@reviewjournal.com. Follow @AdamHillLVRJ on Twitter.