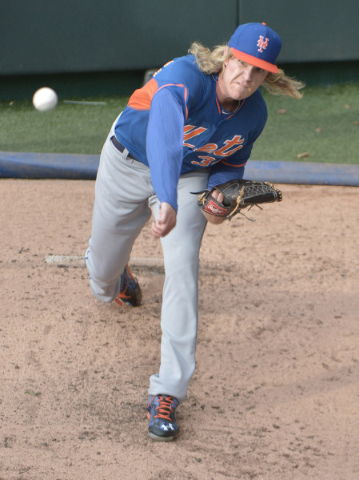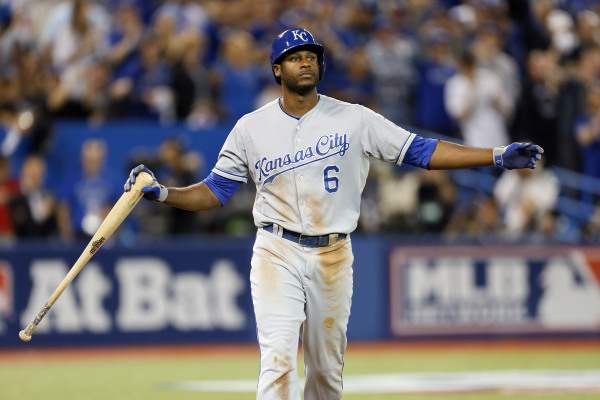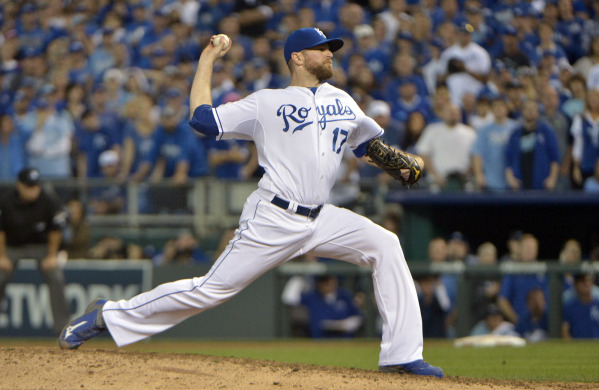 Not even Marty McFly and Biff Tannen could've predicted this World Series matchup.
Leave it to colorful South Point oddsmaker Jimmy Vaccaro to calculate the preseason odds of the Kansas City Royals and New York Mets meeting in the 2015 Fall Classic, which starts today with the Mets a minus-120 favorite in the series.
"There would've been a better chance of me winning the Nathan's Hot Dog (Eating) Contest in July," Vaccaro cracked.
Las Vegas sports books would've taken a beating on futures bets had the Cubs won the 2015 World Series — as they did in the movie "Back to the Future II" — but Chicago's absence from the series will leave a gaping hole in the betting handle.
That's just one of 10 reasons to watch the World Series.
"It's the second beauty contest. It's like Miss Clark County against Miss Universe without the Cubs," Vaccaro said. "The best matchup would've been the Cubs playing against anybody else. The Cubs would've been off the charts."
While the odds of predicting the matchup itself were astronomical, breaking down the matchup between the teams is equally challenging. Backed by their stellar starting pitching, the Mets have the clear edge on paper, but veteran handicapper Dave Cokin (smokincokin.com) said you might as well burn that paper.
"Here's the problem. Breaking down matchups, as far as the Royals are concerned, you're just going to probably lose your money," he said. "They've been doing it for two years. They outperform their numbers. They don't have dominant starting pitching, they don't have power. But they keep winning games. The whole is greater than the sum of its parts.
"If you match them up against the Mets, clearly the Mets have better starting pitching. It's not even close. And the Mets are the more powerful team. The Mets are doing everything right, but betting against this Royals team is just a dangerous thing to do. They find ways to win games. I think that will be the difference in the series."
Despite a dominant performance by San Francisco Giants ace Madison Bumgarner in last year's World Series, the Royals were one win away from winning their first world title since 1985.
The Mets are holding a pair of pocket aces in Games 1 and 2 in Matt Harvey — a minus-110 favorite over Edinson Volquez — and Jacob deGrom, but Cokin is going all in on Kansas City to win the series.
"My gut feeling up until now is this team can't keep doing this, but they've been doing it for two years. There's something magical here and I'll go with the flow," Cokin said. "This is what sports betting is about. Sometimes logic doesn't always get you to the winner's circle. If it did, we'd never lose.
"I think the Royals will win but nothing on paper says that's the case."
Besides the betting angle, here are nine other reasons to watch the Series:
2. FABULOUS LAS VEGAS 51S
The Mets had 11 former 51s on their National League Championship Series roster. Starting pitchers DeGrom, Noah Syndergaard and Steven Matz honed their skills at Cashman Field en route to the World Series, along with starting catcher Travis d'Arnaud, starting shortstop Wilmer Flores, starting center fielder Juan Lagares and starting first baseman Lucas Duda.
The others who've played here under fiery Las Vegas manager Wally Backman — a member of the 1986 Mets title team — are Kevin Plawecki, Kirk Nieuwenhuis, Hansel Robles and Matt Reynolds.
3. MURPHY'S LAW REPEALED
New York second baseman Daniel Murphy has homered in a postseason-record six consecutive games, going deep against aces Clayton Kershaw, Zack Greinke, Jon Lester and Jake Arrieta along the way. He has seven homers overall in this year's playoffs, putting him one shy of tying the record for most in a single postseason.
New Murphy's law: anything that can go out, will go out.
4. CRAZY FROM THE HEAT
Harvey, deGrom and Syndergaard are a combined 6-1 with a 2.36 ERA this postseason, with 63 strikeouts in 45 2/3 innings. According to MLB.com's Statcast, Syndergaard has thrown 16 playoff pitches that have been clocked at 100 mph or faster and his fastball has averaged 98.5 mph. DeGrom's fastball has averaged 96.3 and Harvey's 95.7 mph.
According to BaseballSavant.com, the Mets threw the most 95 mph-plus pitches this season and the Royals had the highest batting average against that heat, hitting .284.
5. RUNNING WILD
Lorenzo Cain raced home from first base on Eric Hosmer's single to score the run that sent the Royals to the World Series in Friday's thrilling 4-3 win over the Toronto Blue Jays in Game 6 of the ALCS. It was the second time this postseason that Cain scored from first on a single for Kansas City, which relies on its speed and was second in the AL with 104 stolen bases.
The Mets were 29th in the majors in stolen bases during the regular season but have nine steals in nine playoff games.
6. ROYAL RALLIES
Kansas City erased a 7-3 deficit in the eighth inning of the 2014 AL wild-card game, outlasting the Oakland Athletics, 9-8, in 12 innings. Facing elimination in Game 4 of this year's AL Division Series, the Royals trailed Houston, 6-2, in the eighth before rallying for five runs en route to a 9-6 victory.
7. CLOSING TIME
Kansas City didn't lose a beat after losing All-Star closer Greg Holland in September to a torn ulnar collateral ligament. Closer Wade Davis has compiled a 0.97 ERA since the start of the 2014 season.
New York closer Jeurys Familia tied a franchise record with 43 saves during the regular season before finishing all seven postseason wins, earning five saves.
8. CESPEDES FOR THE REST OF US
At one point this season, eight Royals players were poised to be All-Star starters thanks to their fans, who also made an impact during Friday's Game 6 when Royals fan Caleb Humphries reached out from the front row in right-center field to snag Mike Moustakas' home run ball. The umpires ruled it wasn't fan interference.
Noted Mets fan Jerry Seinfeld credits some of New York's magical run to the customized blue-and-orange Nike sneakers he had made before the start of the season. Seinfeld, who when the Mets acquired power hitter Yoenis Cespedes marveled that there was "A Cespedes for the rest of us," has been posting pictures of his magic shoes on Instagram throughout New York's playoff run.
"Working like a charm so far," he wrote. "#Florescry #Cesp-forus #Torreskick #Bartoloflip."
Fellow diehard Mets fan Jim Breuer, a Long Island native and "Saturday Night Live" alum, has been posting playoff game recap videos on Facebook. When New York beat the Cubs to advance to the World Series, a champagne-soaked, goggles-wearing Breuer shouted into the camera, "Chicago is the cleanest city in the world right now … BECAUSE IT JUST GOT SWEPT!"
9. HISTORY
Turns out McFly didn't need to fire up the flux capacitor after all to discover which teams would be in the 2015 World Series. He could've simply stayed in 1985, when the Royals outlasted the St. Louis Cardinals in seven games to capture the crown a year before the Mets beat Bill Buckner and the Boston Red Sox in seven to take home the 1986 title. Both teams clinched their titles on today's date, Oct. 27.
Neither club has won the World Series since then, so one hungry fan base will be rewarded. But Kansas City sports fans are certainly a lot hungrier for a championship than their counterparts for New York, which has been home to 11 major pro sports titles since 1986.
10. FOOD FIGHT
New York serves up arguably the best pizza in the country while Kansas City boasts arguably the best barbecue. Pie vs. ribs? Fuhgeddaboutit. Better bring back the best-of-9 format for that one.
Contact reporter Todd Dewey at tdewey@reviewjournal.com or 702-383-0354. Follow him: @tdewey33
Like Sports News on Facebook: