5-run inning sinks 51s in loss to Sacramento
September 1, 2018 - 11:46 pm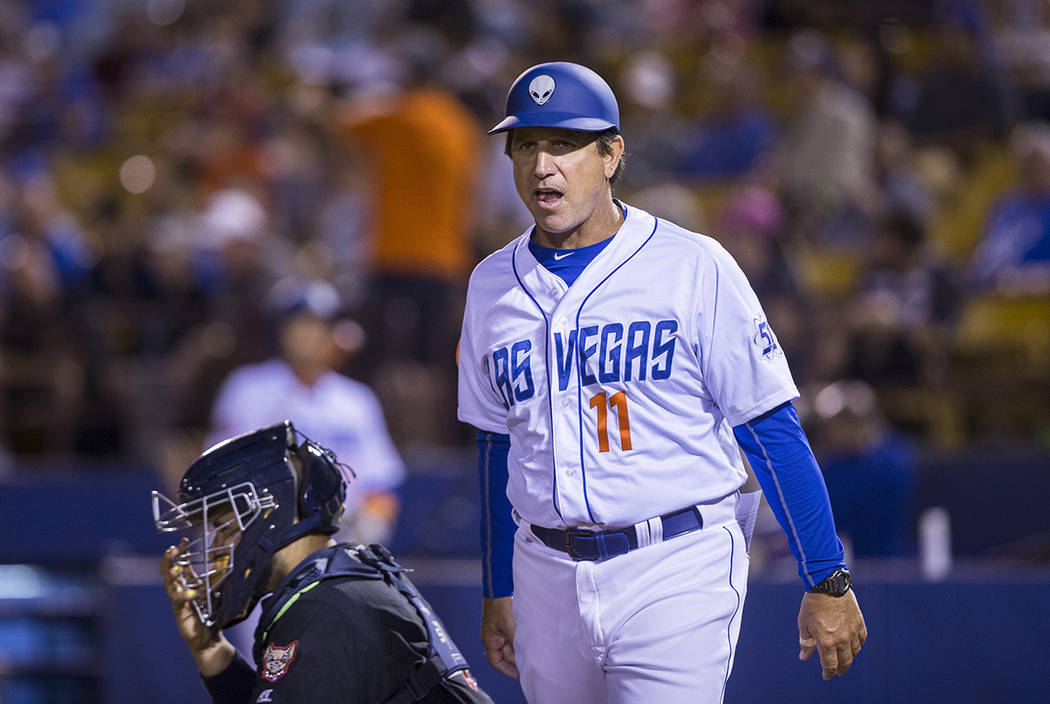 Scott Copeland had retired two of the first three batters in the fifth, allowing a single to the middle batter.
But with two outs, the trouble came.
And when it was all said and done, the River Cats had put up five runs in the inning. They went on to win 7-3 on Saturday night at Cashman Field.
Copeland allowed a walk and then a single, which cut the Las Vegas (69-69) lead to 3-2 at the time. Two runs then scored on a Dominic Smith error, which would have been the third out of the inning.
And after a single and double in the fifth, the River Cats (55-83) had scored two more, making it 6-3.
"He didn't have his good stuff," DeFrancesco said of Copeland. "He threw well early and the ball, the first base hit by (Ryder) Jones, that's a nice play if (first baseman) Peter (Alonso) can handle that, the short hop but after that he gets the fly ball right after that and I'm sure emotionally it's kind of a big letdown for him when that stuff happens."
Copeland gave up six runs, but just two earned in his five innings.
"Just a bad defensive game today, we gave them three or four runs," DeFrancesco said. "We just couldn't come back."
The Smith error in the fifth was one of two on the night for him on the night, marking a tough night for him. Smith, a first baseman, has just started playing the outfield this year.
"He's learning how to play left field. I think the ball just got up on him, drifted on him. Base hit to left field, you do it a hundred times, you've got to be able to catch the ball," DeFrancesco said. "He's playing a lot of outfield. I think that's where he's going to have to improve his defense."
The 51s had taken their first — and only — lead of the game in the bottom of the fourth inning on a Christian Colon three-run blast.
"The first at-bat (starter Daniel Camarena) showed me a lot of pitches and I walked so the second at-bat I kind of had an idea of where he was throwing," Colon said. "He fell behind 2-0, and I want to say it was a changeup or something offspeed but I was just trying to drive the ball. We had guys on base so just trying to drive the ball."
That was all they could manage, despite eight hits in the game.
Alonso had a pair of doubles while Patrick Kivlehan and Jose Lobaton each also had two hits in the game.
But the 51s couldn't capitalize on many of their chances, finishing 1-for-11 with runners in scoring position and leaving 10 on base in the loss.
"That guy (Camarena) was pitching well until he gave up the homer but they pitched well," Colon said. "They kept us off balance and when they had to make the pitches to get out of the inning they did, so that's baseball. After we went on top, we kind of let them back in the game and that's what happened."
The loss bumped the 51s back down to .500 with two games remaining in the season.
"It's getting down to the end the end now so their minds are probably in different places," DeFrancesco said. "We've got to finish the season out. Some of these guys are trying to achieve individual goals so hopefully we can keep going."
More 51s: Follow all of our 51s coverage online at reviewjournal.com/51s and @RJ_Sports on Twitter.
Contact Betsy Helfand at bhelfand@reviewjournal.com. Follow @BetsyHelfand on Twitter.