51s beat Reno twice, top .500 for first time in 2018
August 12, 2018 - 11:54 pm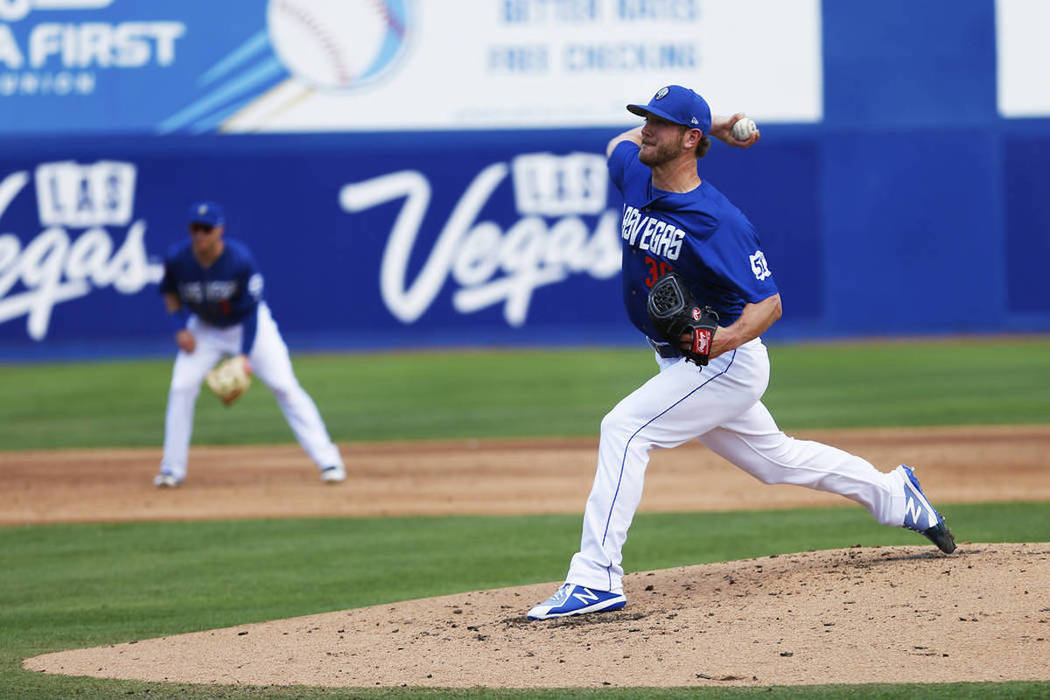 Two wins will perhaps make a 400-mile overnight bus ride to Fresno, Calif., just a little bit easier Sunday night for the 51s.
The 51s left for a seven-game road trip late at night but not before grabbing two victories against Reno to move over .500 for the first time all season.
Las Vegas won Saturday's game, which was suspended because of the weather, 14-2, and then picked up a 3-1 win in the regularly scheduled game, which was seven innings, on Sunday night at Cashman Field.
"It's crazy how baseball is. Sometimes you get a break. Who knows what would have happened if we had continued that yesterday but we went out and continued it today," manager Tony DeFrancesco said. "It was kind of tough going out there at 5:30 (p.m.) but the guys came through, a couple big hits and then the second game, maybe the momentum carried through."
Las Vegas (60-59) entered the suspended game, which they continued in the fifth inning, trailing Reno (61-58) 2-1, two outs away from an official game.
But the 51s took a lead in the seventh with back-to-back RBI hits from Kevin Kaczmarski and Ty Kelly and completely pulled away in the eighth with their biggest inning of the season. The 51s scored 11 runs in the frame, six driven in by Bryce Brentz, who hit a grand slam in the inning. Brentz finished the game 4-for-5 with four runs scored and six RBIs.
The second game didn't have the same offensive output, but it did have the same result.
Starter Drew Gagnon was on cruise control, throwing a seven-inning complete game and striking out 10.
"Drew's been outstanding the last four or five starts. Pounding the zone, minimizing mistakes," DeFrancesco said. "Breaking ball and changeup for strikeouts. His ERA is under 5.00 which is very good after the start he had so hopefully he continues to throw well and gets another chance to pitch up in New York."
He pitched with a lead for most of the night as the 51s scored a pair of runs in the first inning with the runs, one on a Peter Alonso RBI single. Alonso also hit a home run in the fifth inning.
Gagnon, meanwhile, gave up just one run in the fourth inning on a Christian Walker blast, picking up his fourth straight win.
"I felt calm throughout the whole time but I still was in a competitive mode so it's kind of hard to explain but I didn't lose focus at all," Gagnon said. "A bad pitch to Walker went right to his bat and he crushed it but other than that me and (catcher Colton) Plaia were on the same page, the defense was outstanding. Everything about the game was awesome. The tempo was good on and off. We're on a roll right now, right above .500 so hopefully we can keep going."
The 51s lost the first game of the season and then pulled even the next day before sliding under .500, which they didn't crack again until this week.
"After the start we had and then the way the guys fought all the way through, it's a good feeling today," DeFrancesco said. "Tomorrow we go to Fresno. The big series will be against El Paso. We're going to have to come out there and play the best baseball of the year against them on the road and come back we've got Salt Lake in our division. You never know what could happen."
More 51s: Follow online at reviewjournal.com/51s and @RJ_Sports on Twitter.
Contact Betsy Helfand at bhelfand@reviewjournal.com. Follow @BetsyHelfand on Twitter.