51s' deGrom bouncing back from injury that's literally 'no bull' story
April 20, 2014 - 10:35 pm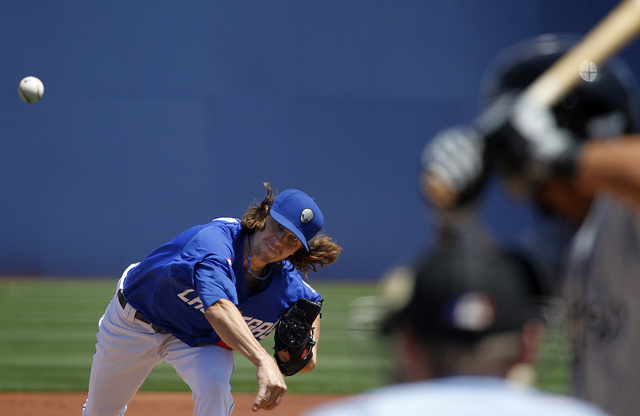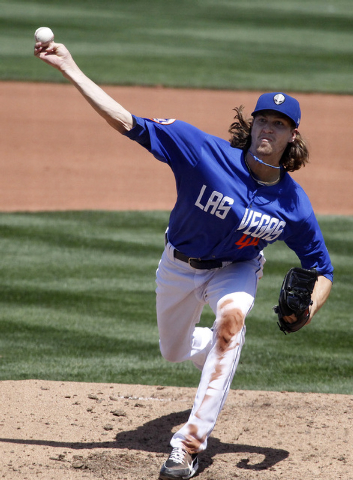 Add this to the list of bizarre baseball injuries: 51s pitcher Jacob deGrom broke his finger last year helping a neighbor castrate a calf about a week before spring training.
"Somebody was holding the back legs and I was holding the front. Their hands slipped and it kicked me," said deGrom, who lives in DeLeon Springs, Fla., near Daytona Beach. "I looked down and my finger was facing sideways. It didn't feel too good."
The same could be said of the calf.
Since the right-hander broke the ring finger on his glove hand, deGrom was able to pitch through the injury and climbed from Single A to Triple A last season, finishing a combined 7-7 with a 4.50 ERA. But he said the injury adversely affected him all year.
"I was throwing bullpens and stuff with no glove on. I had a cast (on my left hand)," he said. "That kind of got my front side a little off, so the whole year I was kind of battling to get my mechanics back to where I wanted them.
"This offseason, that's mainly what I worked on, and everything is starting to really come back together now."
DeGrom is off to a stellar start this season, improving to 2-0 with a 1.57 ERA after earning the win for Pacific Coast League-leading Las Vegas (13-5) in Sunday's 11-4 victory over El Paso (7-10) at Cashman Field.
"He was good last year and he's better this year," 51s manager Wally Backman said. "His location's gotten better and he pitches to both sides of the plate now. He could do it last year, too, but he's just showing more consistency this year."
After allowing only one earned run in 18 innings over his first three starts, deGrom gave up three runs on six hits in five innings Sunday, with six strikeouts, two walks and two wild pitches.
His 14 2/3 inning scoreless streak ended in the fifth, when he uncharacteristically walked the first two batters, threw a wild pitch and allowed a bunt single to Rico Noel to load the bases with no outs. DeGrom then gave up a three-run triple to Reymond Fuentes before striking out Daniel Robertson and Kyle Blanks and retiring Jeff Francoeur on a lineout to left to end the inning.
"Those two walks in the end hurt me, but other than that I felt like I threw the ball pretty well," deGrom said.
He was visited by the team trainer and coaching staff early in the inning but said the only thing he suffered from was a momentary loss of command.
"I'm not really sure what happened," said deGrom, who has issued only six walks this season. "I was just having trouble finding the strike zone there."
Rated the New York Mets' No. 10 prospect by Baseball America, deGrom didn't start pitching until midway through his junior year at Stetson University, where he previously played third base and shortstop.
He was spotted by scouts in his second college start — in which he opposed Chicago White Sox ace Chris Sale, a Florida Gulf Coast product — and the Mets drafted him a couple of months later in the 10th round in 2010.
After making six starts in rookie ball for Kingsport, Tenn., deGrom was sidelined with a sore elbow that eventually required Tommy John surgery.
He missed all of the 2011 season before bouncing back strong in 2012, when he went a combined 9-3 with a 2.43 ERA for Single-A Savannah and Single-A St. Lucie.
While rehabbing his arm with Johan Santana, deGrom was taught the finer points of throwing a changeup by the former Cy Young Award winner.
"I was talking to him about his changeup one day and he was telling me what he did," deGrom said. "He helped me out and my changeup's come a long way since then."
Armed from the start with a mid-90s fastball, deGrom also has refined his slider and added a curveball last season.
He said location has been the biggest key to his success this year and that his best pitch is "strike one."
"It makes it a lot easier if you get ahead of a hitter," he said. "Strike one, I feel, has got to be your best pitch."
DeGrom's confidence was bolstered by a strong spring training and Backman expects him to make his big league debut later this season — along with 51s starters Noah Syndergaard and Rafael Montero.
Now deGrom just needs to stay away from his friend's cattle ranch.
"My neighbor asked me to come help him a couple times this year," he said. "I told him I can't really do that right now."
■ NOTES — Bobby Abreu belted a two-run homer in Las Vegas' six-run fifth and is expected to join the Mets for today's game against the St. Louis Cardinals. The 40-year-old batted .395 (15-for-39) with nine RBIs in 15 games for Las Vegas. … Second baseman Daniel Muno went 4-for-4 with four RBIs, hitting a three-run shot in the fifth, and first baseman Allan Dykstra added a two-run blast in the sixth. … Zack Thornton, the relief pitcher the Mets acquired from the Pittsburgh Pirates in a trade for Ike Davis, joined the 51s. The right-hander allowed a run on three hits in two innings, surrendering a solo shot to Kyle Blanks.
Contact reporter Todd Dewey at tdewey@reviewjournal.com or 702-383-0354. Follow him on Twitter: @tdewey33.