51s' Dominic Smith learns from uncle, a UNLV assistant coach
Updated May 18, 2017 - 7:12 pm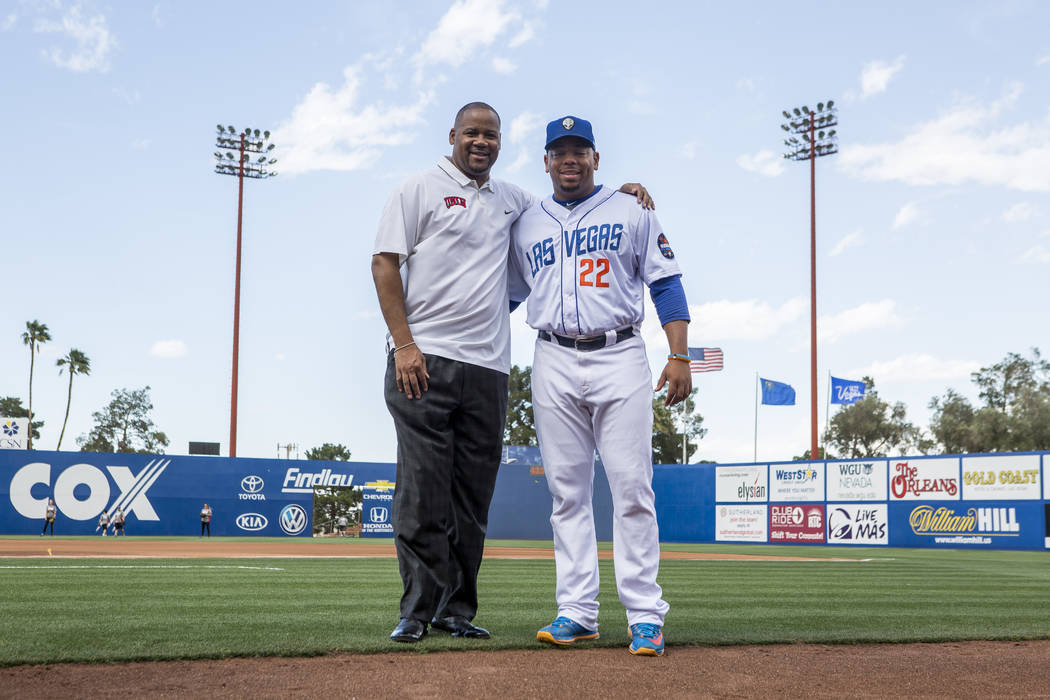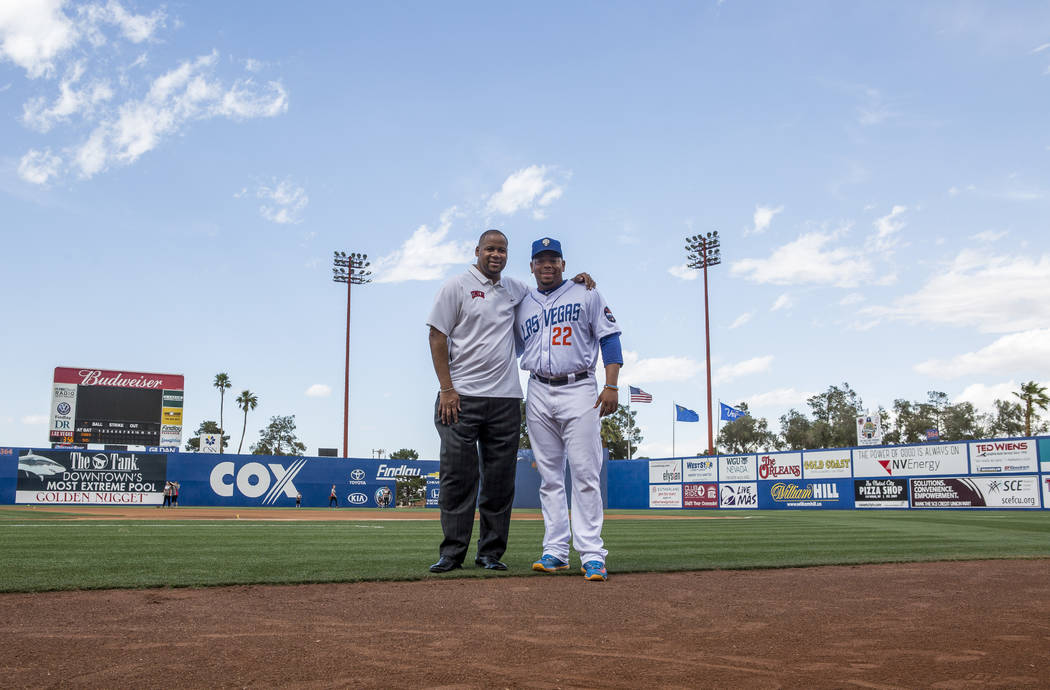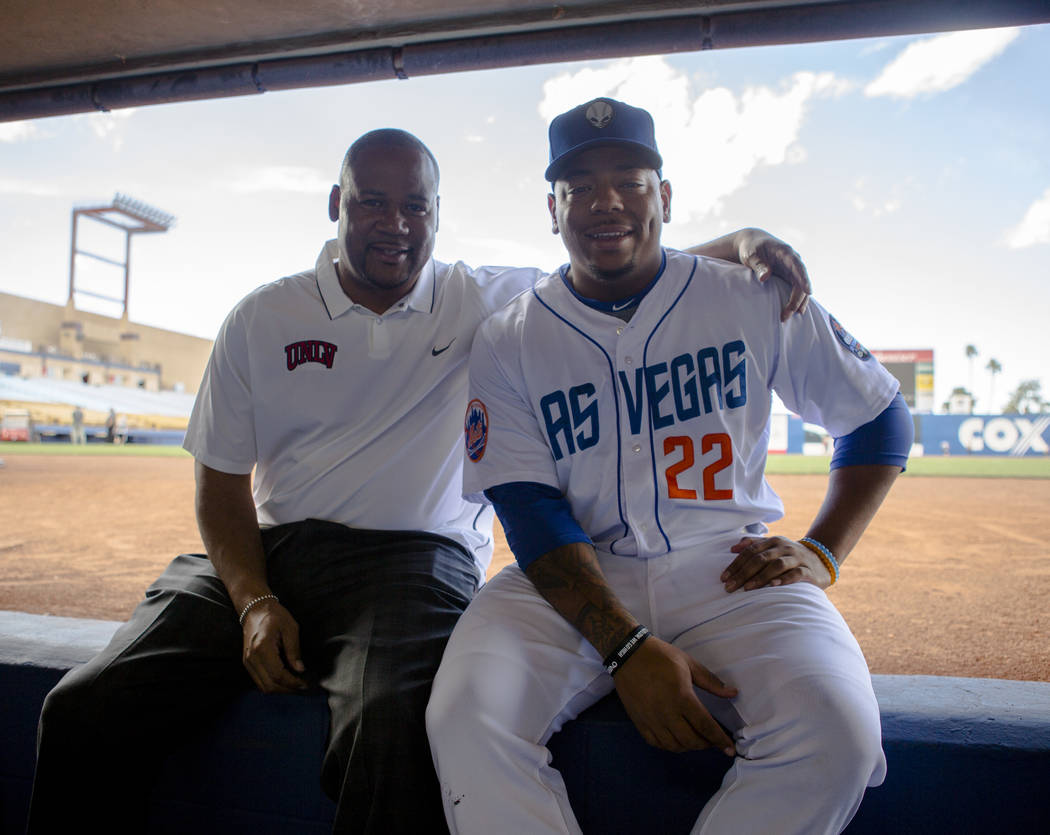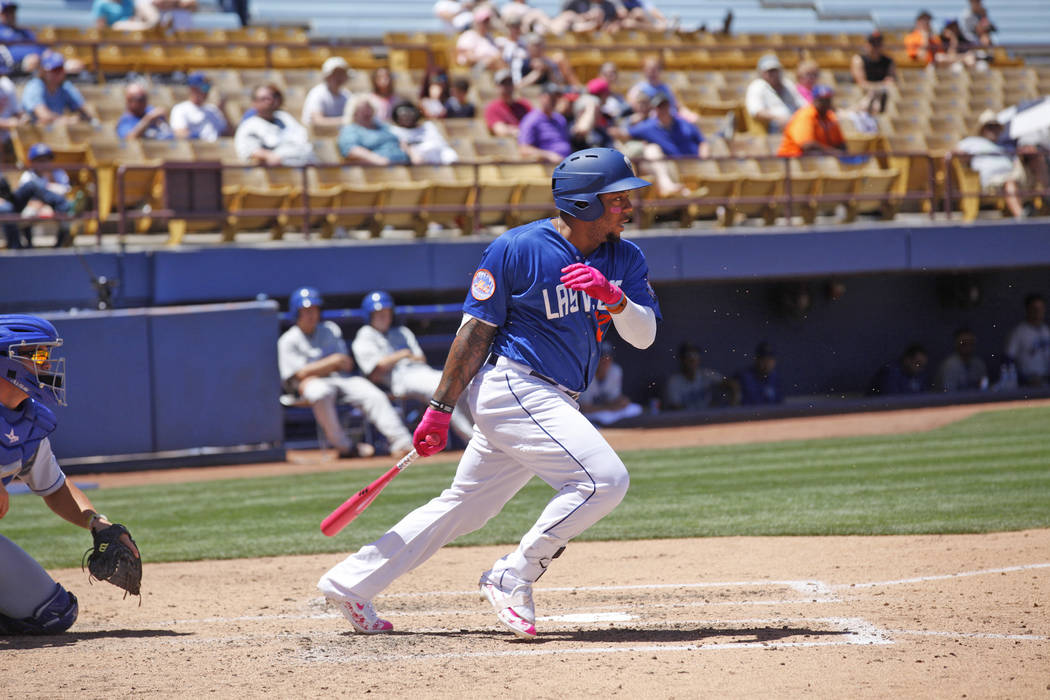 Shortly after Dominic Smith was taken in the first round of the 2013 draft by the New York Mets, he moved from Los Angeles to Port St. Lucie, Florida, the team's spring training home, a quieter place where he could focus on honing his craft.
"His career started, and he still needed parental supervision, and even now … he's like a college senior right now," said his uncle, Andre LaFleur. "The family moved out with him, being a support base, and kept normalcy in his life."
Now, it's LaFleur's turn to be a foundation of that support base. The UNLV assistant basketball coach landed in Las Vegas after stops at Connecticut and Rhode Island.
Eventually, Smith's job took him away from California, as he advanced through the Mets' minor league system.
As luck would have it, they are in the same city this year. Smith is the 51s' first baseman and was hitting .317 with five home runs and 24 RBIs before Thursday's game against the Iowa Cubs at Cashman Field.
"We're fortunate, and we're blessed that we're able to be there for him by committee," LaFleur said. "Now we just happen to be in Vegas at the same time so they don't have to be here 24/7. He's still young … so he still needs some guidance and some family support, especially with the pressures of this level of baseball. It's just everything is really working out in a really neat way."
Smith's mother, Yvette LaFleur, will soon make the move from Port St. Lucie to spend the summer living with her brother and his family and watching her son play baseball.
But for now, LaFleur and other family members in Las Vegas have provided Smith with a support system during his first season in Triple A. As one of the top prospect in baseball, he faces a high level of pressure.
"We'll go to dinner, (he'll) come to the house and just play video games with his cousin, just try to give some normalcy to him," LaFleur said. "Any time that he can do that is always a good time for us."
Smith is 21, making his uncle, who is frequently mentoring athletes that age, an invaluable resource.
"I'm just proud to see that he's really mature for his age," LaFleur said. "Baseball's a little bit different than basketball as far as the journey to get to the bigs … but he's navigated it quite well. I feel like if he needs me, I think I could be a good resource for him, just let him know the professional etiquette that you have to have as far as creating the good habits that you have to have to sustain."
Smith said his uncle has done that, talking about how he needed to take care of his body and focus on his craft so he could take care of his family down the line, something Smith said he took seriously.
"It's just life lessons and him just showing me the ropes and stuff like that because he's been through it, and it's definitely a different perspective from him from my mom," Smith said. "I definitely do appreciate it, and I'm just glad it all worked out like this."
So now, after years of being apart, the two are enjoying being together.
"I haven't had the chance with my career and being away all the time and back east, I haven't had a chance to watch him play baseball like I have now," LaFleur said. "It's really exciting, and it's pleasing to me. I'm so proud to be able to watch him nightly … It's just a joy to come and see him really do what he does well and he loves."
More 51s: Follow all of our Las Vegas 51s coverage online at reviewjournal.com/51s and @RJ_Sports on Twitter.
Contact Betsy Helfand at bhelfand@reviewjournal.com. Follow @BetsyHelfand on Twitter.