51s fall into early hole, never recover in loss at Fresno
April 21, 2017 - 12:12 am
Updated April 21, 2017 - 12:19 am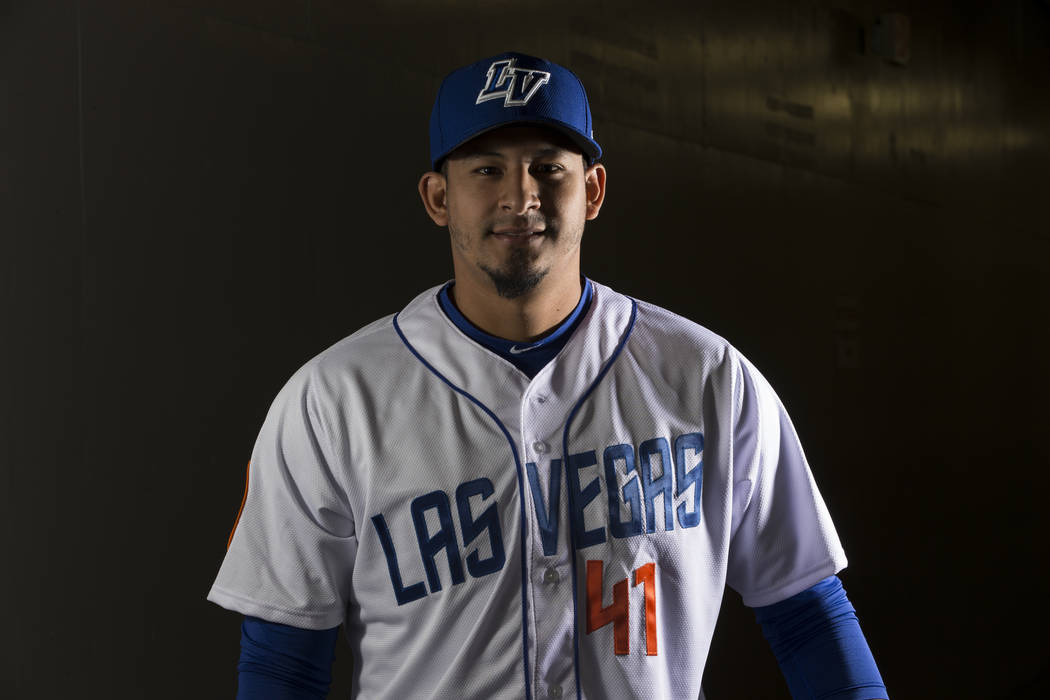 It was not their day from the beginning.
51s starter Wilfredo Boscan, who hadn't allowed a run in his first two starts of the season, walked the first batter he faced.
After retiring the next two, he gave up five straight singles, which produced five first-inning runs.
And just like that, the 51s spent an entire game trying to catch up — and they never could. Las Vegas lost 10-3 to Fresno on Thursday night at Chukchansi Park in Fresno, California.
"I thought that (he was) just one pitch away, one out away from getting out of the inning and just unfortunately made too many mistakes over the middle of the plate," 51s manager Pedro Lopez said. "I think the umpire kind of squeezed him a little bit, but that's part of it. The pitches were borderline pitches, and then after that, just too many pitches over the middle of the plate. He just had a bad night, but I thought that he battled well."
Though most of the damage came in the first inning, the Grizzlies (7-8) had the leadoff runner aboard in seven of eight innings as Las Vegas pitching allowed 17 hits and five walks. Boscan (0-1) gave up six runs (five earned) on nine hits and two walks in three innings.
"They basically hit everything that we threw today," Lopez said. "We just didn't execute our pitches. We didn't pitch well, and we didn't hit well enough for us to win the game."
The Grizzlies added more than enough insurances runs in the eighth inning off 51s reliever Chasen Bradford, who had been unscored upon in five outings before Thursday.
"We were in the game all the way until the eighth inning down by three going into the bottom of the eighth, and Bradford just had a bad night, too," Lopez said.
The loss was the second straight for the 51s (8-7) after five consecutive wins.
"We've been playing well," Lopez said. "(We) lost a tough one last night. I thought either team could have gotten the win and had our chances to win in the seventh last night. Couldn't get the big hit when the bases loaded nobody out, and then tonight was just one of those nights. Everything that we threw they hit."
Reynolds day to day
Utility player Matt Reynolds was pulled early from Wednesday's game with a tight hamstring, and Lopez said Thursday that Reynolds was day to day.
"He just was a little tight last night, so we took him out of the game as a precaution," Lopez said. "He's doing well, he's getting a little treatment on his hamstring and probably we'll give him another day or so. We'll see how he comes in tomorrow and see what happens."
Rivera returns to New York
Infielder T.J. Rivera was not with the 51s on Thursday. Rivera went to New York with catcher Kevin Plawecki, who was activated Thursday by the Mets.
Rivera, who was sent down less than 10 days ago, can be activated only if the Mets put someone on the disabled list. The Mets have multiple players dealing with injuries.
Up next
Who: 51s at Fresno Grizzlies
When: 7:05 p.m. Friday
Where: Chukchansi Park, Fresno, California
Starters: Adam Wilk (2-1, 4.70 ERA), 51s, vs. Brian Holmes (0-0, 5.79 ERA)
Next five
Saturday: Las Vegas at Sacrament0, 7:05 p.m.
Sunday: Las Vegas at Sacramento, 1:05 p.m.
Monday: Las Vegas at Sacramento, 7:05 p.m.
Tuesday: Las Vegas at Sacramento, 12:05 p.m.
Wednesday: Off
Update
The New York Mets made multiple roster moves Thursday affecting the 51s. Closer Jeurys Familia was activated from the restricted list after serving a 15-day suspension, and third baseman David Wright was transferred to the 60-day disabled list to clear a 40-man roster spot for Familia. They also called up catcher Kevin Plawecki from Triple A to help aide an ailing lineup. To make room for Familia and Plawecki, the Mets sent down pitchers Sean Gilmartin and Rafael Montero. Both have been relievers in the majors but starters in the minors. With Plawecki called up, the 51s activated catcher Jeff Glenn from the disabled list. They also sent down starting pitcher Donovan Hand to Double-A Binghamton and called up L.J. Mazzilli from Binghamton. Gilmartin and Montero will need to be added to the 51s' roster when they meet the team in California.
Contact Betsy Helfand at bhelfand@reviewjournal.com. Follow @BetsyHelfand on Twitter.