51s give up late run, waste rally, lose to Isotopes
April 24, 2016 - 10:08 pm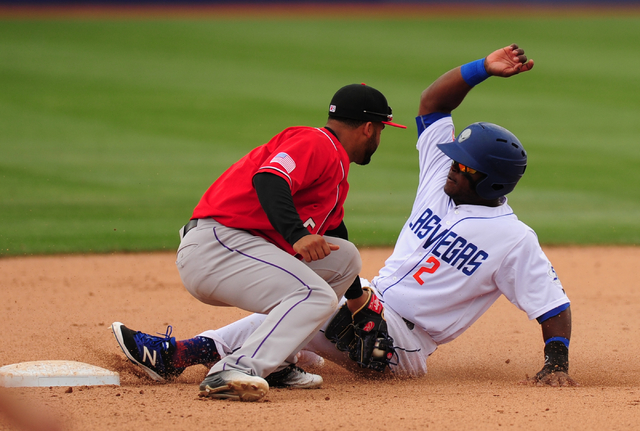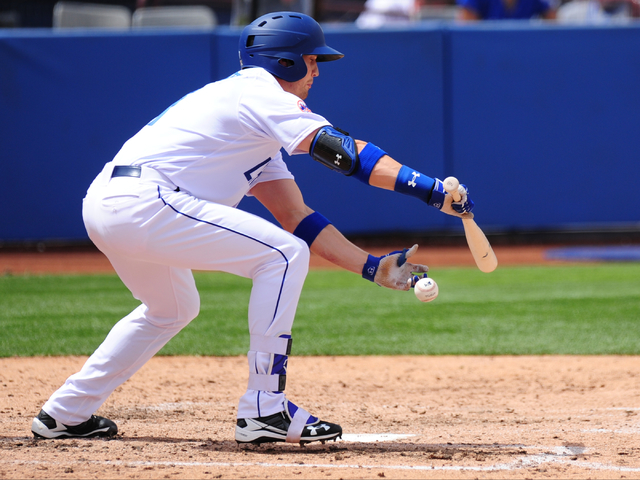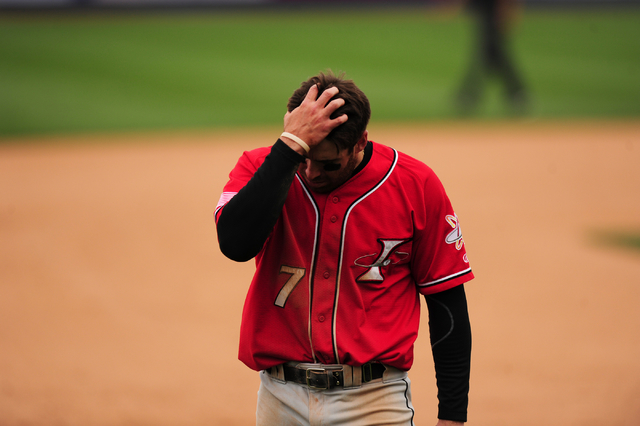 The clutch hits the 51s have been missing for the past week or so finally came in the eighth inning on Sunday.
But just minutes later, the Isotopes made all of that moot.
The 51s fell 6-5 to Albuquerque, which scored in the ninth inning shortly after the 51s rallied for three runs.
"We've run into a little bit of bad luck. We're scoring runs, they're scoring runs right back," right fielder Travis Taijeron said. "It's kind of the way the game is going for us."
With runners on first and second, T.J. Rivera drove in his second run of the game with a line-drive double to left field.
The 51s got another run on a Brandon Nimmo groundout and tied it up 5-5 on a Ty Kelly pinch-hit single.
But a triple to deep center that Nimmo misplayed on and a single off of Paul Sewald in the ninth wiped that progress away.
It's a play that Backman and Nimmo talked about after the game.
"I just told him, I said 'Brandon, you're turning the wrong way on balls hit over your head.' He's turning one way and the ball's the other way,"
Backman said. "Those are big mistakes in close games and we have to live with it right now. He's getting better and he's working on it. He's out there every day trying to make himself better."
The play was more magnified by its timing late in the game, but wasn't the only thing that hurt the 51s.
After scoring a run in the first inning — and having another runner thrown out at the plate — the 51s' lead slipped away two innings later when a ball got over shortstop Gavin Cecchini's head.
"It's a play that you want to see made," Backman said. "I think that ball's supposed to be caught. That's what I think and
probably if you asked Gavin, he'd probably say the same thing."
In the fourth inning, Nimmo couldn't get a bunt down with runners on first and second and no outs, bunting the third strike foul.
"He couldn't get the bunt down and the next hitter was Cecchini that hit a long fly ball … which would have scored another run which we never Taijeron cut the lead to just one with his second home run of the season in the sixth inning.
The home run was Taijeron's second of the season after hitting 25 last year and just the team's second since opening day.
But after the 51s overcame the two runs given up in the top of the eighth, they went down in order in the ninth, sending them to their sixth loss in the past seven games and their fourth straight.
"There's so many ways to dissect the game," Backman said. The bottom line is we just have to play better."
Betsy Helfand can be reached at bhelfand@reviewjournal.com. Follow on Twitter: @BetsyHelfand
Up next
u25B6 Who: Fresno Grizzlies at Las Vegas 51s
u25B6 When: 7:05 p.m. today
u25B6 Where: Cashman Field (9,334)
u25B6 Starters: Shane Carle (2-1, 8.44 ERA) vs. Duane Below (1-0, 4.50 ERA)
Next five
u25B6 Tuesday: Albuquerque at Las Vegas, 10:35 a.m.
u25B6 Wednesday: Off
u25B6 Thursday: Tacoma at Las Vegas, 7:05 p.m.
u25B6 Friday: Tacoma at Las Vegas, 7:05 p.m.
u25B6 Saturday: Tacoma at Las Vegas, 7:05 p.m.
Key stats
Carle spent most of last season at Double-A New Britain, but the one start he did make in Triple-A last season came against the 51s. The 51s lit him up for six runs on nine hits in six innings last May. This year, he has had progressively better starts, giving up 12 runs in his first game, four in his second and none in his third.