51s glad to see Reyes go, beat Memphis bullpen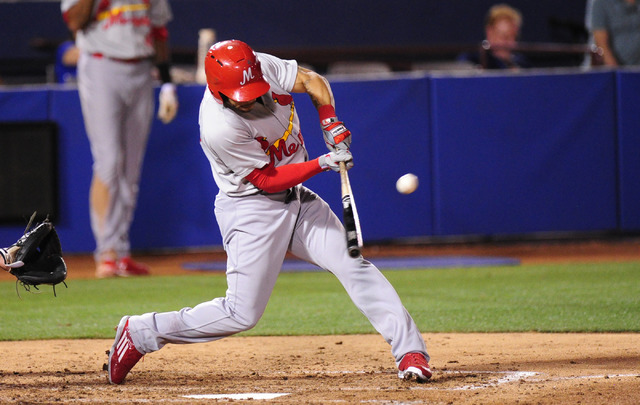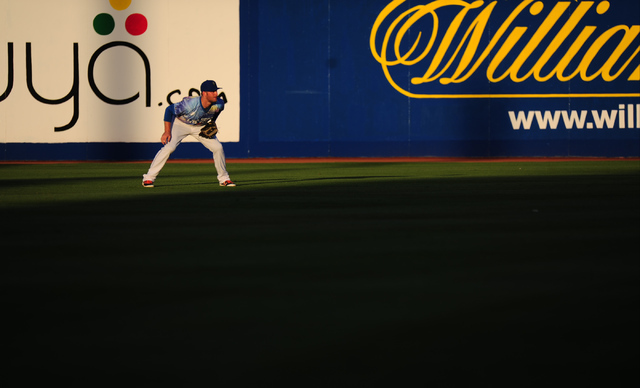 In three consecutive pitches in the second inning, Cardinals pitching prospect Alex Reyes went from 88-mph to 98 to 79.
The result? His first strikeout of the night.
Reyes, the No. 7 overall prospect per Baseball America, finished with seven strikeouts in his five innings while touching triple digits a few times in his outing.
"We (were) ready to hit that guy but he was ready, too," second baseman Dilson Herrera said. "I think next time we're going to get him."
In the meantime, they did hit the Redbirds' bullpen, scoring three late runs for a 4-1 victory over Memphis at Cashman Field.
Las Vegas caught a break in the seventh inning when center fielder Tommy Pham dropped a Johnny Monell fly ball. Monell was credited with a sacrifice fly, and two runs scored on the play, breaking open a 1-1 tie.
The 51s added an insurance run in the eighth on a Herrera single on their way to snapping their four-game losing streak.
And though Reyes was blowing up the radar gun and then using his changeup effectively to keep the 51s mostly quiet in his outing, 51s starter Duane Below was the one who picked up the win, giving up just one unearned run and four hits in his seven innings.
Memphis took a lead in the fourth inning after a walk, a two-base throwing error by Below and a sacrifice fly. But that's all they got against him.
"He competes and that's all it is. He knows how to pitch. He knows how to do the things to help himself and he knows how to read hitters," acting manager Jack Voigt said. "Johnny did a good job behind the plate with him. They kept a good rhythm going and when you get in a good rhythm and a good tempo, things start to click."
The Redbirds had few good opportunities against Below, who retired 9-of-10 to start the game, but their best opportunity came in the fifth after they loaded the bases on an error, double and walk before Below got Memphis left fielder Charlie Tilson to ground into a double play to end the threat.
"With us losing four straight, I wanted to give us the best chance to win. I think when I had guys on first and second and then I had the bases loaded after walking the pitcher, that's the time where I really had to grind and get that ground ball and then the defense made the double play," Below said. "You've just got to go out and try to help the team in any way you can and teh defense picked me up."
The 51s tied the game in the bottom half of the inning with a Gavin Cecchini single up the middle that drove in third baseman Niuman Romero. The score remained knotted until the seventh. Nevin Ashley, pinch-hitting for Below, led off the inning with a hit and Cecchini and T.J. Rivera also had singles to load the bases before Pham's error.
"We had some timely hitting right there and the guys had a lot of energy coming back from the tough series we just had so they were ready to play," Voigt said. "It's good to get back on a winning streak."
Betsy Helfand can be reached at bhelfand@reviewjournal.com. Follow on Twitter: @BetsyHelfand