51s' Matz mastering minors quickly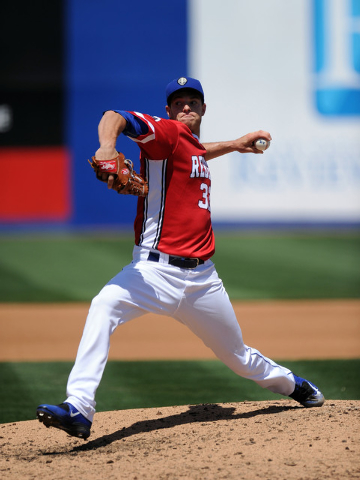 Virtually every New York baseball fan is familiar with the "Miracle Mets." Soon, it might be time to meet the miracle Matz.
That would be 51s left-handed pitcher Steven Matz, the Mets' No. 2 prospect who was drafted in the second round in 2009 but didn't throw his first pitch as a professional until 2012 because of complications from Tommy John surgery.
Three years later, the hard-throwing 23-year-old from Long Island, N.Y., is on the cusp of the big leagues, having already been compared to reigning Cy Young Award winner Clayton Kershaw and World Series Most Valuable Player Madison Bumgarner.
"I threw a Bumgarner (comparison) at him, as far as if you want a big pitcher in the minor leagues," said Las Vegas pitching coach Frank Viola, a former Cy Young Award winner and World Series MVP himself. "He's proven the bigger the game, at least on the minor league level, the better he is."
Matz threw 7 1/3 innings of no-hit ball for Double-A Binghamton in last year's Eastern League title-clinching game and in 2013 won the South Atlantic League championship game for the Single-A Savannah Sand Gnats.
"I like to win. I don't like to lose. That's as simple as it gets," said Matz, a fierce competitor who earned his first victory for the 51s in Sunday's 10-5 win over the Fresno Grizzlies before 4,534 at Cashman Field.
Rafael Montero — who's expected to make a spot start for the Mets on April 28 — started in place of Matz, the originally scheduled starter who entered in the fourth inning.
Matz (1-1), who was clocked at 96 mph, allowed one run on three hits and had five strikeouts and three walks in five innings. He has a 2.93 ERA through his first three Pacific Coast League outings.
"If I can have success here, I can have success in the big leagues," Matz said of the hitter-friendly PCL.
51s manager Wally Backman said Matz and teammate Noah Syndergaard project as front-line starters in the majors.
"Matz is a 96-mph left-hander that throws three pitches for strikes and he can throw breaking stuff when he's behind in the count," he said. "When you throw 96, that's pretty tough."
Hampered by arm issues early in his high school career, Matz didn't pitch much and planned on playing first base in college before his fastball was clocked for the first time at 89 mph at a showcase the summer before his senior year.
"I didn't know I threw that hard," he said. "That kind of fed into my senior season."
Matz didn't see any action in 2009 after signing with the Mets in late August. He blew out his elbow in extended spring training in 2010 and had the ligament-replacement surgery that May.
Expected to be out for a year, Matz instead missed two seasons because of complications from the surgery his doctors couldn't explain.
"It was bugging me. They don't really know why. They said the tendon took a while to mature," he said. "It could be scar tissue. There were a bunch of reasons."
During his seemingly endless rehab from the Tommy John surgery, Matz questioned his future in the game.
"It was such a long haul, I wasn't sure if I'd ever make it back," he said.
A visit to Dr. James Andrews, the renowned orthopedic surgeon, proved to be a turning point in April 2012, when Matz's elbow still didn't feel right.
"He said a piece on the new ligament looked like scar tissue or it could be a tear and there was a possibility (I'd) need another surgery," Matz said. "He said to just go out there and cut loose, so I threw a couple (batting practice sessions) and threw in a game and I kind of let it rip.
"It turned out it was just a little piece of scar tissue and I was good to go after that."
Matz threw only 29 innings in 2012, compiling a 1.55 ERA in rookie ball, before he was shut down with a shoulder strain.
He hasn't had any issues since, excelling in his first full season for Savannah, where he worked with Viola, before recording the second-lowest ERA (2.24) among Mets minor-leaguers last season.
"If you knew him when I knew him, coming back from the Tommy John, having ups and downs, not knowing if he'd ever pitch again, doubts and questions all over the place, to see where he's gone over the last three years as a pitcher and as a person … you root for him," said Viola, another talented lefty from Long Island. "He'll be able to deal with any adversity because he's been through it before."
Matz said overcoming adversity has given him a different perspective on and off the field.
"I definitely grew and matured a lot physically, spiritually, mentally, everything," he said. "I would say it really is a blessing in disguise, the whole situation."
■ NOTE — Matt Reynolds went 3-for-5 with four RBIs to lift his average to .348, Dilson Herrera had two hits and two RBIs, and Brandon Allen homered and had two RBIs for the 51s (6-5), who have compiled 38 runs and 50 hits while taking two of three from Fresno (7-4).
Contact reporter Todd Dewey at tdewey@reviewjournal.com or 702-383-0354. Follow him on Twitter: @tdewey33.