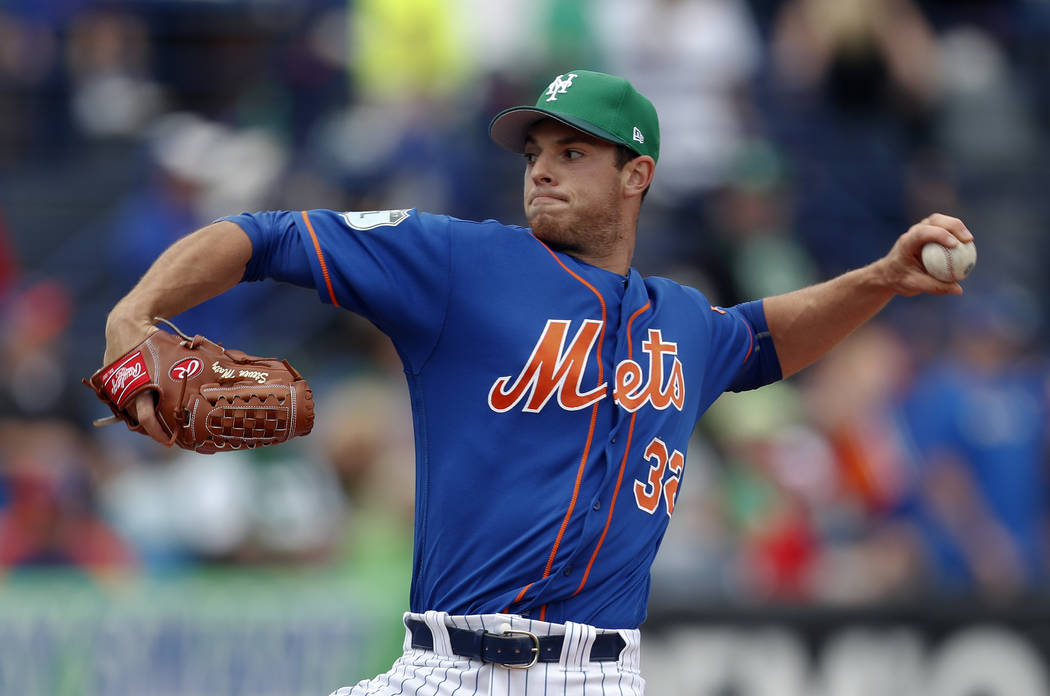 Steven Matz's second rehab start for the 51s couldn't have gone much better.
He mowed through El Paso last week, throwing five perfect innings and striking out eight.
So expecting him to match that was unrealistic.
On Saturday, Matz was nowhere near as dominant, surrendering five runs, but he did hike his pitch count up to 90 in his 4 1/3-inning outing with no issues, manager Pedro Lopez said, a positive sign for the left-hander in what probably was his final rehab start.
Though Matz, who is rehabbing his elbow, gave up five runs to the Pacific Coast League's top offense, the 51s never trailed en route to a 9-5 road victory over the Reno Aces at Greater Nevada Field. Leadoff hitter Brandon Nimmo had the biggest of Las Vegas' eight hits, a fourth-inning grand slam.
"I think he (Matz) just didn't have his best stuff for whatever reason," Lopez said. "He went out there, he competed and kept going after hitters. He just made a couple mistakes up in the zone and got hurt, but for the most part did a good job."
Nimmo and Amed Rosario set the tone early.
Nimmo singled to lead off the game, and Rosario followed with a triple. The next batter, Dominic Smith, drove in Rosario with an RBI ground-out for a 2-0 lead.
"We did a good job getting on base," Lopez said. "Amed gets a big hit, and that sets everything off for Dom (and) the middle of the lineup. Those guys are doing a good job. We're swinging the bats well."
They padded the lead in the third to 4-0 on a two-run single from Travis Taijeron.
The Aces (34-22) cut their deficit to 4-2 in the bottom of the inning when Matz surrendered a two-run homer to Ketel Marte, the league's top hitter.
The 51s (23-33) then scored four runs in the fourth to take an 8-2 lead.
After Desmond Jennings and Gavin Cecchini singled to lead off the inning, Matz hit a sacrifice bunt and everyone was safe on the play, setting the stage for Nimmo's grand slam to right.
With two hits, Nimmo has 11 in his past seven games after struggling to start the season as he recovered from hamstring and hand injuries suffered in the spring.
"The quality of the at-bats have always been there, and now (he's) starting to see the results," Lopez said.
After Las Vegas added a run in the fifth, Matz allowed three in the bottom half before being lifted.
The 51s then got scoreless outings from Logan Taylor (1 2/3 innings), Erik Goeddel (one inning) and Hansel Robles (two innings).
Up next
Who: 51s at Reno Aces
When: 1:05 p.m., Sunday
Where: Greater Nevada Field
Starters: Ricky Knapp (2-5, 5.16 ERA), 51s, vs. Frank Duncan (4-4, 5.88 ERA)
Next five
Monday: Las Vegas at Salt Lake, 6:05 p.m.
Tuesday: Las Vegas at Salt Lake, 6:05 p.m.
Wednesday: Las Vegas at Salt Lake, 6:05 p.m.
Thursday: Las Vegas at Salt Lake, 11:05 a.m.
Friday: Las Vegas at Tacoma, 7:05 p.m.
Update
Ricky Knapp will start Sunday for the 51s. He allowed five runs (four earned) and eight hits in 4 1/3 innings in his last outing.
Contact Betsy Helfand at bhelfand@reviewjournal.com. Follow @BetsyHelfand on Twitter.