51s rally late, beat Reno to get 3rd straight win
Updated June 21, 2018 - 11:41 pm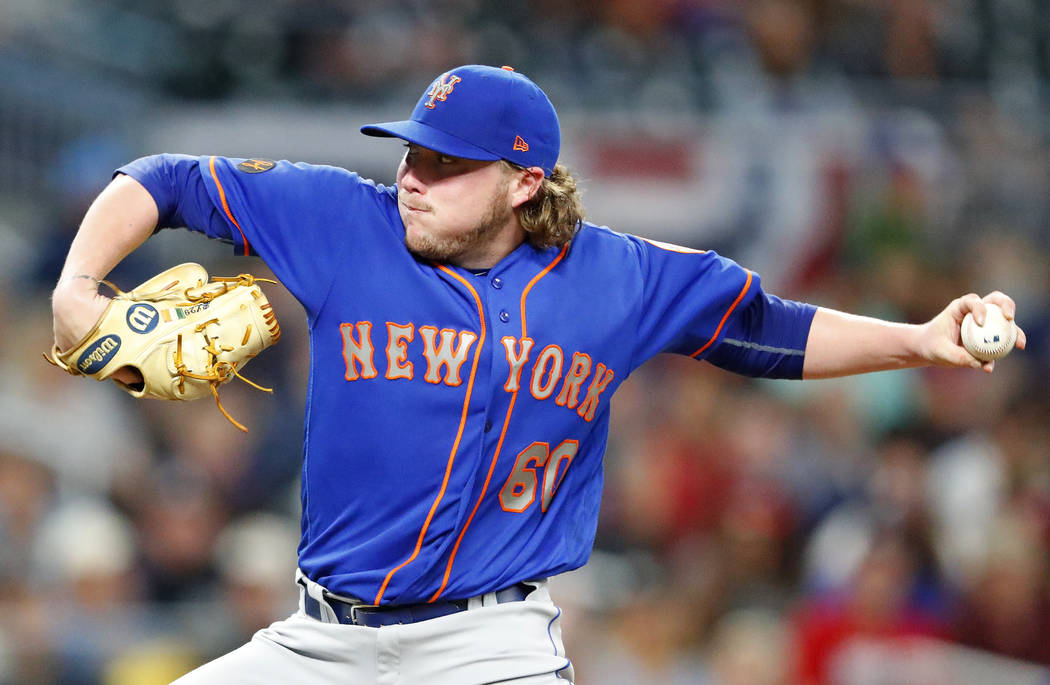 Loud music blared from the 51s clubhouse Thursday night as they celebrated their third straight win. It was a win in which the 51s saw good starting pitching from P.J. Conlon and a late rally to retake the lead.
Las Vegas beat Reno 5-3 in the series opener at Cashman Field, jumping ahead for good in the seventh.
Recently promoted first baseman Peter Alonso hit a go-ahead double in the frame to give the 51s (31-42) a 4-3 lead. They added an insurance run when an error on a ball hit by Cody Asche allowed Zach Borenstein to score.
Alonso, who is one of the Mets' top prospects, finished the day 1-for-3 with a walk. Second baseman Jeff McNeil, also recently-promoted after creating his own share of buzz at Double-A, finished with two hits and a run scored.
"Both of these guys since they've been here, they've been getting quality at-bats, a couple big hits," manager Tony DeFrancesco said. "They're going to get a chance to play here. We're kind of short on position players right now but it's a good opportunity for them."
Alonso's hit came after the Aces (33-40) had tied the game up with two runs in the top of the seventh.
Both those runs were charged to Conlon, though Kevin McGowan gave up the two-run, game-tying double to Christian Walker, last year's Pacific Coast League MVP.
Conlon pitched well in his start, going 6⅔ innings and giving up three runs, the other on a Walker home run.
"I think today just kind of everything came together," Conlon said. "I just kind of got back to who I've been in the past, just getting ahead of guys and constantly changing speeds and moving the ball around and so I think I was able to throw everything for strikes today and that helped a lot keep guys off balance so it was nice to get back to that."
Conlon had given up 16 runs — 14 earn earned — in his past two starts before rebounding Thursday in what DeFrancesco called one of his best outings of the year.
"If you look at his chart, he had probably almost 45 changeups I think and that's his game for me," DeFrancesco said. "He's got to elevate his fastball, come inside and use his changeup to get outs and he did get a lot of easy outs today."
Conlon wound up with the no-decision after McGowan gave up the two inherited runs. Matt Purke pitched 1⅓ innings for the win and Jacob Rhame nailed down his sixth save of the year in the team's third consecutive win.
"Everybody's up in there," Conlon said, referencing the locker room. "The music's playing loud. People are playing more loose and just playing with more confidence."
Worth noting
Phillip Evans was placed on the disabled list on Thursday. Manager Tony DeFrancesco said he was being treated at the hospital with antibiotics for an infection in his leg.
More 51s: Follow Las Vegas 51s coverage at reviewjournal.com/51s and @RJ_Sports on Twitter.
Contact Betsy Helfand at bhelfand@reviewjournal.com. Follow @BetsyHelfand on Twitter.