51s whip Rainiers in shortened game
April 28, 2016 - 10:25 pm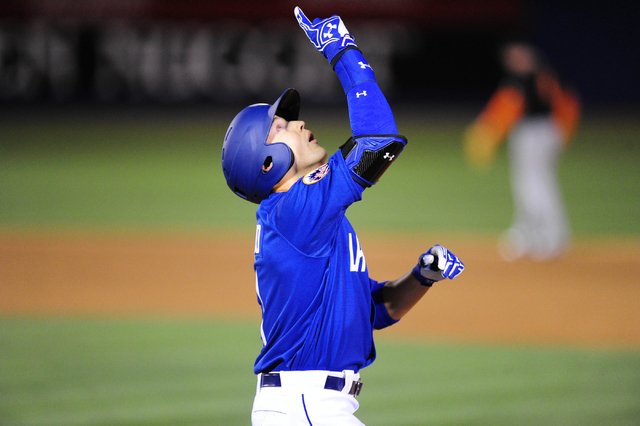 For the third time this season, unusual April weather affected the 51s' ability to play at Cashman Field.
Immediately after the game went official, the 51s and Tacoma Rainiers endured a rain delay and after about 45 minutes, the game was officially shortened with the 51s taking an 8-1 victory in 4 1/2 innings.
Right before the umpires shortened the game, the grounds crew tried to put a drying agent on the field but with no tarp to cover the infield, the conditions rendered it unplayable.
"It's kind of a shame because we've had two games rained out that probably wouldn't have been rained out and we've had a shortened game now that (we) would have definitely been able to finish," manager Wally Backman said.
Without a tarp to cover the field while it rained before the game, Backman said the field was bad in the first place and just kept getting worse.
"The one thing you don't want to do is get guys hurt," Backman said. "It may be minor league baseball but there's a lot of money that's going out on that field. A lot of big signing bonuses and for conditions the way that they were, you don't want to put your players through that."
In the 4 1/2 innings they did play, the 51s' bats came alive.
They took an early lead in the first inning, scoring two runs on a Travis Taijeron double. They added two more in the second, taking advantage of a pair of Tacoma errors, and four in the third, jumping on Las Vegas native Donn Roach.
Roach surrendered eight runs — six earned — in 2 1/3 innings pitched.
Center fielder Brandon Nimmo, who came into the day hitting .206, went 3-for-3 off of Roach, chasing him out of the game with a three-run double to right field in the third inning.
"He shows games like today … he shows his bat speed, he shows the ability to drive the ball. He's still a kid. He's still very young, especially at this level, and he's still learning," Backman said. "He's taken some lumps already but you kind of hold onto the good days like he's had today."
Meanwhile, 51s starter Sean Gilmartin sailed through five innings, giving up just one run on two hits, though he uncharacteristically walked four.
He appeared to be slightly affected in the later innings by the weather as rain came down.
"It was affecting, I think, everybody. The mound was wet," Backman said. "The batter's box was wet. The field was getting puddles."
Though the weather this April — partially explained by El Nino — has highlighted the lack of a tarp, there hasn't been a move to purchase one yet.
"I think that we need to get a tarp, obviously, but I think that history would tell you that we don't need a tarp until now," team president Don Logan said before the game. "And then this is a unique year."
Logan said there have been discussions and should they opt to get one, the Las Vegas Convention and Visitors Authority would be on the hook for it.
He said the cost wasn't prohibitive and the LVCVA "would not hesitate to do that were it necessary."
"We talked about it and the way it rains here, it just rains in buckets. You wouldn't even be able to get the tarp on sometimes," Logan said before the game. "We've talked about it and in how many years, we've never had an April like this. Never."
The 51s had a tarp in the past but after 10 years of not needing it, it dry rotted.
Thursday, it would have come in handy.
"The tarp is a necessity. If we would have had a tarp, we could have finished this game," Backman said.
Betsy Helfand can be reached at bhelfand@reviewjournal.com. Follow on Twitter: @BetsyHelfand