Albert Pujols gets 3,000th hit as Angels topple Mariners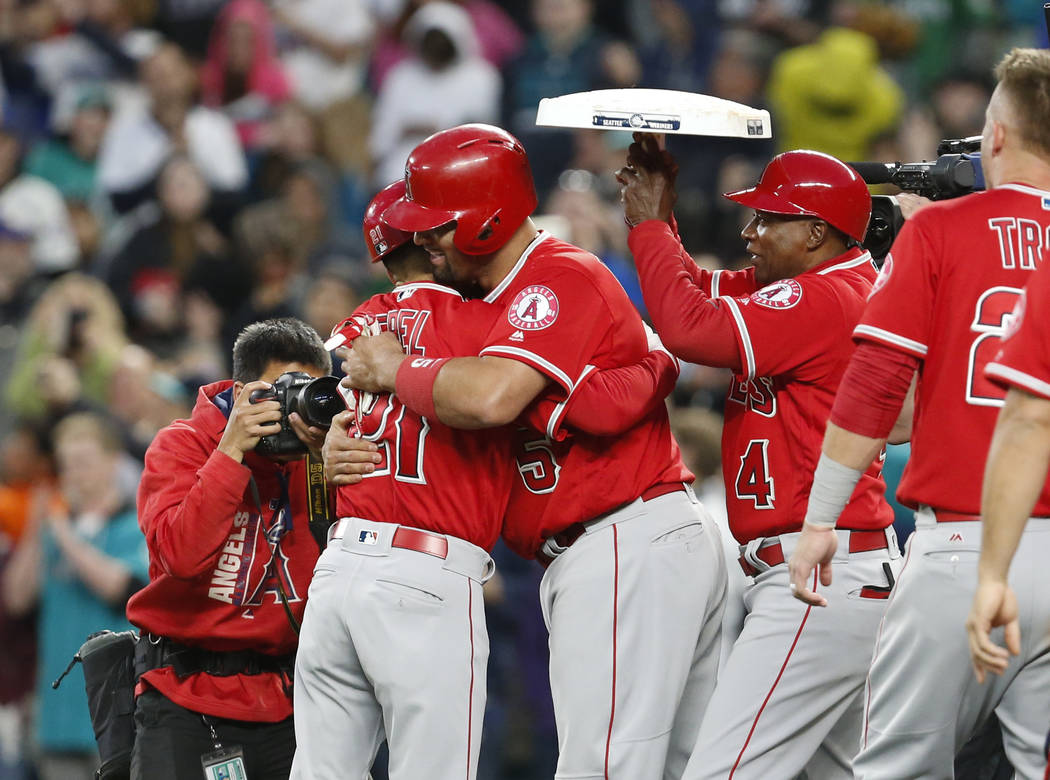 SEATTLE — Albert Pujols became the 32nd member of the 3,000-hit club with a broken-bat single in the fifth inning of the Los Angeles Angels' 5-0 win over the Seattle Mariners on Friday night., then added another hit to pass Roberto Clemente on the career list.
In his sixth attempt to join the exclusive list after getting to 2,999 career hits, Pujols got just enough of Mike Leake's pitch to find the outfield grass and add another accolade to a likely Hall of Fame career. He received a standing ovation from the crowd in Seattle after reaching first base and being congratulated by his teammates.
The slugger made his career out of hitting the ball out of the yard, but reached the milestone by throwing his bat at a sinker that was probably out of the strike zone. Pujols didn't make great contact but was strong enough to loft the ball over the infield and into right in front of Mitch Haniger.
Pujols' two-run single in the ninth inning scored Mike Trout and Justin Upton with hit No. 3,001.
The 38-year-old Pujols joined Hank Aaron, Willie Mays and Alex Rodriguez as the fourth major leaguer with 3,000 hits and 600 homers. He's the first player to reach the 3,000 hits since Adrian Beltre last year against Baltimore.
Pujols became the second Dominican to reach the mark after Beltre. With Seattle's Ichiro Suzuki stepping away this week for the remainder of the 2018 season, Beltre is the only active player with more hits than Pujols.
And it may be a while before another player joins the club. The next closest player to 3,000 is Miguel Cabrera, who is more than 300 hits away. After Cabrera is Robinson Cano, nearly 600 hits shy of the mark.
Pujols' accomplishment came in a victory thanks to the pitching of Garrett Richards, who took a shutout into the seventh inning. Richards (4-1) scattered four hits and had eight strikeouts in his first start against Seattle since late 2015.
Shohei Ohtani was lustfully booed by Seattle fans in his first game in the Pacific Northwest. The Mariners believed they had a shot at landing the Japanese star last offseason, only to see him choose a division rival. He showed what they missed out on with two hits, including a two-out RBI double after Pujols' 3,000th hit, giving the Angels a 3-0 lead.
Leake (3-3) lost for the third time in four starts. He threw 5 1/3 innings and matched a season-high with four walks.
REACHING 3,000
Pujols is the second player to collect his 3,000th hit in Seattle after Rafael Palmeiro's double in 2005 at Safeco Field. Like Pujols, Palmeiro's hit came in the fifth inning.
OHTANI UPDATE
All signs are that Ohtani will return the mound for the Angels on Sunday. Manager Mike Scioscia said Ohtani's bullpen session on Friday went well and as long as there aren't any issues he's expected to start the series finale in Seattle.
ROSTER MOVES
The Angels placed C Martin Maldonado on bereavement list and selected the contract of C Juan Graterol from the minors. LHP JC Ramirez was transferred to the 60-day DL.
UP NEXT
Angels: Lefty Tyler Skaggs (3-2) allowed only two earned runs in his last start but was tagged with the loss against the New York Yankees. Skaggs has a 4.81 ERA in seven career starts vs. Seattle.
Mariners: Lefty Marco Gonzales (3-2) goes for his second straight victory. Gonzales allowed two earned runs in six innings in his last start against Cleveland.