Borenstein's walk-off homer in 10th sends 51s to 6-3 win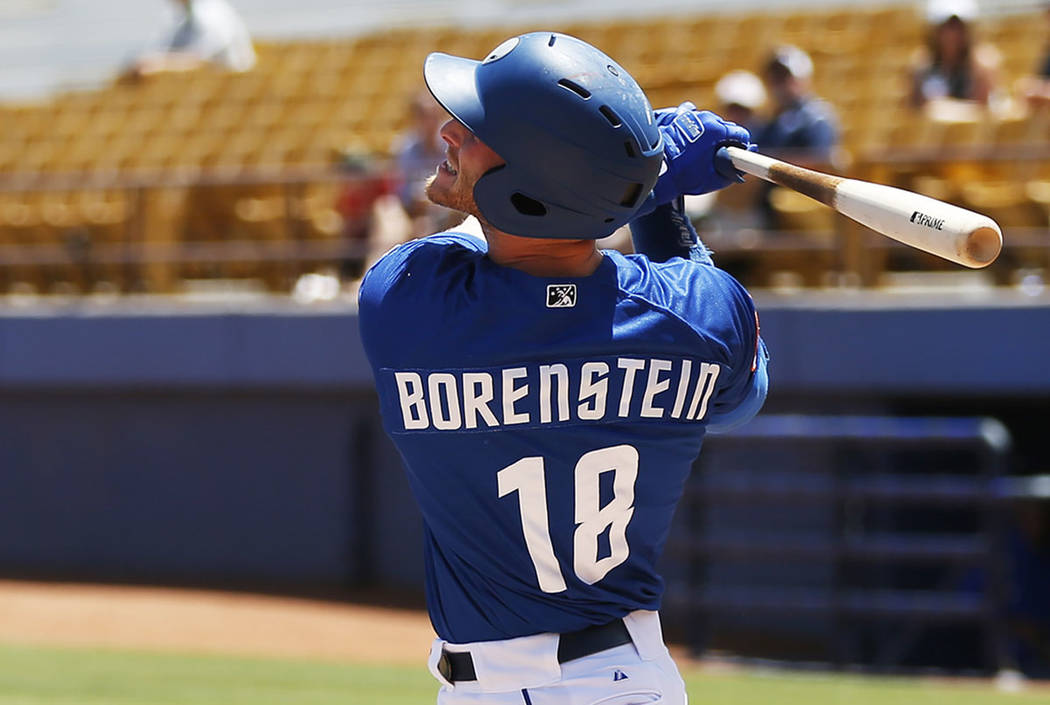 With runners on first and second and no outs in the bottom of the 10th, the Nashville Sounds took time to confer at the mound.
Manager Tony DeFrancesco capitalized on that time to have a chat of his own with batter Zach Borenstein.
"I just said 'How are you feeling today?' " DeFrancesco said. "He said 'I feel great.' I go 'You want to hit or you want to bunt?' "
Borenstein chose option No. 1 and then promptly took his 22nd home run of the season to left-center, ending the game. The three-run blast in the 10th inning led the 51s to a 6-3 win over Nashville on Wednesday night at Cashman Field.
"I'm going up there (and) I'm like 'Well, I'm not bunting him over. I better get him in,' " Borenstein said. "I haven't seen that guy (Josh Lucas) on the mound before, first time I've seen him. A little funky from the side, side arm. He throws a first-pitch fastball that was a decent pitch to hit but I let it go. I could tell, I'm like looking down at Tony like 'Man, I better get this run in. If I don't get him over to third, I better at least get him in,' so I was ready to swing it there."
He did that and the ball carried over the wall.
"It was good to see the guys celebrate at home plate," DeFrancesco said.
Two key plays preceded the walk-off. Right fielder Patrick Kivlehan cut down a runner at home trying to score in the top half of the 10th to keep the game tied and before that, Kevin Kaczmarski's bases-loaded base single in the ninth inning sent the game to extras.
That run came after Nashville (50-52) had struck in the top of the ninth for a run off reliever Bobby Wahl, who played for the Sounds less than a week ago.
The ninth-inning runs were the first for either team since early on as the two starters tangled in a pitchers' duel.
Nashville took a lead with a run in both the first and third innings but that was all 51s (49-54) starter Chris Flexen would give up.
Flexen threw seven innings and gave up two runs on six hits. He struck out seven and walked none. In his last four starts, he has a 1.73 ERA across 26 innings pitched.
"I think he's on a mission. I think when he was in the big leagues, he realized what he was going to have to do," DeFrancesco said. "He's got more of (an) attitude and presence on the mound. When he comes off, he's focused. … I think stuff-wise he throws enough strikes. He's commanding his fastball. He's learning how to elevate. His breaking ball's been a lot better."
His counterpart, Daniel Mengden, matched him, giving up just two runs — one earned — on three hits in his outing.
Las Vegas scored in the third on Colton Plaia home run and a Borenstein RBI triple.
"He was getting ahead of hitters and he was throwing pretty much whatever he wanted to in any count," Borenstein said. "There were no tendencies in any count and when he needed to make good pitches, he did. He didn't leave stuff out over the plate with runners on base so you've just got to tip your cap."
Mengden also lasted seven innings in his start, and neither team scored between the fourth and eighth innings.
"We didn't play great yesterday, kind of felt like we had opportunities in this game that we let get away and then the huge play with Kivlehan in right field to keep it a tie game, that was a huge momentum shift to keep it tied for us and I'm just really happy to come away with the win today," Borenstein said.
More 51s: Follow Las Vegas 51s coverage at reviewjournal.com/51s and @RJ_Sports on Twitter.
Contact Betsy Helfand at bhelfand@reviewjournal.com. Follow @BetsyHelfand on Twitter.