Brown awaits more than pinch of majors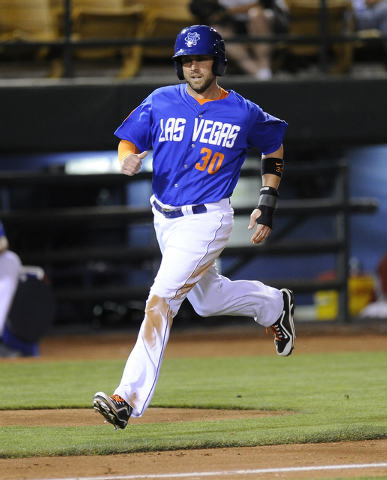 It often has been said that hitting a baseball is the hardest thing to do in sports, but Andrew Brown begs to differ.
To be more precise, the 51s outfielder — batting .355 with a team-leading nine home runs and 22 RBIs in 27 games — contends that being a pinch hitter in the big leagues is the most difficult task in sports.
"It's definitely the hardest thing in all of sports that I could imagine," he said. "To be sitting on a bench and have to go pinch hit in the ninth against a guy throwing 95 to 97 (mph) with a bastard slider."
Brown should know. For parts of the past four seasons, including this one, the 29-year-old has served as a pinch hitter and role player off the bench in the big leagues for the New York Mets, Colorado Rockies and St. Louis Cardinals.
He's had some success in the role, with 13 home runs and 43 RBIs in 311 at-bats, but has yet to earn regular playing time in the majors.
"It's not easy, especially when you're coming from the minors where you're playing every day," he said. "You might start two days, then sit a few days. You might get an at-bat. You might not. It's just a totally different feeling.
"When you're pinch hitting, you don't really have an adjustment period. You get one pitch, normally, that's a mistake pitch, if you're lucky. Most of the time, you don't get a mistake pitch. You've got to hit one of their pitches, and that makes it tougher."
Brown set career highs in at-bats (150), homers (seven) and RBIs (24) last season for the Mets and has impressed Las Vegas manager Wally Backman with his bat.
"I'm a fan of Andrew Brown because I think he can play. He's got a lot of thunder in his bat," Backman said. "He's never been able to really show what he can do playing on a regular basis in the big leagues yet.
"One of the reasons he was sent here was to get some regular at-bats to get him going so he's sharp if he gets called back up to the big leagues. I think he can flat out hit. I hope we keep him and don't lose him to somebody else."
Brown made the Mets out of spring training this year and was gearing up for his first Opening Day in the majors when New York manager Terry Collins told him he was starting in left field in place of Chris Young, a late scratch with a sore quad.
"I found out probably two hours before the game," Brown said. "I wasn't expecting to play at all because I didn't know C.Y.'s leg was bothering him.
"Your emotions start running high, and you try to keep it at bay as much as possible, but it's Opening Day in the big leagues."
Brown said talking to All-Stars David Wright and Curtis Granderson, among others, helped him settle down.
"They've been making teams for 10 or 12 years, and they said they still get nervous," he said. "It didn't make me feel as bad."
Facing Washington Nationals ace Stephen Strasburg with two on and two outs in the bottom of the first inning, Brown showed the poise of a seasoned veteran — swatting a 94 mph fastball into the left-field bleachers for a three-run homer.
The Mets lost 9-7, but Brown's first Opening Day always will be memorable.
"That will be with me forever," he said. "Too bad we didn't come out with a win."
Brown played most of the second game as well, then saw sporadic playing time, pinch hitting in his final two appearances before getting optioned to Las Vegas on April 24, after outfielder Bobby Abreu was called up.
He hit .185 (5-for-27) for the Mets with a homer and five RBIs in 10 games.
"Obviously I could've done better, but it's a small sample size with 30 at-bats," Brown said.
Brown, who went 2-for-3 with a double in Saturday night's 5-2 loss to Sacramento (29-20) at Cashman Field, has been on a tear since joining the 51s (32-17), averaging a homer every three games and almost an RBI a game.
"I just have to get some at-bats, get back into a groove and see how the chips fall after that," he said. "I'll do whatever Wally asks me to do and try to have as much fun with it as I possibly can. I'm ecstatic with the way things are going right now."
An 18th-round draft pick out of the University of Nebraska, Brown, an eighth-year pro, said he's been trying to prove people wrong since high school, when his coach told him he wasn't good enough to play regularly and only used him as a pinch hitter.
"There's always a chip on your shoulder, especially when people tell you you can't do things," he said. "I just keep trying to prove people wrong."
■ NOTES — 51s closer Vic Black will join the Mets today as the 26th member of their roster for a doubleheader against the Arizona Diamondbacks. … Las Vegas has lost a season-high four straight and six of seven.
Contact reporter Todd Dewey at tdewey@reviewjournal.com or 702-383-0354. Follow him on Twitter: @tdewey33.