Bumgarner continues postseason mastery as Giants down Mets, 3-0
October 5, 2016 - 8:31 pm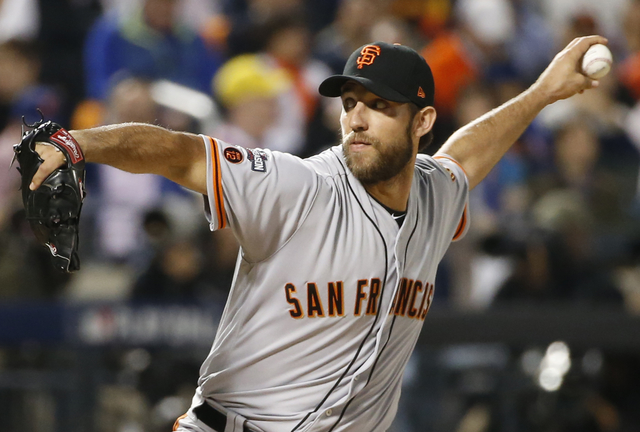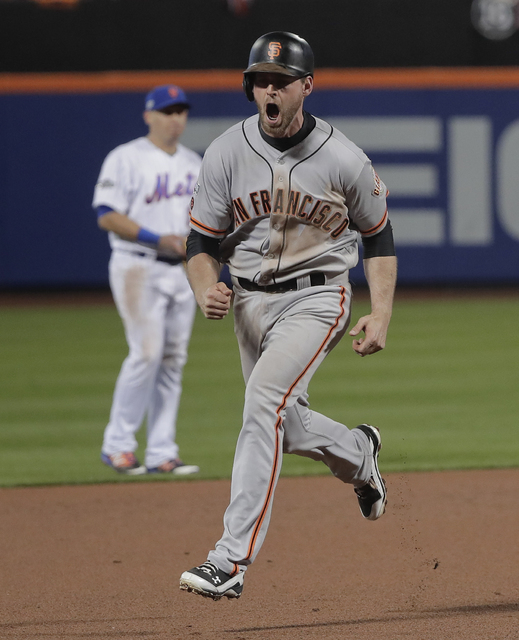 NEW YORK — Nobody takes to October like Madison Bumgarner and the San Francisco Giants.
Bumgarner pitched a four-hitter for his latest postseason gem, outlasting Noah Syndergaard in a classic duel between aces, and injury substitute Conor Gillaspie hit a three-run homer in the ninth inning that sent San Francisco to a 3-0 victory over the New York Mets in the NL wild-card game Wednesday night.
Gillaspie connected off All-Star closer Jeurys Familia, who led the majors this year with a club-record 51 saves while allowing only one home run.
With their ninth consecutive victory when facing postseason elimination, manager Bruce Bochy and the Giants advanced to play the NL Central champion Cubs in a best-of-five Division Series. Game 1 is Friday night at venerable Wrigley Field in Chicago.
The good news for the Cubs as they attempt to end a championship drought that dates to 1908 is that Bumgarner probably won't start until Game 3 — and would only be available once on full rest.
That's because the big left-hander has been untouchable under pressure.
"It's unbelievable what he's done," Gillaspie said.
The last time Bumgarner was on the mound in the postseason, he saved Game 7 of the 2014 World Series in Kansas City with five scoreless innings on two days' rest to cap one of the greatest playoff performances in baseball history.
Including his four-hit shutout at Pittsburgh in the 2014 wild-card game, he has tossed 23 straight scoreless innings in winner-take-all games.
"He's one of the game's great big-game pitchers," Mets manager Terry Collins said.
Asked how he wants to be remembered, Bumgarner said: "I'm a winner. That's all anybody wants to be."
Now, the Giants have a chance to extend their pattern of even-year titles after winning World Series crowns in 2010, '12 and '14.
In a matchup between the past two NL champions, Syndergaard struck out 10 in seven shutout innings of two-hit ball. Brandon Crawford doubled leading off the ninth against Familia. Angel Pagan struck out after failing to get a bunt down, and Joe Panik walked.
Gillaspie, starting at third base for injured All-Star Eduardo Nunez, drove a 1-1 pitch over the fence in right field and pumped his arm as he rounded first.
"I don't know what I was thinking. Normally I'm not a fired-up guy. I let some frustration out from the first six innings with that swing," Gillaspie said.
Bumgarner closed with a 1-2-3 ninth against the 3-4-5 hitters and smacked his glove in triumph when rookie T.J. Rivera flied out to end it.
With his sizzling fastball clocking 99 mph and long, blond locks dangling down his neck, Syndergaard held San Francisco hitless until Denard Span's two-out single in the sixth.
Eager to take advantage of Syndergaard's slow delivery, Span stole second before Brandon Belt sent a long drive to deep center. Curtis Granderson, moved over from right field late in the season because of injuries to two other outfielders, crashed hard with his left shoulder into the padded fence 408 feet from home plate and tumbled to the warning track.
He held onto the ball, however, and was shaken up a bit before getting to his feet and jogging off the field as teammates waited to high-five him and fans chanted "Grandy! Grandy!" Syndergaard raised his arm, while Belt tossed his helmet in frustration between first and second.
Syndergaard fired 42 pitches at least 98 mph — more than the Phillies (41) and Indians (35) threw all year, according to a tweet from Inside Edge.
"He was really good tonight. He was as good as I've seen at this level. It was a tough go-round for seven innings," Gillaspie said.
And while Syndergaard simply overpowered the Giants at times, Bumgarner kept the Mets off balance by mixing pinpoint pitches and changing speeds from around 93-77 mph.
New York came out swinging after Collins said before the game his hitters had seen enough video of Bumgarner over the past two days to know he would challenge them. But the aggressive approach played right into the hands of Bumgarner and the Giants, who never had to use a shaky bullpen that struggled badly down the stretch.
The big lefty was able to get quick outs early and went the distance on 119 pitches, striking out six and walking two — one intentional. He needed only seven pitches to get through each of the first three innings, with the help of a double play.
"I really thought, hey look, if we can get to him early," Collins said. "We probably need to do a little better job of working the count."
Still, he was visibly aggravated at times by Mike Winters' strike zone — so was Mets reliever Addison Reed, it appeared — and had a quick chat with the plate umpire between batters in the sixth.
TRAINER'S ROOM
Giants: Nunez (strained right hamstring) was left off the wild-card roster, costing San Francisco a base-stealing threat against Syndergaard. An AL All-Star this season with Minnesota, he was acquired in a July 28 trade but hasn't played since Sept. 25.
Mets: INF Wilmer Flores (wrist) was missed, particularly because of his prodigious numbers against left-handed pitching. Flores has been sidelined since Sept. 10 after getting hurt in a home-plate collision. Surgery is planned this week to remove the hamate bone in his right wrist, and Flores is expected to be healthy for spring training next year.
UP NEXT
Giants: RHP Johnny Cueto figures to start the Division Series opener against LHP Jon Lester.
Mets: Open next season April 3 at home against Atlanta.