Cardinals beat Cubs 3-0 on Opening Night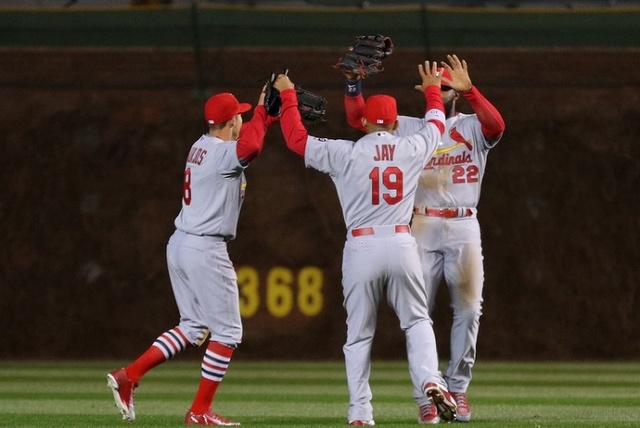 CHICAGO — Left fielder Matt Holliday reached base three times and drove in two runs, leading the St. Louis Cardinals to a 3-0 Opening Night victory over the Chicago Cubs on Sunday at Wrigley Field.
Holliday went 2-for-4 and walked once, while third baseman Matt Carpenter added an RBI single and scored once off left-hander Jon Lester, making his first Cubs start.
St. Louis right-handed starter Adam Wainwright, coming off a 20-9 season for the defending National League Central champions, made his fourth career season season-opening start and third straight.
Wainwright (1-0) worked six innings and allowed five hits and struck out six while throwing 101 pitches. He didn't issue a walk. Right-handed reliever Trevor Rosenthal struck out the side in the ninth for the save.
Right fielder Jason Heyward went 3-for-5 with a double to lead a 10-hit St. Louis attack.
The Cubs, who kicked off the season under new manager Joe Maddon and with a major Wrigley Field construction project as a backdrop, had just five hits off four Cardinals pitchers. Three were doubles, with one apiece from center fielder Dexter Fowler, left fielder Chris Coghlan and catcher David Ross.
The Cardinals opened a 1-0 first-inning lead on Lester when Heyward launched a one-out double to right and scored on Holliday's single to right on an 0-2 count.
St. Louis made it 2-0 in the second as second baseman Kolten Wong walked and later scored on leadoff man Carpenter's single to right.
The Cardinals threatened in the fourth when Wong reached third after a one out throwing error. But he stayed put as Lester struck out center fielder Jon Jay looking and forced Wainwright to ground out.
St. Louis scored again in the fifth when Carpenter led off with a single to right and came home on Holliday's single to right-center.
Lester, who dealt with arm weakness during spring training, left with runners on second and third after throwing 89 pitches.
Cubs left-handed reliever Phil Coke intentionally walked catcher Yadier Molina to load the bases with two out for Wong, who struck out swinging to end the inning.
Lester worked 4 1/3 innings and allowed eight hits and three runs while walking two and striking out six.