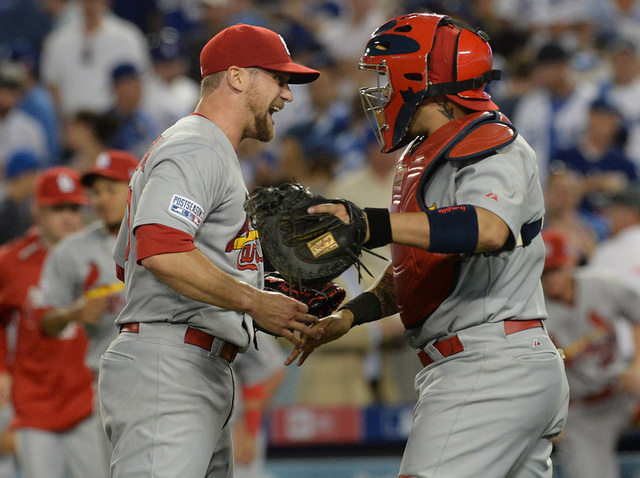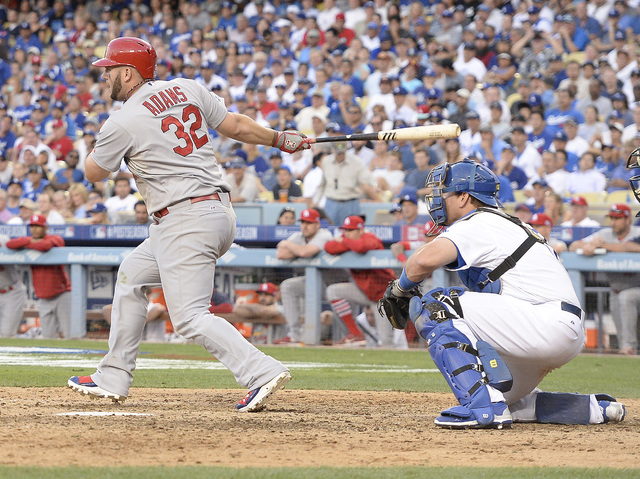 LOS ANGELES — Matt Holliday's three-homer capped an eight-run rally in the seventh inning, and the St. Louis Cardinals stunned Clayton Kershaw and the Los Angeles Dodgers 10-9 in Game 1 of the National League Division Series on Friday night before a sellout crowd of 54,265 at Dodger Stadium.
St. Louis again knocked around Kershaw, tagging him for eight runs on eight hits in 6 2/3 innings and rallying from a five-run deficit. Kershaw (0-1) struck out 10 and didn't walk a batter, throwing 110 pitches (77 strikes), but the Cardinals hammered him in the seventh, reminiscent to last year's National League Championship Series Game 6 series-clinching victory, when they pounded him for seven runs in four innings.
Kershaw was cruising, retiring 16 in a row after giving up a solo home run in the first inning to Cardinals rookie right fielder Randal Grichuk. Third baseman Matt Carpenter ended Kershaw's string by hitting another solo blast in the sixth. In the seventh, the Cardinals got RBI singles by first baseman Matt Adams and center fielder John Jay before Carpenter, who went 2-for-5 with four RBIs, hit a bases-clearing double for a 7-6 St. Louis lead to chase Kershaw.
Holliday, who was 2-for-4 with three RBIs, slammed his home run to left off reliever Pedro Baez, which turned out to be the difference, with two outs in the seventh.
Cardinals reliever Marco Gonzales (1-0) pitched a scoreless sixth for the victory. Closer Trevor Rosenthal gave up a run before recording the save.
First baseman Adrian Gonzalez hit a two-run homer in the eighth to pull the Dodgers within two runs. Second baseman Dee Gordon's RBI groundout in the ninth cut the margin to a run before Rosenthal struck out center fielder Yasiel Puig with the tying run on third base.
St. Louis starter Adam Wainwright lasted just 4 1/3 innings, giving up six runs on 11 hits with five strikeouts and a walk.
Grichuk drove an 0-2 Kershaw curveball into the seats in left for a 1-0 St. Louis lead in the first.
Tempers flared in the third inning when Wainwright hit Puig with a fastball near his shoulder. Gonzalez, who was the on-deck hitter, and Cardinals catcher Yadier Molina had to be separated after exchanging words. The benches and bullpens cleared, but order was restored without any punches being thrown. Both clubs were issued warnings though.
The Dodgers answered by scoring two runs in the inning. Puig came home on Hanley Ramirez's RBI single and Ramirez scored on Carl Crawford's ground-rule double for a 2-1 Dodgers' advantage.
In the fourth, Puig and right fielder Matt Kemp each drove in a run for a 4-1 Los Angeles lead.
Ellis drilled a two-run home run to left with one out in the fifth, spelling the end for Wainwright and giving the Dodgers a five-run cushion.
NOTES: INF Darwin Barney, rookie OF Joc Pederson and LHP Paco Rodriguez were among the Dodgers left off the NLDS roster. C A.J. Pierzynski, RHP Jason Motte and INF Mark Ellis were among the Cardinals who didn't make it. … This is the fifth postseason meeting between the two clubs. The Cardinals have captured three of the previous four series, winning in 2013, 2004 and 1985. Los Angeles swept St. Louis 3-0 in 2009. … Cardinals RHP Lance Lynn (15-10, 2.74 ERA) will face Dodgers RHP Zack Greinke (17-8, 2.71 ERA) in Game 2 on Saturday.