Cecchini brothers deliver Mother's Day present at Cashman Field
Updated May 14, 2017 - 5:52 pm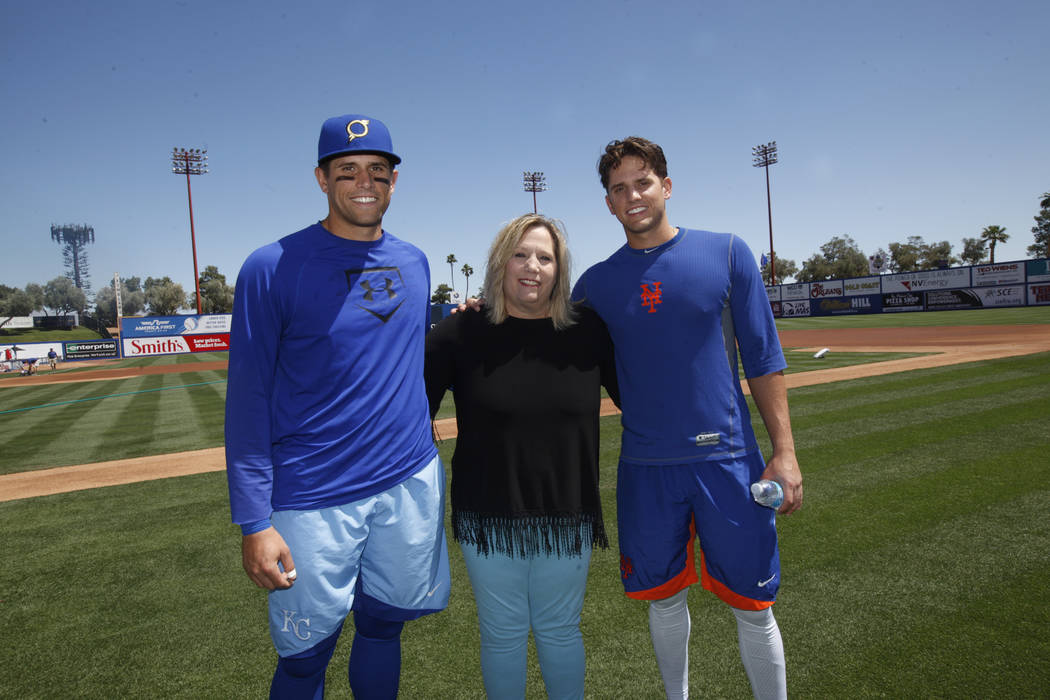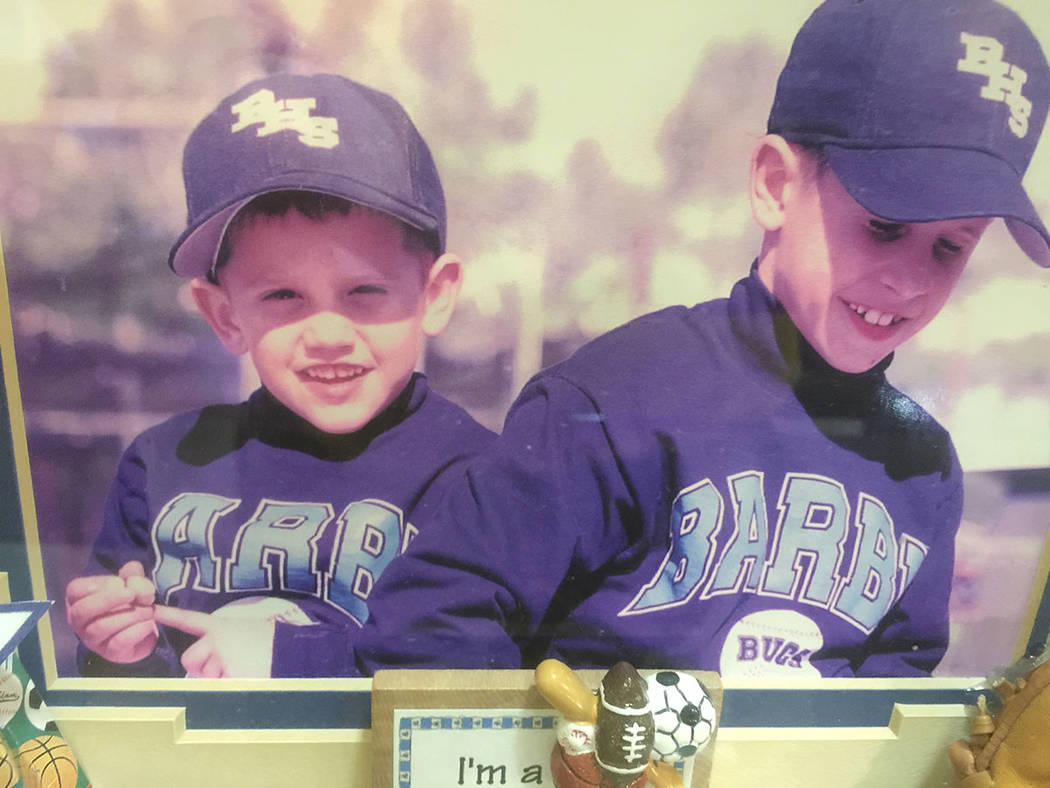 Raissa Cecchini's Mother's Days are typically spent at a ballpark.
But Sunday, her two sons, Garin and Gavin, made sure her Mother's Day was anything but typical.
Garin's Omaha Storm Chasers beat Gavin's Las Vegas 51s, but each son collected three hits. Gavin finished the day 3-for-5 with two runs and two RBIs. Garin went 3-for-4 with one run and an RBI.
"It's something that I'll cherish forever," younger son, Gavin, said Sunday after the game. And it seems safe to say Raissa, the woman who made both of them into the ballplayers they are, will too.
It's been years since she's been able to spend the day with her whole family. Normally, Barbe High School, the Louisiana baseball program she and her husband Glenn built into a powerhouse is playing for a state championship while Garin, 26, and Gavin, 23, are off playing for their respective teams.
But as luck would have it, the family was able to reunite for Mother's Day for the first time since both kids were in high school.
"This is a once-in-a-lifetime chance to see both boys play each other," Raissa said. "I had planned on coming. I was actually going to skip the state championship game but don't tell my husband that. I was going to skip it just to come watch."
As it worked out, Glenn was able to come to Las Vegas, too, as Barbe bowed out of the tournament before reaching the championship game, making for a special Mother's Day for Raissa, who coached both boys when they were younger. Raissa will still give advice — if her kids ask for it, that is — to this day.
"Anytime you see that in the world with politicians or anything, seeing a woman do a man's job, it's special," Garin said. "She's been a big part of our careers."
Raissa, who was a three-sport athlete, coached both sons in Little League and select ball. She also coached with Glenn at Barbe as an assistant coach for almost 20 years, ending in the early 2000s. To this day, she is a big part of the program, coaching behind the scenes and working with players off the field. With both parents as coaches, the boys were practically raised on a baseball diamond.
"Once my brother got into high school, she just wanted to be a mom and support us in that way so (she) wanted to sit back and watch us play," Gavin said.
Both teachers, Raissa and Glenn spend their summers doing just that, traveling the country to see their two sons play.
A trip last July took them to see their sons play in Texas, Colorado, Nevada, Washington and California. Earlier that year, they hoped they'd get a chance to see the two face off against each other for the first time when the 51s went to play in Colorado Springs, where Garin was at the time.
But an injury held Gavin out of the lineup during the series, making this weekend the first time the Cecchinis played against each other.
It's was a matchup that almost didn't happen, too, as Gavin was called to New York and placed on the Taxi Squad on May 8 in case the Mets needed to place Asdrubal Cabrera on the disabled list.
Glenn and Raissa headed to New York earlier in the week hoping watch him before learning he wouldn't be activated and would be sent back to Triple-A.
"It's okay. Things work out for a reason. We're here now," she said. "We've had a great time. We really have. We've got to visit with both boys."
On Friday, she watched as Garin grounded out twice to his little brother.
Garin, in turn, repaid the favor.
"Alright Gavino, hit it over your brother's head today. Not to him," Raissa said just before Gavin hit a smash toward the third-base line and was robbed of extra bases by his brother.
The two are competitive against each other, and it couldn't have been more evident Friday.
"Look at him smilin.' He goes 'Shhh,'" Raissa said of her oldest son after the play. "Look at Gavin's face. He's going 'What are you doing?' That's hilarious. … That was a good play. Good job, G. That was incredible."
And on Mother's Day, it got even better.
After the game, Gavin was planning on presenting his mother with his special pink cleats and a pink Marucci wood bat with a special note, a fitting present.
"For both my brother and I, she's been a huge impact on our successes that we've had. Ever since I can remember, we were staying up to nine, 10 o'clock at night hitting in the cages with her," Gavin said. "She's been unbelievable. I wouldn't trade her for anything. She's a huge reason why I'm the player that I am today."
Contact Betsy Helfand at bhelfand@reviewjournal.com. Follow @BetsyHelfand on Twitter.