Corey Oswalt, Colton Plaia come through for 51s in victory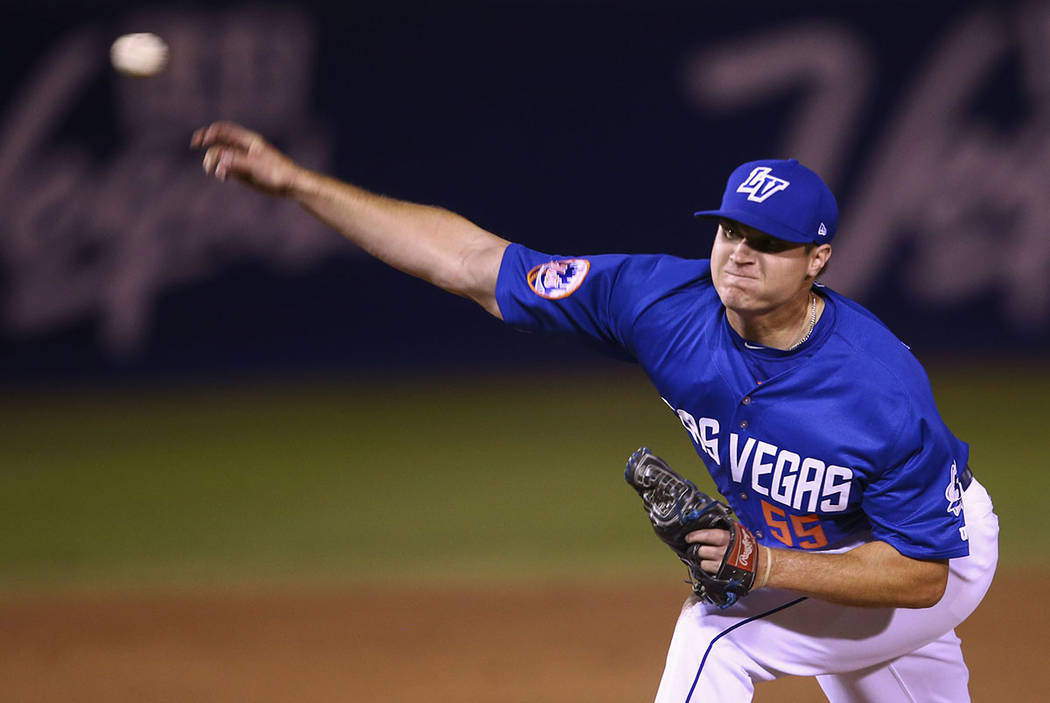 For three straight days, the Round Rock Express relentlessly battered Las Vegas pitching. They went off for 12 runs on Friday, 18 more on Saturday and another 10 on Sunday.
But finally, in the series finale, Corey Oswalt found an answer for the Express, shutting them down for six innings while catcher Colton Plaia drove in four runs as part of the 51s' 6-1 victory on Monday night at Cashman Field.
"We talked today about more elevated fastballs (and) using the breaking ball in a different manner, not just getting it over the plate but putting it in a swing and miss position off the plate more. Today, (Oswalt) pitched up in the zone effectively. He was throwing inside effectively and he made everything more crisp and sharp," manager Tony DeFrancesco said.
It was Oswalt's second scoreless start of the season and his six innings matched a season-high. He gave up just five hits and struck out six in the outing.
The only time he really got in trouble was the third inning when, after getting two quick outs, he allowed two singles and a walk to load the bases. But he got himself out of that jam, getting Round Rock's (29-35) Tommy Joseph to fly out to end the threat.
"He was really good tonight," Plaia said. "He had good fastball command, (could) flip his breaking ball in there when he needed to and he changed eye levels, which is what you need."
Newly-signed Ian Krol, who the Mets picked up after he was designated for assignment in late May by the Angels, worked a 1-2-3 seventh inning in his first appearance with the 51s (27-38), striking out two before surrendering a home run to top Rangers prospect Willie Calhoun to lead off the eighth. Eric Hanhold and Drew Smith tossed scoreless innings to end the game.
Offensively, Plaia did a majority of the damage, doubling in the second inning to drive in Johnny Monell, who had doubled to lead off the frame.
Plaia added a home run — his first of the season —in the fourth inning and a two-run single up the middle in the eighth inning.
Plaia said he had been working with hitting coach Joel Chimelis on trying to be more calm in the box and stay through the ball a little bit longer and saw the results from that.
"It definitely helped," Plaia said. "I was able to stay on it longer and find holes and find some grass in the outfield."
Zach Borenstein also hit a home run, while Christian Colon added an RBI hit of his own. Monell, serving as the team's designated hitter, had three hits in the win.
"Today was one of the best games we had all season," DeFrancesco said. "Solid pitching and defense and guys swung the bat."
More 51s: Follow all of our Las Vegas 51s coverage online at reviewjournal.com/51s and @RJ_Sports on Twitter.
Contact Betsy Helfand at bhelfand@reviewjournal.com. Follow @BetsyHelfand on Twitter.