CSN's Mikey York, Faith Lutheran's Zack Trageton picked by Rays in MLB draft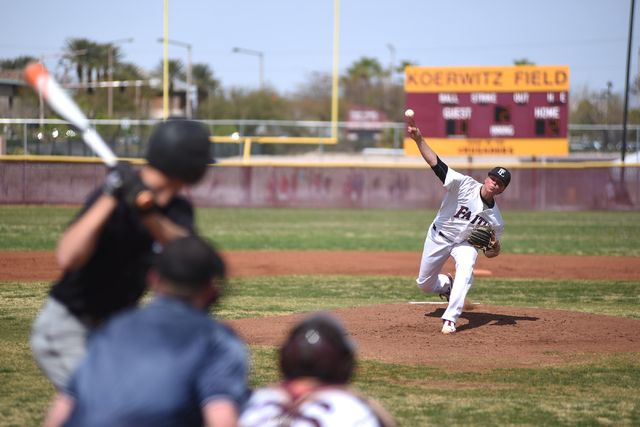 College of Southern Nevada freshman Mikey York and recent Faith Lutheran graduate Zack Trageton hadn't met prior to their workouts for the San Diego Padres on June 1.
But after being selected 30 picks apart by the Tampa Bay Rays in Friday's Major League Baseball first-year player draft, the two right-handed pitchers likely will be seeing more of each other should they choose to forgo their Division I college commitments and sign professional contracts.
York, a former Basic High standout, was the first Southern Nevadan drafted, taken in the fifth round with the 150th overall pick. He had been in touch with the Rays organization the past few weeks, and found out he was going to be selected a couple picks beforehand when the team called.
"It's unbelievable," said York, a 6-foot-2-inch Arizona State commit. "Words definitely can't describe how I feel. It was a long year (coming back from Tommy John surgery). Just pure enjoyment right now. …
"I would say there's a 99 percent chance I'll be signing with the Rays. Nothing is for sure, but it's a pretty good bet."
Trageton, a 6-3 Utah commit, went in the sixth round and 180th overall.
"It hasn't really set in yet," Trageton said. "This morning, my family and I were high-strung and tense. And when I got my name called, we finally could breathe and relax. I'm very happy with this organization. I can't wait to go to Florida in a couple of weeks and get going again."
York, the son of former major leaguer Mike York, overcame Tommy John surgery this season and turned into a dominant ace at CSN. He had originally signed to play at Saint Mary's (California) out of high school in 2014, but opted to go the junior college route to expedite the draft process and be on a one-year deal.
But shortly after decommitting, he threw out his arm playing with the Team Vegas scout team.
This season, in his first full season back, he was 6-0 with a 2.03 ERA and 61 strikeouts in 48.2 innings. Despite being on a strict pitch count and inning limit, York never lost his competiveness and work ethic.
"He never wanted to come out of the games when he was on pitch and inning counts," CSN coach Nick Garritano said. "All he wanted to do was help the team win. When he came off the field, he was the No.1 cheerleader.
"He's just a superstar kid. Very deserving and I truly believe he's going to pitch in the big leagues. He's got that it factor."
York entered the draft ranked No. 173 on the MLB.com Top 200 prospect list and was projected to be the second local taken behind Arbor View shortstop Nick Quintana, who was pinned at No. 107 before he fell out of the top 10 rounds.
Quintana, the Gatorade Nevada Player of the Year, has signed to Arizona.
Trageton was 6-1 with a 1.71 ERA and 76 strikeouts in 49 innings this season. He learned of his draft fortune on the way home from a lunch break.
"Last night it was pretty quiet. My adviser didn't really hear anything," Trageton said. "I expected this morning to be crazy and it wasn't, so I went to Port of Subs and got a sandwich. On the drive home, they called."
Contact reporter Ashton Ferguson at aferguson@reviewjournal.com or 702-383-0430. Follow him on Twitter: @af_ferguson