Donovan Hand pitches 51s to fifth consecutive win
April 19, 2017 - 12:07 am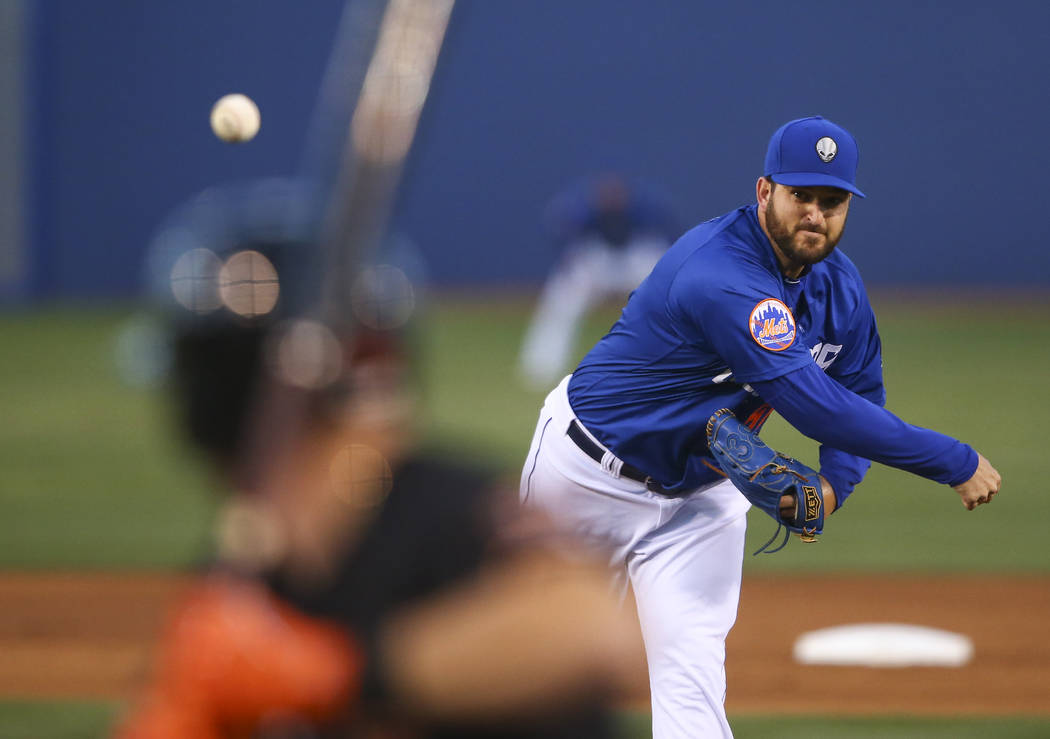 Less than a week ago, Donovan Hand gave up five runs in the second inning — seven total — while Fresno got a quality start from its starter.
The 51s haven't lost since then. And Tuesday night, they turned the tables on the Grizzlies.
Las Vegas jumped on Fresno starter Keegan Yuhl in the second inning for five runs, while Hand turned in his first quality start of the season. The result was a 6-1 victory at Chukchansi Park for the first-place 51s (8-5).
"Everything starts with the pitching, and Hand did a really good job tonight," Las Vegas manager Pedro Lopez said.
Hand allowed six runs in his first outing and seven in his next — six earned — but for the most part, whenever he was in trouble Tuesday, he found a way to work out of it.
"I thought that the one thing he did, he located his pitches better, and he also pitched inside better to hitters on both sides of the plate," Lopez said. "The curveball tonight was a really good pitch for him, and he threw strikes at the bottom of the strike zone and got outs."
The only run he surrendered came in the second inning on Jon Kemmer's RBI single to right.
Las Vegas pitching combined for 13 strikeouts — including six from Kevin McGowan in two innings — as the Grizzlies (5-8) went 1-for-9 with runners in scoring position and stranded eight.
The 51s, meanwhile, used their big second-inning to propel them to the win.
With one out, Kevin Plawecki singled to right. The next three batters — Josh Rodriguez, Phillip Evans and Desmond Jennings — also singled, with Evans' hit knocking in Plawecki for the first run.
After Gavin Cecchini struck out swinging, Matt Reynolds kept the inning alive, taking a walk after a nine-pitch at-bat against Yuhl.
"I thought that was a really good at-bat, especially after falling behind two strikes," Lopez said. "He kept battling and kept battling and fouled off some tough pitches and ended up getting that walk. I thought that was huge."
The walk forced in Rodriguez and brought up T.J. Rivera, who singled on the first pitch to drive in all three runs and break the game open against Yuhl, who beat the 51s less than a week ago at Cashman Field.
"He made some mistakes over the middle of the plate," Lopez said. "We also laid off some borderline pitches that we swung at when we were in Vegas, and we were able to get to him and he kept the ball up in the zone and we did some damage."
The win was the 51s' fifth straight, and in each of those games, they've struck early.
"We were able to get on the board early and get some quality at-bats and also get some big hits with men in scoring position to set the tone for the whole game," Lopez said.
Up next
Who: 51s at Fresno Grizzlies
When: 6:35 p.m. Wednesday
Where: Chukchansi Park
Starters: Tyler Pill (0-0, 0.00 ERA), 51s, vs. Brady Rodgers (2-0, 1.50 ERA)
Next five
Thursday: Las Vegas at Fresno, 7:05 p.m.
Friday: Las Vegas at Fresno, 7:05 p.m.
Saturday: Las Vegas at Sacramento, 7:05 p.m.
Sunday: Las Vegas at Sacramento, 1:05 p.m.
Monday: Las Vegas at Sacramento, 7:05 p.m.
Update
51s manager Pedro Lopez said Monday that Tyler Pill would join the team from Double-A Binghamton to start Wednesday for the 51s. Pill was 1-1 with a 5.60 ERA in five starts with the 51s last season. In two starts at Binghamton this season, he hasn't surrendered a run in 10 1/3 innings.
Contact Betsy Helfand at bhelfand@reviewjournal.com. Follow @BetsyHelfand on Twitter.