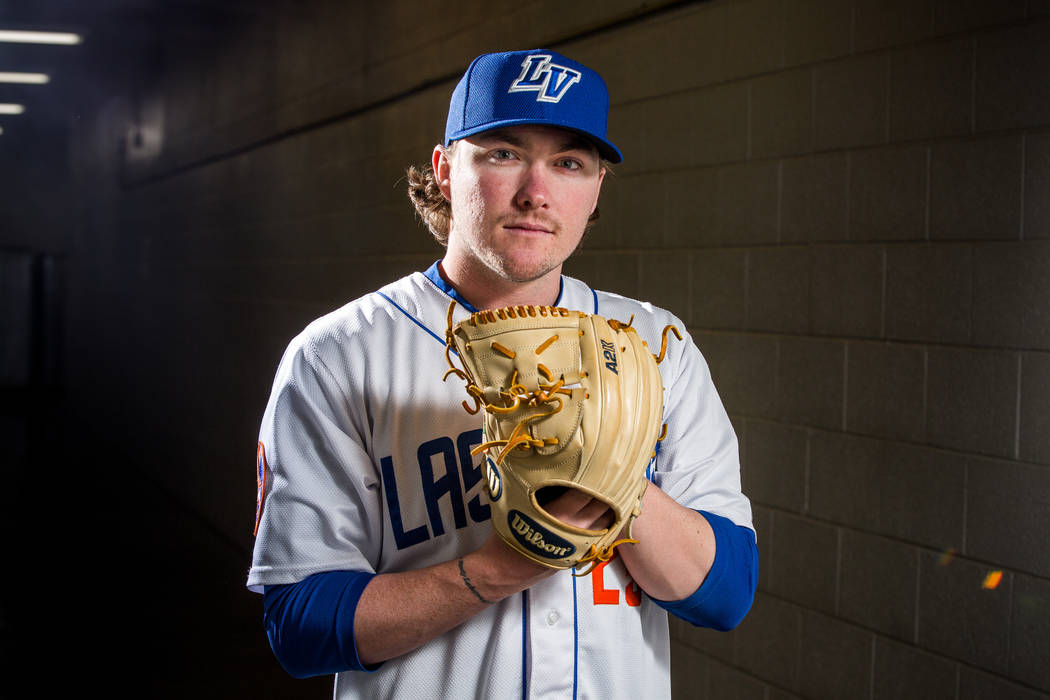 With a day game Sunday, there is little time for Las Vegas to dwell on its latest blowout loss, a 18-7 shellacking by Round Rock.
And that's a good thing for the 51s (26-37), who lost in ugly fashion on Saturday night at Cashman Field.
They gave up a season-high 22 hits to Round Rock (28-34). Five of those were home runs. There were wild pitches, passed balls and a pair of costly errors.
"It gets sloppy. There's so many balls put in play. Twenty-two hits, I don't know how many walks we had, but that's a lot of action in the game for the players on defense to go out and track balls down, be consistent making throws every time we throw it back to the infield," manager Tony DeFrancesco said. "It's tough to stay up for it. I think just mentally draining on the players. And for me it's just been disappointing that we can't go out there and compete and just have a quality game for nine innings."
Starter P.J. Conlon, who was making his first start since being designated for assignment by the Mets, claimed by the Dodgers and then claimed again by the Mets, gave up 10 runs — eight earned — in 4⅔ innings pitched. It was his first time pitching since May 28.
Conlon gave up four home runs, including two in the second inning and back-to-back blasts in the fifth.
"I mean basically today it was if you got it up in the air, the wind was going to take it. I mean there's a couple balls that I think on most nights they may stay in the yard," Conlon said. "It's just one of those nights you've just got to try to hang with it and just try to get as many outs as you can."
Conlon said he was happy with his velocity and his curveball, despite the results.
After he departed, Joshua Torres came on for his Triple-A debut and was knocked around, giving up three runs on seven hits in 2⅓ innings pitched.
Gerson Bautista followed, giving up five runs of his own in the eighth inning and Kyle Regnault pitched a scoreless ninth.
"I know our pitching staff is better than this," DeFrancesco said. "The conditions with the wind blowing out, I know it's difficult to make mistakes here, but we're just not executing pitches. We're leaving balls over the middle of the plate and Round Rock is not missing. They've got a nice hitting team over there."
All five runs Bautista gave up were unearned as second baseman Joey Wong made an error trying to throw a runner out at second base. Kevin Kaczmarski made an error of his own earlier in the game, missing a catch in left field in what should have been the third out of the fifth inning, leading to multiple runs scoring.
Offensively, the 51s scattered nine hits. Kaczmarski, Zach Borenstein and Cody Asche each had two RBIs, with the latter two each hitting two-run blasts in the fourth inning.
But the 51s were shut down from there, held scoreless in the last four innings of the game, three of which were pitched by lefties.
"We don't really match up against left-handed pitching right now. We have very left-hand dominant (lineup) and we've got to do a better job competing against lefties," DeFrancesco said. "Their bullpen came in and shut us out today. The next two days we've got two left-handed starters so we're going to have to do a better job competing against left-handed pitching."
More 51s: Follow Las Vegas 51s coverage at reviewjournal.com/51s and @RJ_Sports on Twitter.
Contact Betsy Helfand at bhelfand@reviewjournal.com. Follow @BetsyHelfand on Twitter.