Four errors doom 51s in home loss to Isotopes
Updated July 16, 2017 - 12:24 am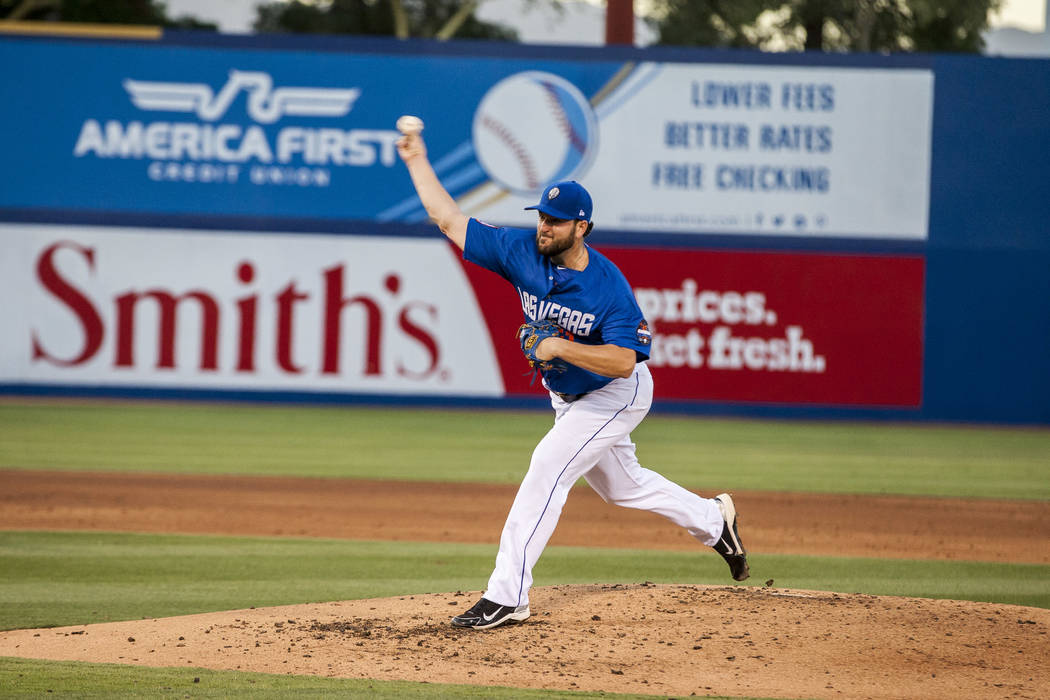 The 51s, at one point early Saturday, had a three-run lead.
But after seven unanswered runs — thanks in part to four errors — the 51s were losers of their third straight to the Isotopes, falling 9-5 to Albuquerque at Cashman Field.
"It's been a lot lately it feels like but it's been for everybody and everybody's trying their best," starter Donovan Hand said. "Nothing goes out way right now. That's the biggest and most frustrating part. Anything we do is magnified times 10. Everything we do good is just for what it is but the bad things right now we do is just magnified and it really stinks to watch it."
Thanks to a pair of errors, Hand had to record five outs in the inning.
David Dahl reached base to lead off the frame on an error by first baseman Dominic Smith. He came around to score on a sacrifice fly. Ryan McMahon scored later in the inning on a fielding error by Travis Taijeron in center field.
"You've just got to keep making pitches and know that you'll eventually get out of it but in opportune times are always when the big ones happen," Hand said. "You've just got to keep grinding through it."
The third error, a throwing error by Amed Rosario, didn't come back to bite the 51s, but the 51s (35-58) weren't quite as lucky with the fourth.
After Jordan Patterson had flied out and Dustin Garneau had walked to begin the seventh inning, Cristhian Adames reached base on a fielding error by Rosario.
Shortly after, Rosell Herrera doubled off of Beck Wheeler to break a 5-5 tie open. Two runs scored on the play, both unearned to give Albuquerque (46-46) the lead.
"Anytime you're facing a good lineup, you make errors, you give them extra outs, that's going to come back and haunt you," manager Pedro Lopez said. "I thought that Donovan made good pitches. I thought that Beck made good pitches."
Hand finished the game having given up five runs — but just three earned — in four innings.
Rafael Ynoa hit a ball back at him that hit the back of his shoulder area at the beginning of the fourth. He finished that inning, giving up a run to tie the game, but said he felt like he couldn't get much extension and came out of the game then.
The more he threw, the tighter it got and when he sat down, it got worse, though he hoped it wouldn't be anything that would affect him going forward.
Hand left with a 5-5 tie after the 51s had jumped ahead in the second inning.
Albuquerque took an early lead in the first with a McMahon two-run shot. The 51s responded by scoring two in the first inning on a Travis Taijeron RBI triple and a Josh Rodriguez single and three in the second with two more RBI hits from Taijeron and Rodriguez. Then Albuquerque got seven unanswered runs.
"They swing a lot," Hand said. "You've got to make pitch after pitch. If you make a mistake, they're usually going to hit it and sometimes they swing so much that the good pitches you do make, they just flick a ball here and there."
The Isotopes have now scored 24 runs in the first three games of the series.
"Whenever you face a good lineup, you really have to play good on both sides of the game and just unfortunately, we didn't do that tonight," Lopez said.
Up next
Who: Albuquerque Isotopes at Las Vegas 51s
When: 7:05 p.m. today
Where: Cashman Field
Starters: Sam Howard (2-2, 5.16 ERA) vs. Wilfredo Boscan (3-8, 5.28 ERA)
Next five
Monday: Fresno at Las Vegas, 7:05 p.m.
Tuesday: Fresno at Las Vegas, 7:05 p.m.
Wednesday: Fresno at Las Vegas, 7:05 p.m.
Thursday: Fresno at Las Vegas, 7:05 p.m.
Friday: Las Vegas at Memphis, 5:05 p.m.
Update
Right-hander Wilfredo Boscan will make his first start of the second half on Sunday in the series finale. In his last start, he threw six innings and gave up two runs but took the loss.
Contact Betsy Helfand at bhelfand@reviewjournal.com. Follow @BetsyHelfand on Twitter.