Gilmartin, Taijeron lift 51s to third straight win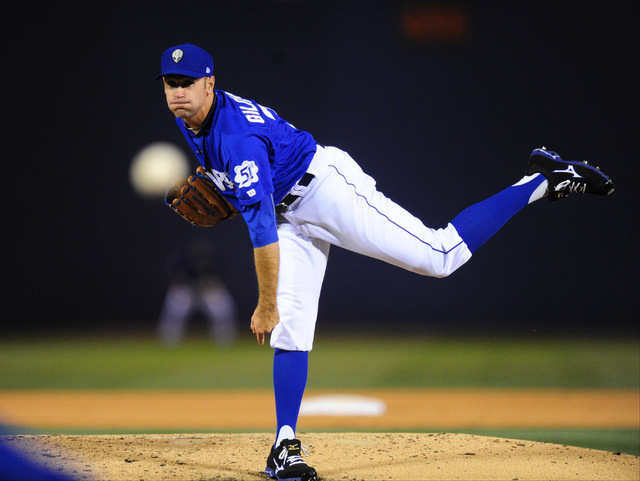 Sean Gilmartin's first start back from the Majors last week was a forgettable one.
After not pitching for 10 days, Gilmartin was leaving pitches up and got hammered for nine runs.
His second start back? Much better.
Gilmartin gave up just three hits and two runs — one earned — in a 6 2/3-inning outing, taking the victory in the 51s' 11-5 win over Memphis at Cashman Field.
"I was this way and I know a lot of players (are this way) — when you get out of that routine or that routine is disrupted, that's when you feel more out of place than if you just had days where you didn't feel well as far as your performance," acting manager Jack Voigt said.
Back in his routine, Gilmartin tossed 101 pitches, 65 for strikes on Sunday.
After giving up a hit to lead off the third, Gilmartin retired 11 straight batters.
"The first two innings, I was putting the ball where I wanted it location-wise but height-wise, it was a little up," Gilmartin said. "After that second inning, I was able to stay back and put the ball down in the zone where I wanted."
While he was doing that, the 51s staked him to an early lead, scoring six runs in the first two innings.
While he said having a lead like that makes it easier to not worry about the score, it's possible to get caught up in it and get too relaxed, something which he avoided in his outing.
"Being able to distance myself from the big lead, when you get a big lead like that, I don't look at the scoreboard at all," Gilmartin said. "If I'm doing it the right way for myself, I couldn't even tell you what the score is when I'm pitching."
The 51s scored in the first with Travis Taijeron and Nevin Ashley singles before Kyle Johnson walked with the bases loaded.
In the second, one batter after the Redbirds failed to turn a double play, Taijeron launched a three-run homer to left.
Taijeron finished the day 4-for-5 with four RBIs and was a triple shy of the cycle.
"(I was) just really trying to stay within myself, especially on a hot day like this," Taijeron said. "I guess everything just kind of came together today."
The 51s added another run in the fourth on a Danny Muno fielder's choice before piling on four more runs in the eighth — three on first baseman Marc Krauss' long home run to right.
After getting swept by Nashville, the 51s are now one victory away from a sweep over Memphis, scoring 32 runs in their first three games against the Redbirds.
"For the most part, we've been putting together some good at-bats," Taijeron said. "People going deep in the counts and driving the ball and all that, so we have to be very happy as a team in being productive."
ROSTER MOVE
The Mets optioned infielder Matt Reynolds back to Triple-A to make way for Wilmer Flores, who was returning from the disabled list.
Reynolds, who began the season, played sparingly in New York, going 1-for-10 in eight games while with the Mets.
He was hitting .238 before his promotion and played primarily a mixture of third base and shortstop while with Las Vegas.
Betsy Helfand can be reached at bhelfand@reviewjournal.com. Follow @BetsyHelfand on Twitter.
UP NEXT
Who: Memphis Redbirds at Las Vegas 51s
When: 12:05 p.m. Monday
Where: Cashman Field
Starters: Arturo Reyes (4-2, 4.57 ERA) vs. Rafael Montero (2-1, 3.98 ERA)
NEXT FIVE
Tuesday: Las Vegas at Reno, 7:05 p.m.
Wednesday: Las Vegas at Reno, 7:05 p.m.
Thursday: Las Vegas at Reno, 7:05 p.m.
Friday: Las Vegas at Reno, 7:05 p.m.
Saturday: Tacoma at Las Vegas, 7:05 p.m.
KEY STAT
T.J. Rivera extended his hitting streak to 16 games with a single in the first inning of Sunday's game