Gorman, CSN ex enjoys home visit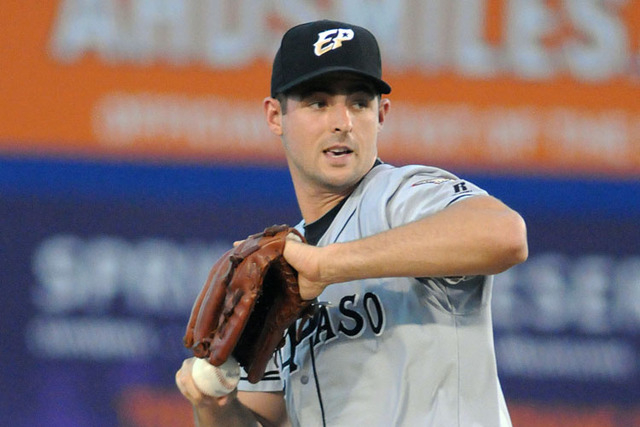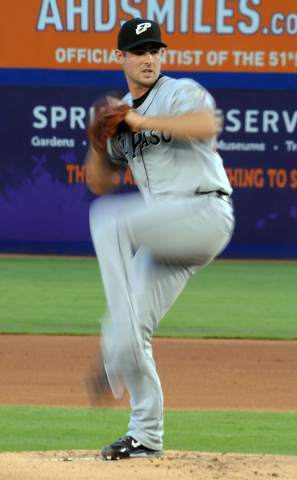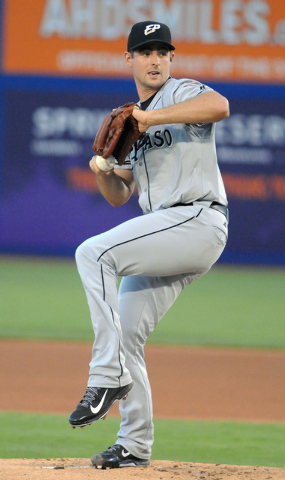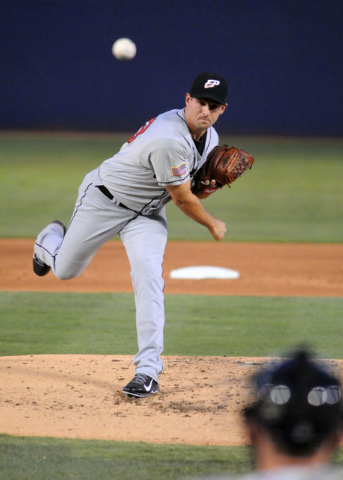 Before Wednesday, the last time Donn Roach pitched in Las Vegas was in 2010, when he was the ace for the College of Southern Nevada squad that featured a 17-year-old Bryce Harper.
A Las Vegas native and Bishop Gorman graduate who started for the El Paso Chihuahuas in their 8-5 win over the 51s at Cashman Field, Roach capitalized on the attention afforded the Coyotes because of Harper, who was drafted first overall that year by the Washington Nationals.
Impressing the scouts who flocked to each CSN game by going 12-3 with a 2.67 ERA and 142 strikeouts in 111 1/3 innings, Roach was drafted in the third round by the Los Angeles Angels — who traded him and infielder Alexi Amarista to the San Diego Padres in 2012 for right-hander Ernesto Frieri.
Despite not advancing past Double A before this year, a surprised Roach made the Padres' Opening Day roster.
"I had all intentions of going to Triple A and working my way up. I didn't think there was any chance I'd make the team out of spring," he said. "Then a perfect storm happened and a spot opened up. I was lucky enough to be throwing well at that time and fortunate enough to make the team. It was probably the second-happiest day of my life. It was awesome. You wait a lifetime for it."
Roach — who made the team as a middle reliever after starter Josh Johnson went down with an elbow injury and reliever Robbie Erlin replaced him in the rotation — made his major-league debut April 2 against the Los Angeles Dodgers. He allowed a run on four hits in 1 1/3 innings, ending his outing by getting Yasiel Puig to ground into a double play and retiring Hanley Ramirez on a groundout to third.
In 16 sporadic appearances, including one spot start, the sinkerballer went 1-0 with a 4.75 ERA, 17 strikeouts and 15 walks in 30 1/3 innings before getting optioned to El Paso on June 3.
"It was kind of up and down," Roach said of his performance. "I did OK. Not what I wanted to do. But for my first time there, I was happy with the adjustments I made when I was there and getting used to it. It was a good experience."
When San Diego played in Washington, D.C., earlier this year, Roach hooked up with Harper.
"I still talk to him and we hang out in the offseason," Roach said. "His fiancee and my wife are pretty good friends. We went to dinner a couple nights and saw some D.C. sights."
In two other memorable road trips, Roach's confidence was boosted on the mound. He earned the win April 22 in a 2-1, 12-inning victory over the Milwaukee Brewers and on April 29 held the then-sizzling San Francisco Giants to one unearned run on two hits in 4 1/3 innings.
"I was like, 'Wow, I can do this' against the Giants, who at the time had the best record in baseball," he said. "My first win was pretty cool, too. I came in and faced (Ryan) Braun and (Jonathan) Lucroy and all those guys. (Chase) Headley hit a go-ahead homer and (Huston) Street came in and closed it down. Those two outings showed me I can really do it."
Armed with one of the best sinkers in the minors, Roach was sent down to sharpen his control.
"I think this might be a good thing for Donn moving forward," Padres manager Bud Black said at the time. "It'll be good for him to go back to the minor leagues as a starter, work on some things he needs to work on.
"He can work on his fastball command, which I think in (his) last couple weeks (in the big leagues) was lacking. We'll see how his performance is to see whether he's able to come back up here."
Roach has been inconsistent in his first foray in Triple A, turning in five strong starts and five unimpressive ones in the hitter-friendly Pacific Coast League en route to a 3-4 record and 4.74 ERA with 33 strikeouts and 26 walks in 57 innings.
"No matter if you pitched in the big leagues or not, it's not easy to pitch in the PCL," El Paso manager Pat Murphy said. "He's learning as the days go on. He's got a special talent. He's got great movement on the ball."
That movement frustrated 51s hitters for much of their loss to the Chihuahuas (54-58). Pitching in front of a group of family and friends that included members of the Basic High baseball team he helps coach in the offseason, Roach limited Las Vegas (62-51) to four hits in five shutout innings before allowing an unearned run in the sixth.
Roach, who earned the win, scattered five hits in 5 2/3 innings, with five walks and two strikeouts.
The 24-year-old was coming off his worst outing for El Paso, a 9-7 loss to Fresno in which he gave up nine runs, seven earned, on 10 hits in five innings.
"The PCL's a rough league, man. I tried to stay out of here, but I couldn't," Roach said with a wry laugh. "I'm trying to adjust to it. I'll figure it out eventually.
"Hopefully I'll get back up there (to the majors) and stay there this time."
Contact reporter Todd Dewey at tdewey@reviewjournal.com or 702-383-0354. Follow him on Twitter: @tdewey33.