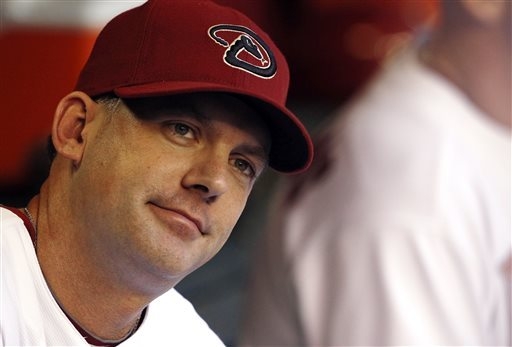 HOUSTON — A.J. Hinch is the new manager of the Houston Astros, a person familiar with the hiring tells The Associated Press.
The person spoke to the AP on condition of anonymity because the team had not yet announced the decision. A news conference was scheduled for later Monday.
The Houston Chronicle first reported the hiring.
Hinch takes over for Bo Porter, who was fired on Sept. 1 in his second year. Tom Lawless ran the team for the rest of the season on an interim basis. The Astros finished 70-92 and fourth in the AL West.
Hinch managed the Arizona Diamondbacks from May of 2009 until July 2010, when he was fired after 31-48 start. Most recently, he worked as the vice president of professional scouting for the San Diego Padres from 2010 until August.
The 40-year-old is a former catcher who spent seven seasons in the majors with the Athletics, Royals, Tigers and Phillies.
Hinch takes over a team that made a 19-game improvement over last year to end a streak of three straight 100-loss seasons and one that features AL batting champion Altuve.
Chris Carter's 37 home runs were tied for second in the majors, and Dallas Keuchel showed he could be a front of the rotation starter.
The Astros still aren't good, but finally have a solid foundation in place.
Altuve finished with a franchise-record 225 hits and a .341 average, which both topped the majors. The 24-year-old also led the AL with 56 stolen bases to go along with 47 doubles and 59 RBIs. He became the first Astro to win a batting title.
"It was a good season for us and what a big improvement," he said.
A year after leading the team with 29 homers and 82 RBIs, Carter shook off a tough start to again top the Astros in homers and RBIs (88).
"I was able to become more consistent and it's good that I've had some success now and something to go off of and something go into the offseason with," Carter said.
Of course it wasn't all positive for the Astros, who saw second-year manager Bo Porter get fired on Sept. 1 and finished 70-92, matching the second-worst record in the AL.
"I think we're the most improved team by far and that's something that we're all happy about," Keuchel said. "Ultimately we're not to where we want to be, but we're getting there and that's what everybody is happy about."
Keuchel's 2.93 ERA was another highlight for the Astros and he had a team-leading 12 wins in 29 starts. Houston also got a boost from the development of 27-year-old rookie Collin McHugh, who was claimed off waivers in the offseason. He finished with 11 wins and led the rotation with a 2.73 ERA.
The Astros went 15-14 in August before finishing 11-13 in a September schedule filled with postseason contenders.
"We had a stretch there where we were playing all of them teams that were playoff bound and we held our own and we won a lot of ball games there," interim manager Tom Lawless said. "We made an improvement from last year to this year and now we're going to make an improvement from what we did now in the next year."
It was also a season where two of the organization's top prospects finally joined the team in outfielder George Springer and first baseman Jon Singleton.
Springer, the 11th overall pick in the 2011 amateur draft, hit .231 with 20 homers and 51 RBIs in 78 games. His season was cut short when he injured his left quadriceps on July 20 and he didn't play again. The Astros were encouraged by his adjustment to the majors and are looking forward to his development next year in what will be his first full season in the big leagues.
Singleton, who was considered the top first base prospect in baseball entering the season, didn't fare nearly as well after signing a $10 million, five-year contract and being called up in June. He hit just .168 with 13 homers and 44 RBIs in 95 games and said the transition to the majors was harder than he expected and that he'll use the offseason to try and improve to be better in 2015.
Though the Astros certainly weren't contenders in 2014, for the first time in years they felt like they could at least compete every night. It's a key shift for a team that had lost 324 games over the previous three years combined, including a franchise-record 111 games in 2013.
"If we stay healthy and perform like we have been the last month and a half I think we have a good shot of playing with the A's and Angels and Rangers," Keuchel said of Houston's AL West foes. "It's going to be rewarding if we actually turn this whole thing around."