Is Las Vegas really a 'viable market' for a MLB franchise?
Updated March 23, 2017 - 8:44 pm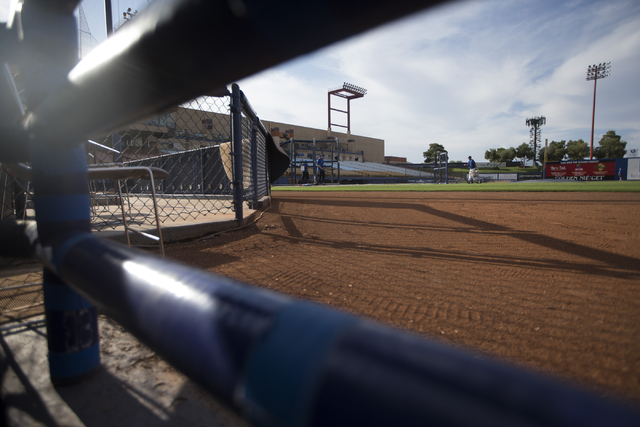 To borrow from baseball commissioner Rob Manfred, viable means something that is capable of working successfully.
If you ask those who were most involved in trying to bring MLB to Las Vegas 13 years ago, the chances of it occurring then were as practicable as the game's commissioner envisions now.
Big League Weekend has again arrived at Cashman Field, where the World Series champion Chicago Cubs — yep, still sounds crazy — and hometown grown MVP Kris Bryant will meet the Cincinnati Reds in exhibition games Saturday and Sunday.
The games annually indicate that spring training is nearing its end, and at the same time offer fans in Southern Nevada a close-up look at some of their favorite stars.
What would it take to make such viewing a permanent fixture?
Manfred created headlines during a Cactus League news conference last month when he restated a belief that Las Vegas could be a "viable market" for a franchise as his league continues to re-examine its stance on gambling.
In a time when the NHL will offer the city its first major league professional franchise when the Golden Knights open play in October and NFL owners could vote on the relocation bid of the Oakland Raiders to Las Vegas on Monday in Arizona, the idea that an MLB team might one day land here isn't as preposterous as some might believe.
Not when you consider the odyssey that was the Montreal Expos searching for a new home in 2004.
"Las Vegas went from 37th on the list of possible relocation cities to No. 1," Lou Weisbach said. "It could have happened. We were incredibly close. Timing was our only issue. If not for that, what were the Montreal Expos could be in Las Vegas now and not the Washington Nationals."
At the time, Weisbach was a Chicago-area entrepreneur who courted the Democratic Party's most powerful donors. He also had a deep interest in professional sports and saw potential for an MLB team in Las Vegas, so he approached then-mayor Oscar Goodman about bringing a franchise to the city. Foremost in Weisbach's mind was an Expos team that MLB had purchased before the 2002 season when it failed to secure funding for a new ballpark.
Weisbach would eventually contact former major league pitcher and then-Cubs broadcaster Steve Stone about being part of the pursuit, as well as hiring a relocation consultant named Michael Shapiro, a former general counsel for the San Francisco Giants and later Atlanta Braves. Shapiro would serve as spokesman for the group, which included New York financier Robert Blumenfeld.
Weisbach, now 67 and who spent years dedicated to veterans' causes, such as finding them jobs and housing, along with drawing support from both major political parties toward research for disease cures, made 26 trips to Las Vegas in 2004.
There were market studies, growth projections, tourism figures, analysis on infrastructure and parking, debates about whether a sport whose gambling scandals dated a century ago should be so closely associated with it by awarding a team to the mecca of sports gaming.
And still, baseball was interested.
If not for the absence of that one vital component.
IF YOU BUILD IT …
One of the reasons — arguably the central one — Bryce Harper now launches home runs in the nation's capital and not on the soil where he was born and raised is a ballpark.
Las Vegas just couldn't get one built back when the Expos were up for grabs.
Whether it was the promise of a downtown stadium that would be paid for via the support of a room tax or a privately funded $420 million retractable facility on a parking lot owned by then-Caesars Entertainment Inc., the questions of funding and commitment never penciled out well enough for anything of substance to materialize.
"We concluded the ballpark would have to be largely financed privately and built in a way to create an entertainment venue beyond just baseball," said Shapiro, now president and general manager of the independent San Rafael (California) Pacifics. "It would have to create more revenue streams throughout the year other than just the team to make the numbers work, and I believe that would also be the case today.
"But baseball is an entirely different season within the summer months, and an indoor facility would create an opportunity to go after a marketplace that doesn't exist right now in Las Vegas with a major league franchise. You just have to discover a doable financing plan for a venue."
It's difficult to believe after the political skirmish that ensued before the Nevada Legislature approved a $750 million tax subsidy for the NFL stadium that any proposal for a major league ballpark would find success if dependent on public dollars.
Isn't it always about the stadium?
Also in 2004, officials from the Marlins, frustrated by their inability to close out a deal for a new venue in Miami, met with Goodman to explore potential relocation.
Eventually, the team remained in South Florida, and Marlins Park opened in 2012, with 80 percent of it financed by public money.
"There are a lot of ways to finance a stadium without using money from taxpayers, but the reality is, most team owners never want to hear that because wealthy people usually want other people's money to make things work," said Weisbach, who also served as chairman and CEO of an amusement and recreation services company called Teamscape. "We knew of the gambling questions back in 2004, but the fact is, had we been able to get a stadium built quickly, Las Vegas would have gotten its team with the Expos."
HOW VIABLE IS IT, REALLY?
Four years ago, then-commissioner Bud Selig when testifying in a New Jersey betting case said Las Vegas never would have an MLB franchise. His successor obviously has a more forward way of thinking.
"Manfred has managed to open a lot of doors that weren't open before by doing things in a nontraditional manner," Shapiro said. "That makes the chances of Las Vegas possibly attracting a franchise better than ever."
Manfred has talked possible expansion, and there are also dire stadium situations in Oakland with the A's and Tampa Bay/St. Petersburg with the Rays, as whispers have grown louder in recent years about the possibility of one or both moving.
But even if a time comes when relocation or potential expansion cities are seriously discussed, Mexico City and Montreal probably would lead any conversation before Las Vegas. Most also believe that with the presence of T-Mobile Arena, the opportunity for an NBA franchise relocating here trumps that of MLB.
"If the market keeps growing, anything is possible, but I think we had our opening for (MLB) back in 2004," said 51s president Don Logan, whose Triple-A team has worked to develop a new ballpark project for years. "If it could have got in then and planted its flag as the market developed, it could have worked. I have said from Day One that the first sport into Las Vegas had the best chance. Hockey now has the Golden Knights. And if the Raiders come, the NFL is a monster with unbelievable power.
"Maybe all that makes it tougher for (MLB) in a market of 1.8 million people, or whatever the real number is. Most of those millions visiting here each year are from places that already have major league sports. They're coming to eat and drink and be merry and see a show. To think 81 baseball games a year could be supported? I think that's a really tough sell."
Which means while viable might mean practicable, it remains a great distance from any guarantee.
Contact columnist Ed Graney at egraney@reviewjournal.com or 702-383-4618. He can be heard on "Seat and Ed" on Fox Sports 1340 from 2 to 4 p.m. Monday through Friday. Follow @edgraney on Twitter.
BIG LEAGUE WEEKEND
Who: Cincinnati Reds vs. Chicago Cubs
Where: Cashman Field
When: 1:05 p.m. Saturday and Sunday
Tickets: Sold out