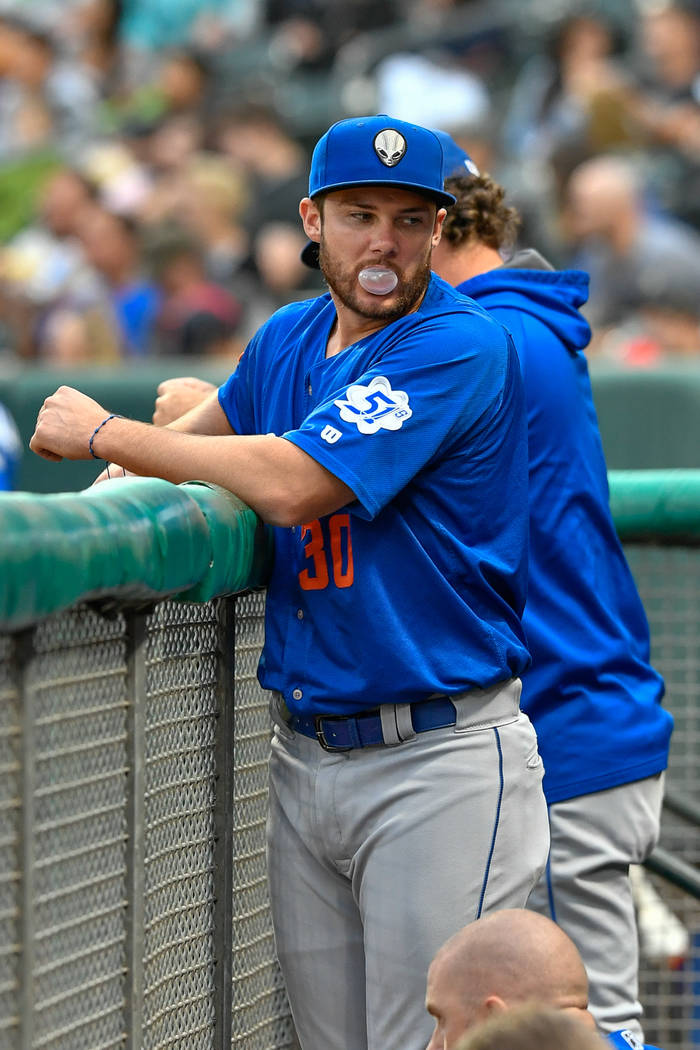 Jeff Glenn was working at a Publix Super Market in Florida in late January 2016 when his phone rang.
New York Mets minor league catching coordinator Bob Natal was on the other end.
Released by the Mets a few months earlier, Glenn had taken a job at Publix stocking shelves, but when the Mets offered him an opportunity to be the 51s' bullpen catcher for the 2016 season, he jumped on it.
Glenn is now in his second year, a third-string catcher who has appeared in only nine games this season, but he is on a different path than his teammates. Unlike them, he's not exactly striving to reach the big leagues.
As a player, Glenn saw the writing on the wall. In eight minor league seasons, he's a .218 hitter.
So he shifted his attention to bullpen catching, having told Natal he was especially interested in that job. In the future, he might like to coach. But for now, Glenn fills a pivotal role for the 51s.
In addition to his bullpen duties, he helps players with early work, often spends a few innings coaching first base (a "super, super boring" job, Glenn said, that his teammates usually don't want), throws batting practice and hits fungoes, among other things.
On occasion, he's even taken the lineup card out to the umpires before a game, a job usually reserved for managers.
Manager Pedro Lopez said he's never had a player like that. When Lopez, a former catcher himself, was in a similar situation, all he did was catch bullpens. Glenn goes above and beyond that.
"He's always willing to help. He's out there asking questions," Lopez said. "He works. He's been a big help. I've never seen anything like it."
Lopez said he could see Glenn being a "really good coach," if he does decide to eventually go down that route — a sentiment shared by pitching coach Frank Viola.
Viola and Glenn have worked together for years, and while Viola is in the dugout during games, Glenn can serve as another set of eyes from the bullpen.
"I don't want to title myself as a coach because I'm not a coach, but where I can help them out with stuff, especially with the pitching stuff with Frank, if Frank's in the dugout and I'm in the bullpen, I can see if guys are kind of a little tired or if their mechanics are a little off," Glenn said. "I can go to him, let him know and then he can work with them."
Always learning
Glenn isn't shy about giving advice directly to his teammates, too, if he sees something that needs to be adjusted. Viola said he thinks the pitchers respect that. Since starting with the 51s last season, Viola said Glenn has learned "so much in a short period of time," and he has seen him mature and become more comfortable.
"I liked him better when he was quiet," Viola joked.
But when Glenn, 25, does point out something to teammates, Viola said it is important for the coaching staff to back him up.
"All these guys are his age, so to be able to impress them and win them over, that's more important than anything. And we all have his back because we see he has a gift for that," Viola said. "When he does say something to a kid and we are 100 percent behind him, we have to back him and let those kids know that he's not just saying it to say it, but that he knows what he's saying."
It'll be things like a front shoulder leaking a little bit, or an arm dragging too much, or a pitcher spinning a curveball too early, reliever Beck Wheeler said. Such observations can help pitchers make adjustments while warming up rather than in a game.
"I think with Glenn, he's hurt if we go out there and we don't have a good outing," closer Chasen Bradford said. "It hurts him. He doesn't like it. He wants to see everybody succeed. And I think that's what's the good thing about him in the bullpen."
For now, Glenn is enjoying his time in the bullpen, absorbing as much knowledge as he can. Like his teammates, he strives for whatever his next step might be, whether it's continuing with bullpen catching or a foray into coaching.
At the moment, he's seeing where it takes him, happy to be far away from Publix.
"It wasn't the best job ever. It was early mornings, long days so I was glad to get back into baseball," Glenn said.
More 51s: Follow all of our Las Vegas 51s coverage online at reviewjournal.com/51s and @RJ_Sports on Twitter.
Contact Betsy Helfand at bhelfand@reviewjournal.com. Follow @BetsyHelfand on Twitter.