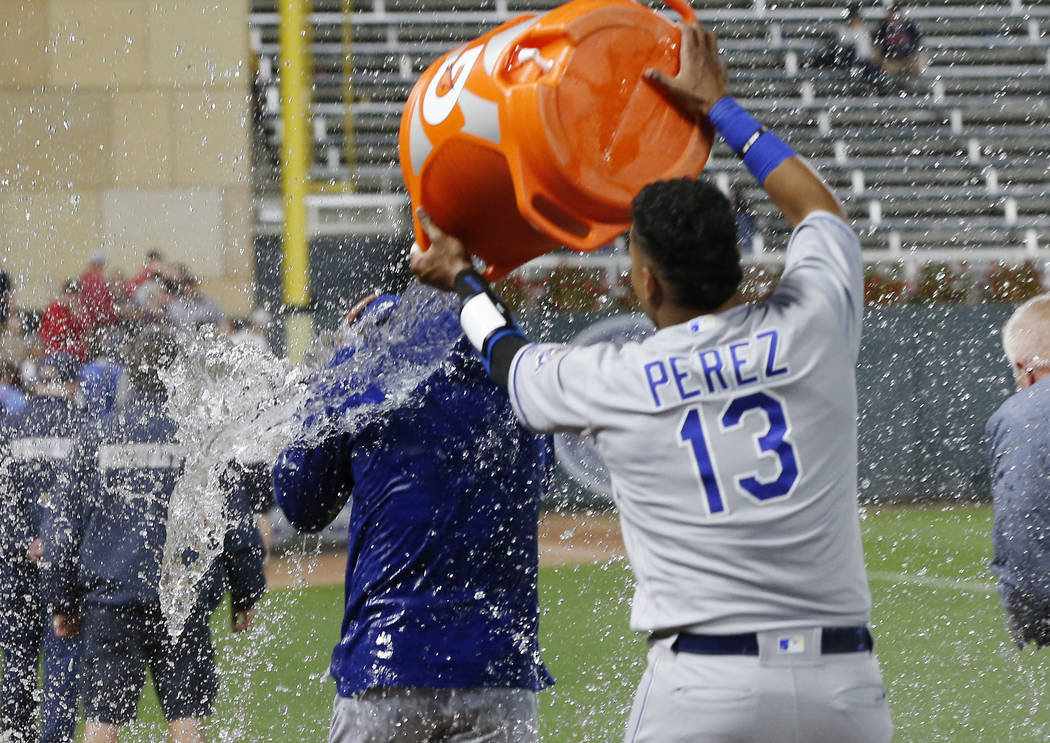 MINNEAPOLIS — Kansas City rookie Jorge Lopez came within three outs of a perfect game before Max Kepler walked leading off the ninth inning and Robbie Grossman followed with a single in the Royals' 4-1 win over the Minnesota Twins on Saturday night.
The 25-year-old right-hander made just his seventh big league start, his fifth for Kansas City since he was acquired from Milwaukee in the late-July trade that sent Mike Moustakas to the Brewers.
Lopez (2-4) retired his first 24 batters before walking Kepler on a 3-1 fastball. Grossman followed with a clean single to center field on a 1-2 changeup.
Lopez was removed from the game after 110 pitches, 11 more than his previous high.
Ehire Adrianza hit a sacrifice fly off Wily Peralta, who retired Joe Mauer and Jorge Polanco on flyouts for his ninth save, completing the one-hitter.
Lopez struck out four and went to five three-ball counts before the walk, including his first three batters of the game.
His perfect game bid was preserved when Jorge Polanco's fourth-inning liner was caught by right fielder Jorge Bonifacio with a jump in front of the warning track, and when Jake Cave's liner was snagged by left fielder Alex Gordon with a sliding grab in the fifth.
Lopez made his big league debut with the Brewers in 2015, when he made a pair of late-season starts. He spent most of the next two years in the minors, making one relief appearance for Milwaukee in July 2017. Lopez had 10 appearances for the Brewers this year, all in relief, and entered 1-3 with a 5.66 ERA for the Royals.
Lopez was trying to become the second pitcher since at least 1900 to throw a perfect game in his first 10 major league starts. Charles Robertson was perfect in his fourth start with the Chicago White Sox in 1922.
Kansas City has never thrown a perfect game and there have not been any in the major leagues since Seattle's Felix Hernandez threw the 23rd all-time, against Tampa Bay on Aug. 15, 2012. The gap between perfect games is the longest since Catfish Hunter's for Oakland against the Twins in 1968 and Len Barker's for Cleveland versus Toronto in 1981.
Bret Saberhagen pitched Kansas City's most recent no-hitter, against the Chicago White Sox in 1991.
There have been three no-hitters in the majors this year, by Oakland's Sean Manaea, Seattle's James Paxton and a combined effort by four Los Angeles Dodgers pitchers.
Hunter Dozier hit an RBI single in the sixth off Jose Berrios (11-11), who gave up one run and three hits in six innings. Whit Merrifield had a run-scoring single in a three-run seventh off Tyler Duffey and scored on Adalberto Mondesi's double. Gordon added an RBI single against Andrew Vasquez.