Las Vegan Kris Bryant named Major League Baseball's National League MVP
November 17, 2016 - 5:51 pm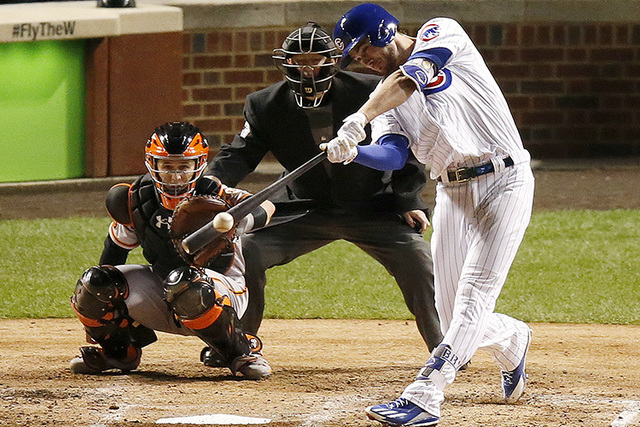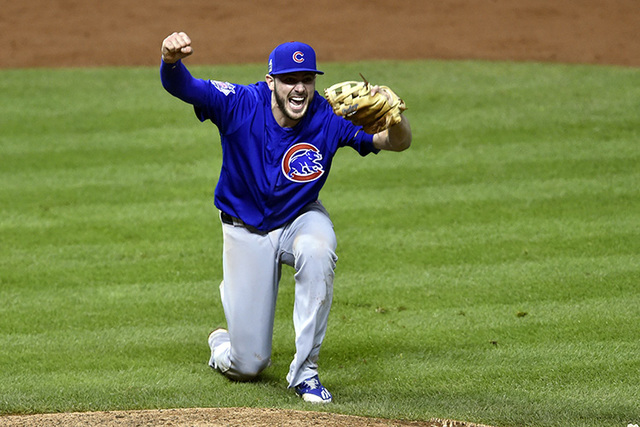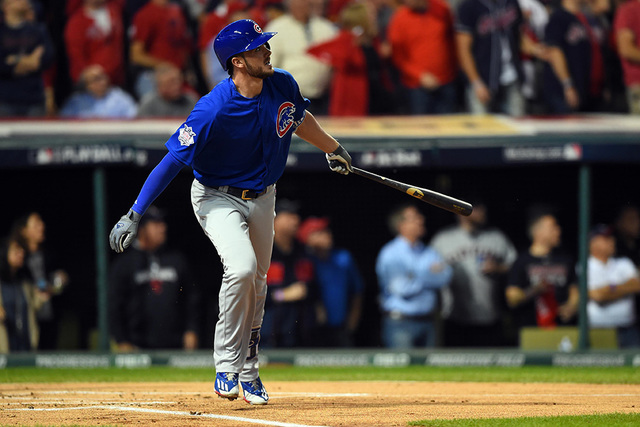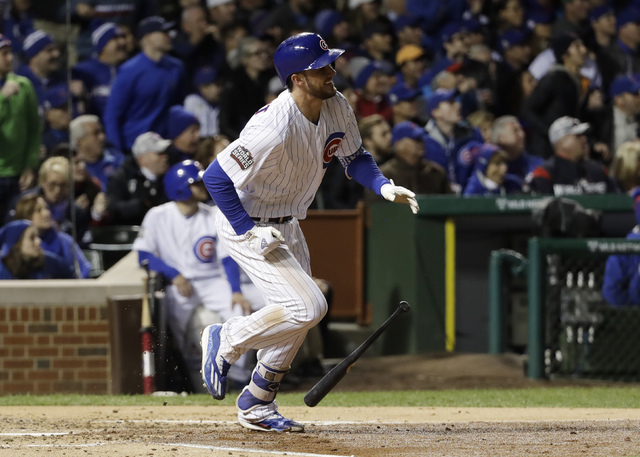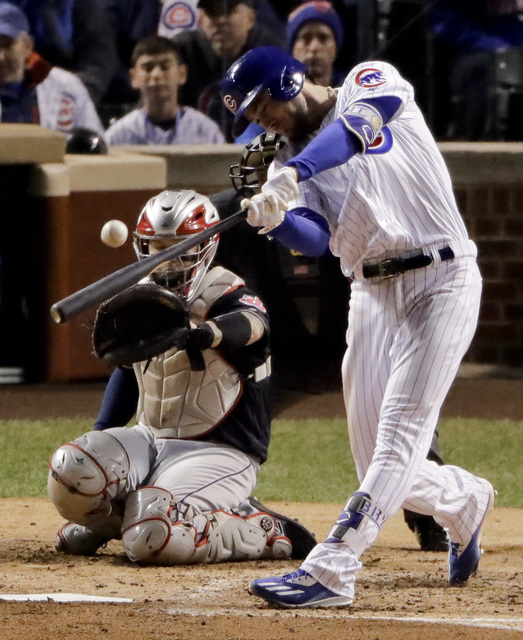 With every baseball he sends flying over an ivy-covered wall or banging off a scoreboard, with every time he uses uncanny intuition to tag up and score an important run on a short fly ball, with every assist he makes to clinch a long-awaited World Series victory for the Chicago Cubs, the legend of Kris Bryant grows.
On Thursday, nearly a year to the day since he was named Rookie of the Year in the National League, the Las Vegas native was named its Most Valuable Player, the highest honor that can be bestowed upon a ballplayer during his playing career.
"You can't really put into words what this feels (like). It's just been an unbelievable year, for me, the team — I'm getting married — man, it's just unbelievable," the former Bonanza High School and University of San Diego star said after the announcement on MLB Network.
It was the second consecutive year a phenom from Las Vegas was voted NL MVP. Bryce Harper of the Washington Nationals, who also recently turned 24, received the award last year. When you add in pitcher Greg Maddux being inducted into the Hall of Fame in 2014, it has been an amazing three-year run for ballplayers who grew up in Las Vegas and still make their homes here.
Bryant became the fourth player to be named Rookie of the Year and MVP in consecutive seasons. He joins Cal Ripken of the Baltimore Orioles (1983 and 1984), Ryan Howard of the Philadelphia Phillies (2005 and 2006) and Dustin Pedroia of the Boston Red Sox (2007 and 2008).
He won in a landslide, receiving 29 of 30 first-place votes, with Washington Nationals second baseman Daniel Murphy being named first on the lone dissenting ballot. Los Angeles Dodgers shortstop Corey Seager, who earlier this week was named NL Rookie of the Year, was the other finalist. Voting is done by members of the Baseball Writers Association of America.
After hitting .275 with 26 home runs and 99 RBIs en route to being named the NL's top rookie in 2015, the 24-year-old Bryant put together an even more spectacular 2016 season — .292 batting average, 39 homers, 102 RBIs — in helping the Cubs to their first World Series victory in 108 years.
He also scored a league-leading 121 runs, and showed remarkable versatility on defense, regularly playing four positions — third base, left field, right field and first base.
"Obviously, I take pride in being able to move around on the field, in the lineup, just being able to do anything I can to be a complete player — base running, defense, all of that," Bryant said. "But there are so many guys who are deserving."
Bryant became only the second player to be named MVP after starting a minimum of 30 games in the infield and in the outfield, joining Stan Musial in 1946. He was in the batting cage of the Bryant family home in southwest Las Vegas when the announcement was made, flanked by his father, Mike, and his fiancee, Jessica Delp.
Mike Bryant was sporting a smile that went ear to ear.
"When it comes to baseball, my dad always has a smile on his face," Kris Bryant said of his father and the role he had in Kris' baseball upbringing.
"If it wasn't for my dad, I wouldn't be sitting here; I wouldn't be the player I am; I wouldn't be the person I am … I wish more players could have a dad like me."
Mike Bryant said as much about his son.
"Just an overwhelming amount of pride and validation for all the hard work," said the elder Bryant, a former Red Sox minor leaguer. "It's like the whole family and his teammates won it, too."
Mike Bryant pointed to his son and the Cubs' logo on his golf shirt.
"Without everybody on the team doing their job, getting on base so Kris could drive them in … this isn't golf. Everybody (around Kris) won this award. That's what it feels like," he said.
Derek Stafford, who coached Kris Bryant and older brother Nick at Bonanza High, had planned to watch the MVP show but got stuck in traffic on U.S. 95.
"I must have had 1,900 people send me a text," he said. "Pretty cool. This is pretty humbling, thinking you may have had even a very small part shaping him in the grand scheme of things.
"The icing on the cake is he is such an awesome kid."
People who live in the Bryants' neighborhood remember the young slugger with the easy smile knocking on the door selling chocolate bars to raise money for baseball uniforms.
"Kris Bryant is such a great role model for baseball that in 20 years, the commissioner ought to make him the logo for Major League Baseball, like the NBA did with Jerry West," said local author Jack Sheehan, who lives near Mike and Susie Bryant and their two sons.
Sheehan said Kris Bryant is the kind of a person you'd want your son to be when your son grew up.
Turns out he's a pretty good ballplayer, too.
Contact Ron Kantowski at rkantowski@reviewjournal.com or 702-383-0352. Follow @ronkantowski on Twitter.