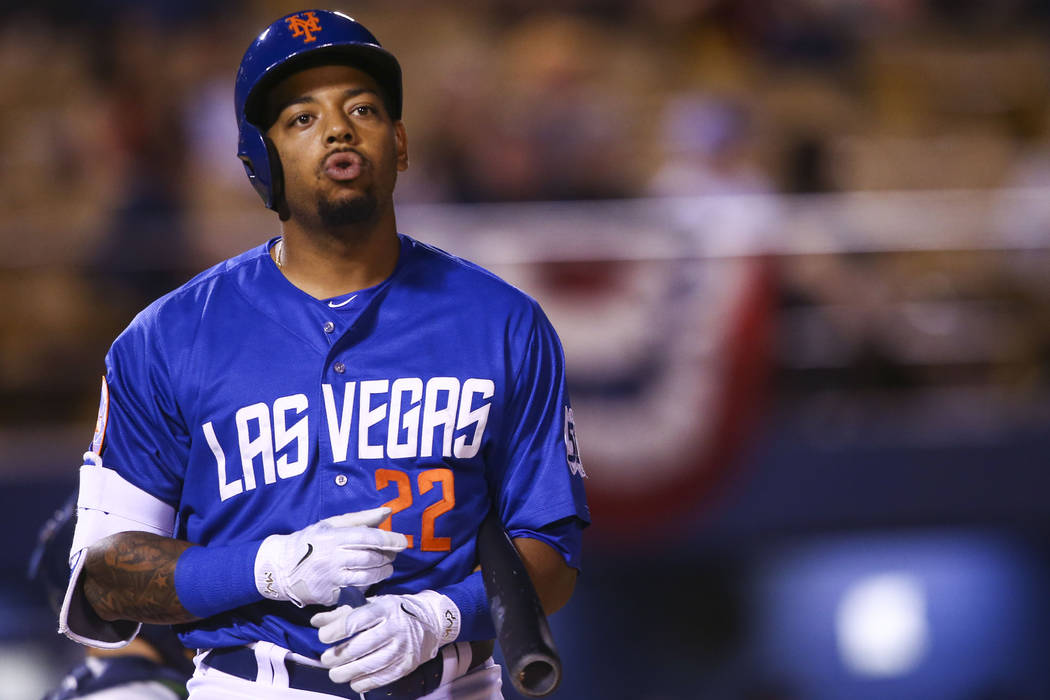 When spring training begins every February, the stories about players showing up in the best shape of their lives inevitably follow.
That was the storyline when Dominic Smith reported to spring training about 24 pounds lighter at the beginning of last season. But that weight slowly crept back during last season when Smith was playing for the 51s and so Smith went back to work again and reported to camp in even better shape, shedding about 30 pounds. The 51s' media guide lists him as 225 pounds now.
But he hasn't yet gotten to see the benefits of that training pay off on the field because, well, he has hardly been on the field.
The Mets signed Adrian Gonzalez in the offseason and the Mets' first-base competition pretty much ended before it started. Then Smith, 22, was scratched from the Mets' first Grapefruit League game after arriving late to camp and in his first spring training game Feb. 24 he strained his right quad.
He is with the 51s on a rehab assignment, though it seems likely he will be optioned to Triple-A after it ends.
"It's very, very frustrating and it definitely sucks especially after all the hard work I put in this offseason but it's a part of it," Smith said of his injury. "… I'm trying to just get healthy right now and just do everything I can to stay off the DL again and on top of that, still go out there and play hard and show everybody what I can do and I'm pretty excited because I feel like I'm a totally different person physically, mentally."
Smith started the first three games of the season for the 51s, playing his first full game on Saturday. He went 3-for-4 with a home run in that game and then had Sunday off.
"This is kind of like my spring training for me to get my legs warmed up and loose," he said after Saturday's game. "(There's) definitely going to be some nights where my legs are definitely fatigued like tonight. … They'll get there. It's just going to take time."
There's also a matter of getting in at-bats.
Smith started to get minor league at-bats near the end of spring training before coming to Las Vegas but is still behind players who have been playing all spring.
Through four games, he is 4-for-14 (.286).
"It was good to see him get some more timing today," manager Tony DeFrancesco said after Smith's performance Saturday. "He hit the ball well a few times, having some better at-bats. It's going to take a few more at-bats to get some more consistency in his approach but once he's ready to go that's their decision."
Smith, the Mets' first round pick in 2013, spent most of last season in Triple-A where he was impressive defensively and is hitting .330/.386/.519 with 16 home runs and 151 hits in 114 games.
But things didn't go quite as well in New York and Smith quickly got to work in the offseason, hitting the gym hard, doing yoga, getting massages and treatment and seeing the chiropractor.
"Now, I finally know what it feels like to feel good. I know what it feels like after I get my body worked on, how I'm supposed to feel every day so waking up and not feeling a lot of aches and pains and soreness," Smith said. "It's definitely a great feeling and it's a feeling I've never felt in my whole career so I just want to go out there and see what I can do feeling this good."
Contact Betsy Helfand at bhelfand@reviewjournal.com. Follow @BetsyHelfand on Twitter.