Las Vegas 51s' Gavin Cecchini sees success to start season
Updated May 3, 2018 - 4:14 pm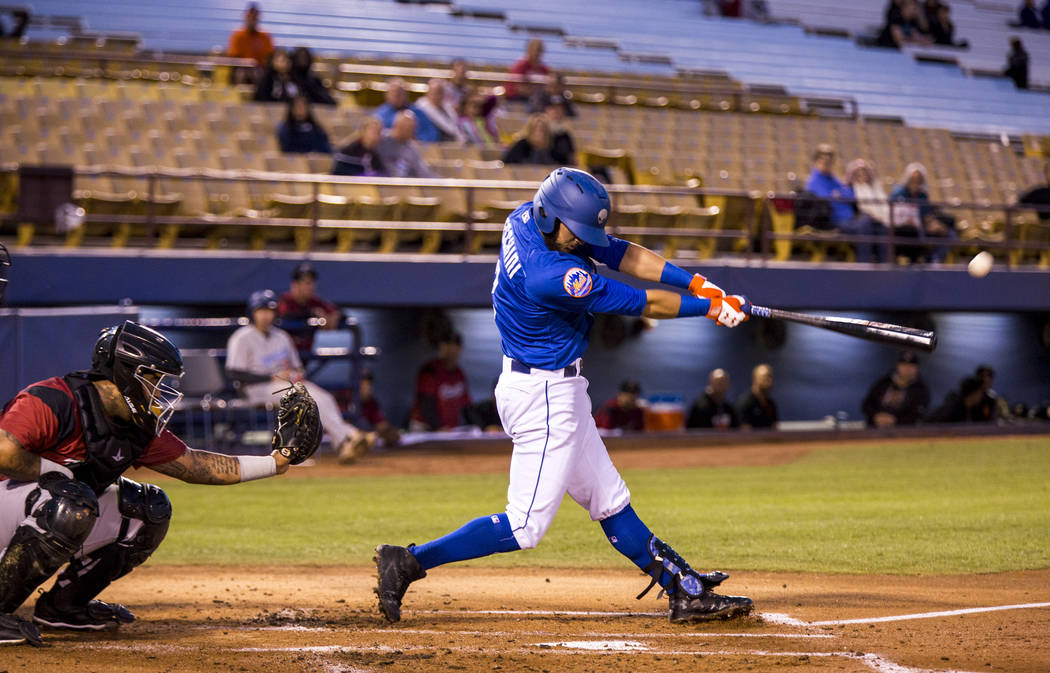 Take a quick at Gavin Cecchini and it's easy to notice some differences from a year ago.
There's a beard, most noticably. And the second baseman has packed on some muscle, too.
But beyond the exterior, there is a player who has adjusted his game — both mentally and physically — and has seen early results because of it, hitting .337/.389/.518 with 10 doubles as of Thursday afternoon.
"Last year I kind of got into some bad habits both mechanically and also (with) my approach. Didn't really have an approach up there and I was just going up there and swinging, really," Cecchini said.
And the 24-year-old second baseman has a theory why.
After hitting .325 in his first season in Triple-A in 2016, Cecchini earned himself a September call-up. He had just six at-bats with the Mets and was sent back to Las Vegas the next year.
"I think it had a little bit to do with just repeating a league that I (had) the third highest average in the league and felt that I should have been in the big leagues and I kind of let that affect me mentally," Cecchini said. "My head was in the big leagues when I was in Triple-A and obviously that's not good."
Cecchini, a first-round draft pick in 2012, also spent last season transitioning from short to second. He came through the system as a shortstop but made 33 errors in 2016 as the 51s' shortstop and was moved off the position the next season to make way for top prospect Amed Rosario, now the Mets' starting shortstop.
While the results at second base were good last season, his offensive numbers dipped.
Cecchini played in 32 games with the Mets, even hitting a home run off Dodgers ace Clayton Kershaw. While at Las Vegas, he slipped to .267/.329/.380, all lower than a season before.
So he set about making adjustments, both with his swing and his approach.
"My bat was really high so it was straight up and down and it put my hands in a really awkward and bad position. I didn't really realize it until halfway through the year and by that time it's like 'Man, that's a big adjustment,'" Cecchini said. "…Another thing was I was jumping out at the ball and I was rushing myself and I was swinging at bad pitches because of it."
Hitting coach Joel Chimelis, who was not with the 51s last season, watched some video of Cecchini during the offseason. He saw Cecchini was diving forward and a swing that was too steep.
By the time he got to spring training, Cecchini had already made some of the necessary adjustments.
"He still does this thing with the front foot where he gets too quick with it," Chimelis said. "He'll load and then just jump out so we're trying to work on trying to be a little softer with that and load the back hip and stay behind the ball in order for the swing plane to improve."
And there's also been an attitude shift, focusing less on when a call might come and more on what he can control.
"He's been great. He works hard. He's down here early," manager Tony DeFrancesco said. "(Wednesday) afternoon, 1 o'clock, he's taking ground balls,"
"… I think he's real comfortable right now and hopefully he can continue to have success with his bat and continue to improve on his defense."
And shift has helped free him as he tackles Triple-A for the third straight year.
"I let that stop taking my joy. I let that stop consuming me. I just let go of it. Whatever happens, happens," Cecchini said. "…I know sooner or later, it's all going to work out. I'm too good of a player to be in Triple-A for a career.
"There's no doubt about it, I could be in the big leagues starting and doing a lot of things helping the team win and that's just the confidence that I have in myself."
More 51s: Follow all of our Las Vegas 51s coverage online at reviewjournal.com/51s and @RJ_Sports on Twitter.
Contact Betsy Helfand at bhelfand@reviewjournal.com. Follow @BetsyHelfand on Twitter.