Las Vegas baseball standout Bryant wins Golden Spikes Award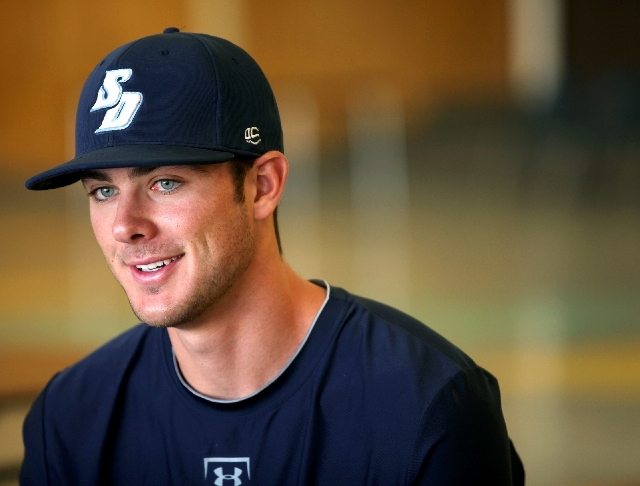 Las Vegan Kris Bryant won the Golden Spikes Award, USA Baseball announced on Friday. The award is given annually to the nation's top amateur player.
Bryant, the No. 2 overall pick by the Chicago Cubs in last month's draft, was a consensus first-team All-American as a junior at San Diego. The former Bonanza High standout led the nation in home runs (31), runs (80), walks (66), total bases (187) and slugging percentage (.820).
Bryant is the first infielder to capture the Golden Spikes Award since Nebraska's Alex Gordon in 2005. The third baseman was one of three finalists for the honor along with Vanderbilt sophomore right-hander Tyler Beede and North Carolina junior infielder Colin Moran.
Bryce Harper of Las Vegas won the Golden Spikes in 2010.
Bryant, who earlier won the Louisville Slugger National Player of the Year, the Baseball America College Player of the Year and the Dick Howser Trophy, is expected to report to Class-A Boise next week.
"USA Baseball was delighted with the play across all levels of amateur baseball this year and could not be more proud of the three Golden Spikes Award finalists, Kris Bryant, Tyler Beede and Colin Moran," said Paul Seiler, USA Baseball executive director/CEO. "Each of the three finalists we celebrate today represented the game of baseball with class both on and off the field this season. In the end, Kris' season highlighted a fantastic year of amateur baseball, and we are honored to present him with this most prestigious honor."