Las Vegas offense erupts against Bees' Wright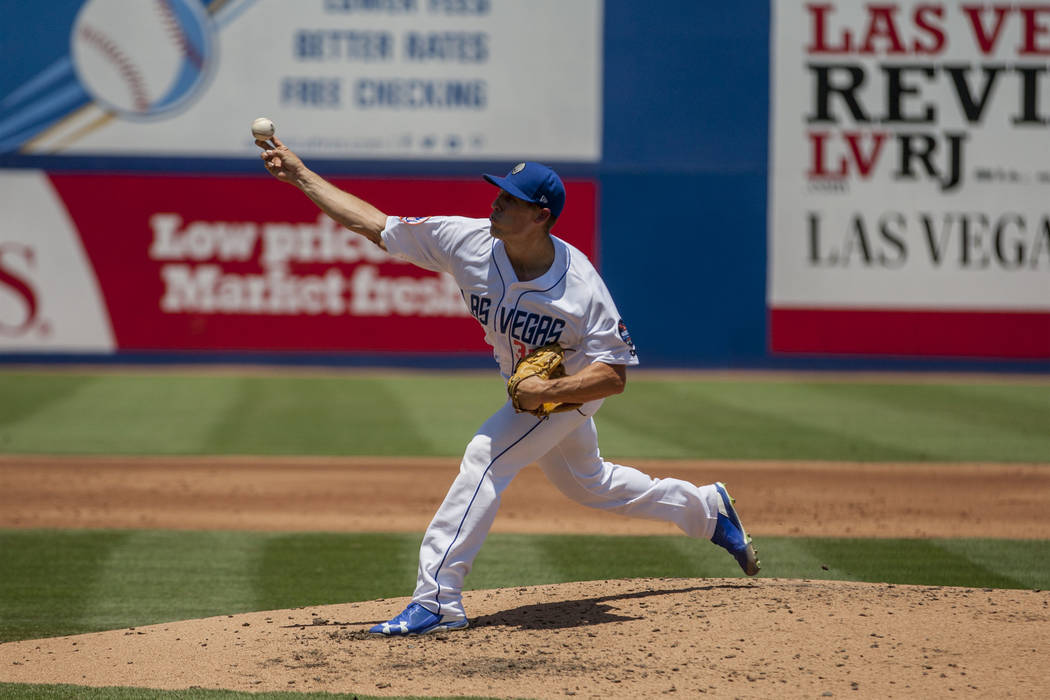 Less than a week ago, Salt Lake's Daniel Wright held the 51s to just four hits and one run in seven innings.
After that game, 51s' manager Pedro Lopez said he thought his team had swung the bats better than the numbers told.
This time around, the 51s had the results to back up a solid offensive performance.
Las Vegas beat Salt Lake 10-6 in the series opener at Smith's Ballpark, chasing Wright for eight runs — seven earned — in 4 2/3 innings pitched.
"The first time that we faced him, we had a game plan against him. Unfortunately he made good pitches and a couple times we chased," Lopez said. "You've got to give him credit. He pitched well. Tonight wasn't his night.It was our night, but it could go both ways."
Catcher Kevin Plawecki helped set the tone early, extending his hitting streak to 13 games with a three-run home run off of Wright in the first inning.
Las Vegas (31-50) starter Mitch Atkins gave one run back on a home run in the bottom of the second.
But a second three-run home run, this one from Josh Rodriguez in the third inning, gave the 51s a sizable lead that they mostly held throughout the game.
"The one thing we did, we made him work," Lopez said. "There were a lot of borderline pitches that we didn't swing at and he didn't get calls. We made him miss over the middle of the plate. I think we're doing a really good job offensively but tonight it really showed."
The Las Vegas lead reached as many as seven runs as the 51s scored once in the fourth on an error by Salt Lake (45-36) third baseman Nolan Fontana and once in the fifth on a Gavin Cecchini RBI single before Salt Lake started chipping away.
Salt Lake added three more runs off of Atkins in the fifth, but Atkins finished the day with his first win as a member of the 51s, giving up four total runs in five innings pitched.
"He threw the ball well. He really did," Lopez said. "Unfortunately he ran into a little trouble in the fifth inning, but I thought overall it was a good outing."
Logan Taylor came in after him and gave up two runs of his own in the sixth inning as Salt Lake cut the lead down to two runs but Las Vegas added a pair of insurance runs in the seventh to seal the victory.
After Taylor, Kyle Regnault pitched two scoreless innings and Kevin McGowan threw one scoreless inning of his own to finish the game.
Offensively, Cecchini led the way with three hits and four players — Cecchini, Amed Rosario, Rodriguez and Jayce Boyd — each had multi-hit games.
"I think that that has to do a lot with guys making adjustments to the league and they're doing a good job," Lopez said. "Hopefully tomorrow will be a good night for us again. Obviously tonight and for the past couple weeks they've done a really good job."
Up next
Who: 51s at Salt Lake Bees
When: 5:35 p.m.
Where: Smith's Ballpark
Starters: Tyler Pill (4-1, 2.29 ERA) vs. John Lamb (0-0, 4.50 ERA)
Next five
Sunday: Las Vegas at Salt Lake, 6:05 p.m.
Monday: Las Vegas at Salt Lake, 5:35 p.m.
Tuesday: El Paso at Las Vegas, 7:05 p.m.
Wednesday: El Paso at Las Vegas, 7:05 p.m.
Thursday: El Paso at Las Vegas, 7:05 p.m.
Update
Tyler Pill gave up three runs in six innings in a no-decision against Tacoma on June 26 in his first start since being sent back down by the Mets. He has not faced Salt Lake this season.
Contact Betsy Helfand at bhelfand@reviewjournal.com. Follow @BetsyHelfand on Twitter.