Las Vegas prospects maintain connected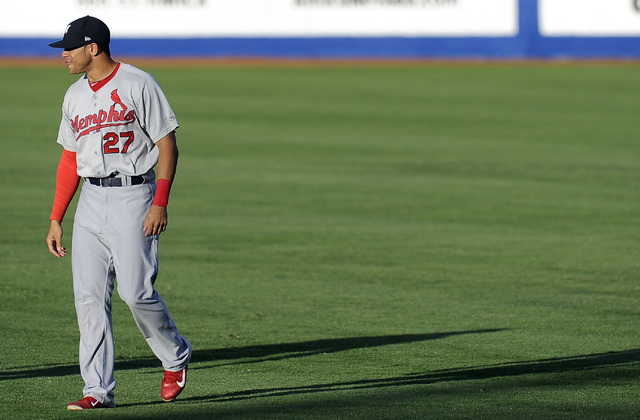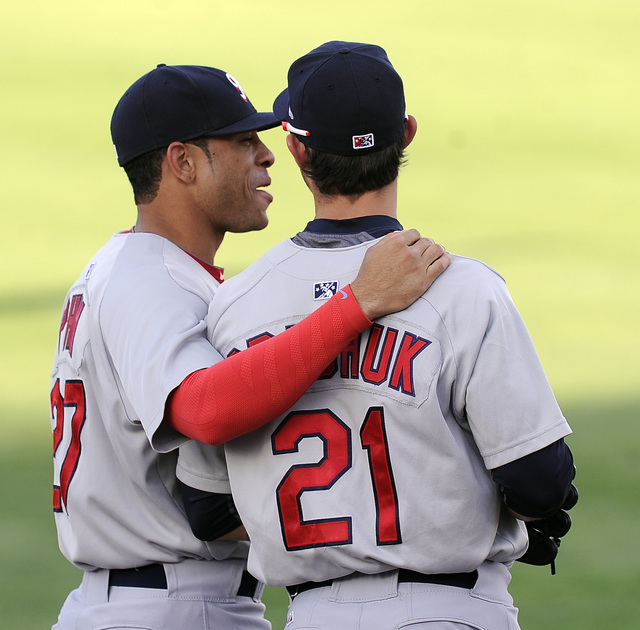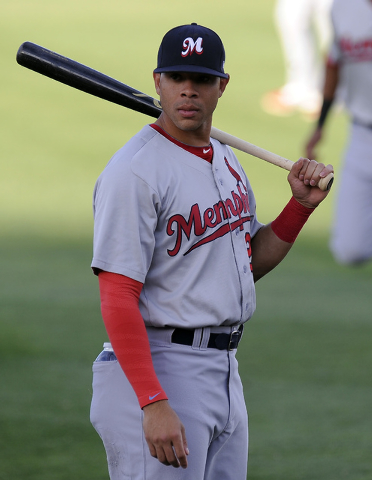 More than a decade after playing together on the same Little League team in Las Vegas, Tommy Pham and Michael Blazek were reunited as teammates in the St. Louis Cardinals' farm system.
Pham, a fleet-footed outfielder from Durango High School, was drafted in the 16th round by the Cards in 2006. Blazek, a right-handed pitcher from Arbor View, was a 35th-round pick by St. Louis in 2007.
"Me and Blaze are really good friends. It's really good coming up with someone you're close with," said Pham, 26. "It's very rare in this game, so when it happens it's a special thing."
The Las Vegas natives each returned home this week to play their first pro games at Cashman Field.
Blazek, whom the Cardinals traded to the Brewers in September for closer John Axford, started for the Nashville Sounds — Milwaukee's Triple-A affiliate — in Tuesday's 8-7 loss to the 51s.
Pham arrived in his hometown Saturday riding a hot streak for the Memphis Redbirds and lined a pinch-hit double in the seventh inning of an 11-5 loss to Las Vegas before a crowd of 7,868.
He had a group of about 50 friends and family members at Cashman Field, where he threw out the first pitch in 2006 as a high school All-American.
Rated the Cardinals' best defensive outfielder by Baseball America after last season, the strong-armed Pham is batting .378 in his past 30 games for Memphis and .313 overall.
The ninth-year pro appears to finally be on the cusp of the big leagues after having his past four seasons cut short by injuries.
"Who knows where I could've been without any of these injuries," he said. "I probably could've already been in the big leagues by now."
Blazek, who said he didn't even expect to get drafted out of high school, made his big league debut last season with St. Louis, pitching a perfect inning of relief in a June 22 game against the Texas Rangers.
He almost struck out the side, fanning Leonys Martin and Jurickson Profar before retiring Ian Kinsler on a groundout to first.
"I got two strikes on Kinsler and he grounded out. I was kind of bummed," Blazek said. "It was exciting."
After compiling a 6.97 ERA in 11 appearances for the Cardinals, Blazek was the player to be named later in the Sept. 1 trade with the Brewers.
"I was sitting in St. Louis, and (Cardinals manager Mike) Matheny came up to me and said, 'Hey, we need you to go back to the hotel and wait. We might trade you or we might send you down,'" he said. "The next day, I found out Axford got traded to St. Louis for a player to be named later. I thought, 'It has to be me.' I went to Milwaukee the next day and pitched in a game. It was kind of weird."
Joining fellow Las Vegan Brandon Kintzler, a Palo Verde product, in the Brewers' bullpen, Blazek finished the season strong, compiling a 3.86 ERA in seven games.
"I pitched a lot better for them. The change of scenery probably helped out a little bit," he said. "It was kind of hard at first, just because I spent seven years with St. Louis. They were the team that drafted me and gave me a chance. I was a little bummed to leave.
"But the guys in Milwaukee were great and made me feel like one of the guys."
Blazek was optioned to Nashville after struggling in spring training with Milwaukee.
"I put a little too much pressure on myself to try to do too much and be perfect. That kind of hurt me a little bit," he said. "I was kind of relieved to get sent down and take some of the pressure off my shoulders.
"I've been a lot better the last month and a half and will just try to keep it going and get back up there."
Blazek, who has pitched out of the bullpen in 20 of 25 games this season, had his eight-inning scoreless streak snapped against the 51s, who scored four runs on two homers off him in the first inning.
It might be awhile before he returns to the majors, as the 25-year-old was placed on the disabled list Friday with a strained oblique.
An oblique strain has been the least of Pham's injury woes.
Playing his first three seasons with poor vision that was eventually discovered and corrected by the Cardinals, Pham hit no higher than .232 before putting it together in 2010, when he batted .339 in his first 38 games for Double-A Springfield.
That's when the rash of injuries started. He was hit by a pitch in August 2010 that fractured his wrist and ended his season.
His 2011 season was cut short after 40 games when he tore a ligament in his wrist trying to rob someone of a home run, and he played in only 12 games in 2012 after tearing the labrum in his right shoulder making a catch in spring training.
Pham was limited to 75 games last year after he tore the labrum in his left shoulder diving back to first on a pickoff attempt and eventually had season-ending surgery.
"Injuries are part of the game, but unfortunately they've happened to me a lot," he said.
Back to full strength this season — only his second in Triple A — Pham is determined to realize his potential.
"I have a lot of ability, man," he said. "I've seen what others can do, guys I've played with or against that are in the big leagues, and I know what I can bring to the table. I don't want to give up on my ability.
"I can run, I can play defense, I can hit and I have some pop. That can help a team."
Healthy again, Pham hopes to earn regular playing time on a team featuring five outfielders, including Cards' top prospect Oscar Taveras, batting over .300.
"That just shows how loaded we are. We're all fighting for playing time," he said. "If I continue to produce — there's 30 teams — someone will take notice."
Who knows? Maybe Pham will be reunited again one day with Blazek.
■ NOTES — Memphis first baseman Xavier Scruggs, a UNLV product, hit a two-run homer in the first inning. … Anthony Seratelli and Cesar Puello each hit a three-run homer for the 51s (45-31), who won their fifth straight.
Contact reporter Todd Dewey at tdewey@reviewjournal.com or 702-383-0354. Follow him on Twitter: @tdewey33.