Locals Gallo, Robinson eye Big League homecoming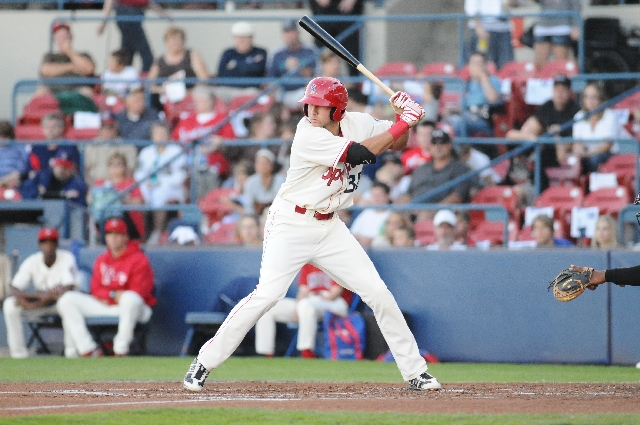 When Bishop Gorman High School played its home games at Cashman Field in 2009, then-freshman Joey Gallo belted one of his state-record 65 career home runs there.
"That was probably my most memorable one," Gallo said. "To be 15 years old and hit one out of a Triple-A field."
Gallo, 19, will return to Cashman Field as a member of the Texas Rangers, who will play the Chicago Cubs at 1:05 p.m. today and Sunday in split-squad exhibition games on Las Vegas' 23rd annual Big League Weekend.
"I was at Cashman a lot when I was a little kid," he said. "I never figured I'd play there in a major league uniform."
Surprisingly, Gallo isn't the only Rangers prospect who plays third base and hails from Las Vegas. Silverado product Drew Robinson also fits that description and will be in a Texas uniform here this weekend as well.
Despite playing the same position for the same organization, Gallo, a first-round draft pick (39th overall) last year, and Robinson, a fourth-round pick in 2010, have become close friends.
"It makes things easier. We have a healthy competitiveness through our friendship, which is kind of cool," said Robinson, 20. "We try to help each other out, but we have fun with it.
"He's got all the power, but I just try to stay myself and not do too much."
Gallo, who hit .509 with 21 homers and 80 RBIs last year for Gorman en route to Gatorade Nevada Player of the Year honors, was tabbed by Baseball America as the best power hitter and third-best arm among high school draft prospects.
Todd Guggiana, the Rangers' area scout for Southern California and Southern Nevada who signed Gallo and Robinson — who both bat left and throw right — said Gallo's power potential is unlimited.
"I've been doing the same area for 17 years and have never seen power like this from a high school kid," Guggiana said. "(Miami Marlins right fielder) Giancarlo Stanton and him are two of the best power guys I've been able to scout, and Joey is more advanced than Stanton was as a high school player."
Gallo, who is armed with a fastball approaching 100 mph and pitched a no-hitter last season for the seven-time defending state champion Gaels, could have been drafted as a pitcher but didn't want to be.
"That's not where my heart was at," he said. "I wanted to hit and play every day."
The Rangers are glad he did. Rated Texas' No. 9 prospect and best power hitter by Baseball America, Gallo set the Arizona (Rookie) League record for home runs (18) in 43 games last season en route to league Player of the Year honors.
He hit .293 and led the league in RBIs (43) despite missing the final two weeks of the season after he was promoted to Class-A Spokane.
Gallo combined to hit .272 with 22 homers and 52 RBIs in 59 games in his first pro season.
"Obviously the power is the first thing that stands out to you with Joey, but the more you watch him the more his entire game grabs you," said Jake Krug, the Rangers' director of minor league operations. "The way he runs the bases, his feel for the strike zone, the way he carries himself, his ability to make an adjustment."
Robinson, rated Texas' No. 21 prospect by Baseball America, compiled a breakthrough season for Class-A Hickory last year — batting .273 with 13 homers, 67 RBIs, 86 walks and a .409 on-base percentage.
"He's got a great eye and walks a lot," Guggiana said. "It's a big deal for a young hitter to be able to walk and have a good idea of the strike zone. Those kind of guys are hard to find."
Watching Gallo from afar, Robinson was impressed with his power but more impressed with his humility.
"Some guys who come in and do good are pretty cocky and thinking they're above everyone, but he's pretty down to earth," Robinson said. "You can talk to him, rather than be jealous. He's a pretty cool guy."
The 6-foot-5-inch, 205-pound Gallo expects to start the season at Class-A Hickory and hopes to be in the big leagues in two or three years, if not sooner.
"We're hoping he becomes a middle-of-the-order guy that's going to hit 25 to 30-plus homers a year, drive in 100 runs and hit for average," Guggiana said. "The guy's a pretty good hitter, too."
Guggiana also expects Robinson to make it to the majors one day. He's just not sure at which position.
"Drew can play all over the place. I don't know where he ends up," Guggiana said. "He's kind of a wild card, but my gut tells me he'll play in the big leagues some day."
■ NOTES — In addition to right-hander Jeff Samardzija, today's scheduled starter, the Cubs are expected to bring shortstop Starlin Castro, second baseman Darwin Barney and left-hander James Russell to Las Vegas. … Rangers players slated to be here include shortstop Elvis Andrus, catcher A.J. Pierzynski, first baseman Mitch Moreland and corner infielder Mike Olt. … Tickets still are available for both games and can be purchased at the 51s box office, LV51.com or ticketmaster.com.
Contact reporter Todd Dewey at tdewey@reviewjournal.com or 702-383-0354.
CHICAGO VS. TEXAS
■ WHEN: 1:05 p.m. today, Sunday
■ WHERE: Cashman Field
■ STARTING PITCHERS: Today, Cubs RHP Jeff Samardzija vs. Rangers RHP Nick Tepesch; Sunday, Cubs RHP Carlos Villanueva vs. Rangers LHP Robbie Ross
■ TV: MLB (314)