Luis Mateo, bullpen pitch 51s to victory
August 23, 2017 - 12:12 am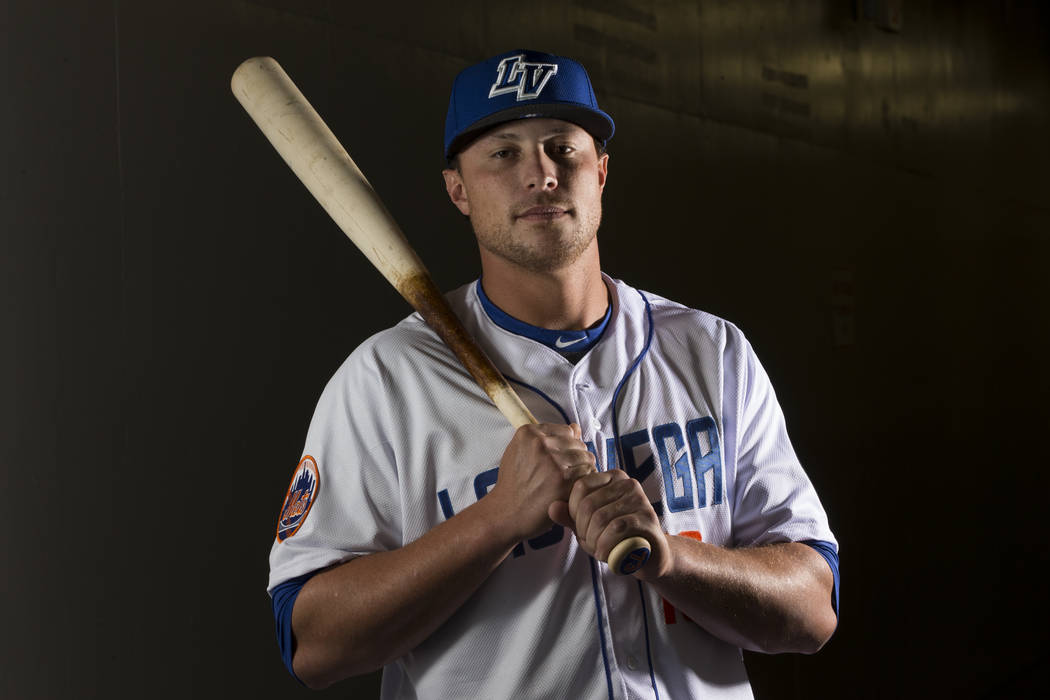 When Ricky Knapp was sent to Double-A to fill in the Rumble Ponies' rotation earlier this month, it left the 51s with a hole in their own rotation.
Enter Luis Mateo.
Mateo, to that point, had sported a 7.56 ERA in 14 relief appearances with the 51s. But in his two spot starts, has now now turned in two solid performances for Las Vegas.
Mateo threw four scoreless innings on Tuesday, giving up just two hits in the 51s' 8-1 win over Salt Lake in the series finale at Cashman Field.
In the start before that, Mateo had thrown three scoreless innings against Fresno.
Mateo said through a translator that he felt comfortable throwing any pitch in any count and manager Pedro Lopez said he thought Mateo, who had been a starter up until the last few years, looked more poised starting.
"I think that he feels comfortable starting," Lopez said. "Fastball command's been better, even though tonight I thought that it was just a little inconsistent but he's been doing a good job these two times that he's started so he's going to go back out there again for a third time and hopefully he keeps doing what he's doing. He's giving us a chance to win ballgames."
He did that Tuesday in his 55-pitch outing.
After Mateo, the 51s (52-78) sent out Kyle Regnault for two scoreless innings, Jacob Rhame for one, Ben Rowen, who gave up a run in his one inning, and Jamie Callahan for the ninth.
The stream of relievers had plenty of backing behind them starting in the first inning with Travis Taijeron's two-run home, his 25th of the year.
After Jeff McNeil drove in a run on an RBI single in the second, Las Vegas hit three more homers in the game.
Travis Snider hit a solo shot in the third inning, Phillip Evans blasted one of his own in the seventh and Jayce Boyd hit a three-run home run, his third of the series, later in the inning.
Boyd had a strong offensive series for the 51s, who won three of four against the first-place Bees (65-65).
"We've been playing well. It's a completely different team from the first half. I think the guys are doing a really good job. They're having fun out there right now. We're winning ballgames so hopefully we can keep playing the way that we're playing at this point," Lopez said. "The guys are doing a heck of the job. The pitchers are pitching well. The hitters are having good at-bats so hopefully we can keep on riding this all the way until the end."
Up next
Who: Reno at Las Vegas, 7:05 p.m.
When: 7:05 p.m. Thursday
Where: Cashman Field
Starters: Jake Buchanan (6-2, 4.44 ERA) vs. Mitch Atkins (4-6, 6.34 ERA)
Next five
Friday: Reno at Las Vegas, 7:05 p.m.
Saturday: Reno at Las Vegas, 7:05 p.m.
Sunday: Reno at Las Vegas, 7:05 p.m.
Monday: Las Vegas at Sacramento, 7:05 p.m.
Tuesday: Las Vegas at Sacramento, 7:05 p.m.
Update
Right-handed reliever Kevin McGowan was called up on Tuesday as the Mets sent lefty Steven Matz to the disabled list. McGowan had gone up earlier in the month but didn't debut. On Tuesday, he threw 1 1/3 innings and gave up one run in the Mets' 7-4 loss to Arizona.
Contact Betsy Helfand at bhelfand@reviewjournal.com. Follow @BetsyHelfand on Twitter.