Mets captain David Wright joins Las Vegas 51s on rehab
August 28, 2018 - 11:01 am
Updated August 28, 2018 - 11:30 pm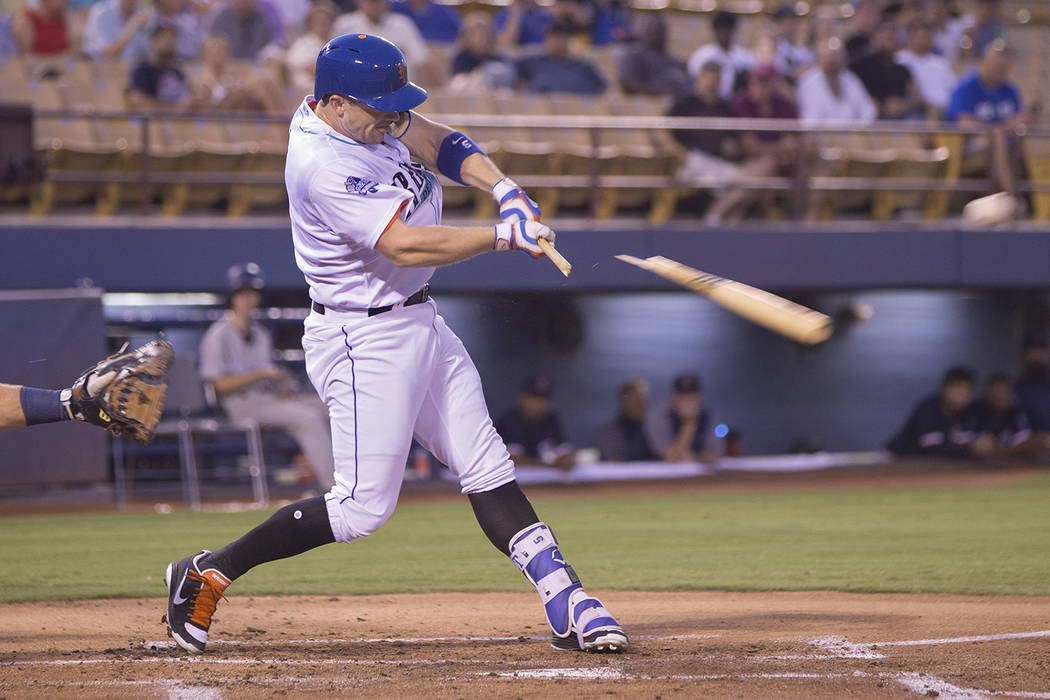 David Wright hasn't played in a major league game since May 2016. There are many who think he might never play in another, much less this year.
But don't count the Mets' captain, who has been dealing with back, neck and shoulder issues.
Wright, 35, moved his rehab to Triple-A Las Vegas on Tuesday after playing 10 games with Class-A Advanced St. Lucie.
"My goal still is to play in the big leagues this year, and although with the comments today, it might not be maybe as soon as I hoped," said Wright, who started at third base and batted fourth Tuesday night when the 51s hosted Tacoma in a Pacific Coast League game. "I think that with the challenge I have physically, I don't think it's out of the realm of possibility that I could play in the big leagues this year."
The comments he referenced were from assistant general manager John Ricco, who told Mets reporters Tuesday that Wright hasn't hit certain benchmarks set out for him.
"It's unrealistic to think he would be activated any time soon based on what we've seen to this point, but we have been taking it step by step and trying to give him every opportunity to get back," Ricco said.
Wright's 20-day window will close Friday, at which point the Mets might decide to have him rehab in Port St. Lucie, Florida, or rehab with the team while remaining on the disabled list.
But he's in Las Vegas for at least Tuesday and Wednesday. Wright was the first player out on the field Tuesday afternoon as part of a lengthy process that often takes him between three to four hours to prepare for a game.
"I've had three surgeries so I have to stay on top of my shoulder, my neck and my back," Wright said. "All three of them are problematic for me and depending on the day, it could be one of those things, it could be two of those things, it could be all three of those things. … You very rarely have good days."
Most days, he said, something's bothering him. The back has been a problem for years and the shoulder, when it starts bothering him, it creeps into his neck and that's when it said it's worrisome for him.
"I'm not going to turn a bad day into a good day, but I think you can turn one of those cranky days into 'OK, this is bearable today,'" Wright said.
So far, he hasn't played back-to-back nine-inning games and he said three days in a row might not be likely right now, but the Mets continue to evaluate him on a daily basis instead of setting rigid plans for him.
Wright called his first week playing games in St. Lucie more like "survival mode," where he was less worried about results and more worried about his body. But in his last 18 at-bats there he had six hits.
"Seeing pitches this last week for me has been more geared toward going out there and trying to produce better results, and I feel like I did that," Wright said.
Though he's trying not to think too much about a potential return to the Mets, it's something that's impossible to ignore. After more than two years, he's hopeful for another opportunity to play in front of his family, including his two little girls, and the fans at Citi Field.
"It's a big goal of mine just because of the amount of work that you put in and the amount of time that you put in and the dedication to rehab that I've put in for two straight years," Wright said. "You want to enjoy the rewards of all that work, and for me, that reward would be to go up to Citi Field."
More 51s: Follow all of our Las Vegas 51s coverage online at reviewjournal.com/51s and @RJ_Sports on Twitter.
Contact Betsy Helfand at bhelfand@reviewjournal.com. Follow @BetsyHelfand on Twitter.