New groundskeeper transforms Cashman's dismal diamond into highly praised field
April 11, 2014 - 12:20 pm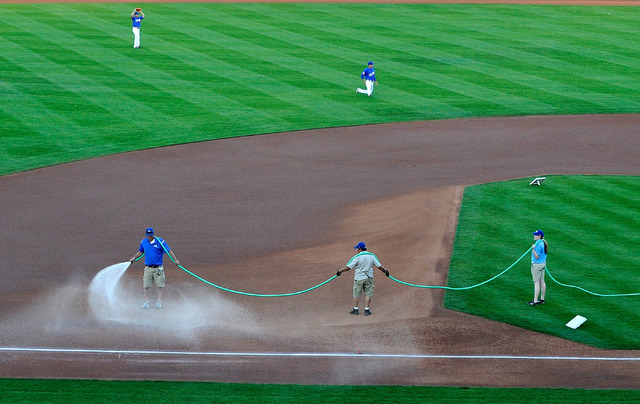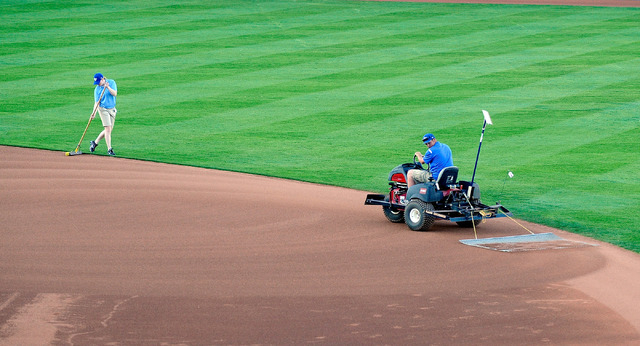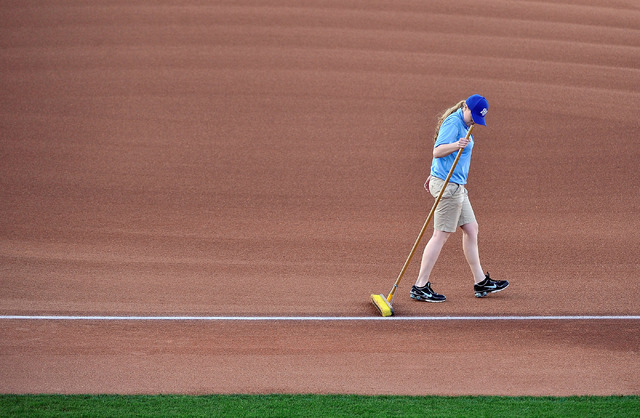 Born and raised in Iowa a few cornstalks down from the site of "Field of Dreams" — his favorite film — groundskeeper Kevin Moses has transformed the playing surface at Cashman Field into something akin to a dream this season for the 51s and parent New York Mets.
"Kevin has done a great job on the field this year. It's still fast but it's night and day from last year," Las Vegas manager Wally Backman said. "I haven't been to all the parks, but there's nobody's that could have improved as much as this park did."
Pitching coach Tom Signore, who rejoined the 51s this year after previously coaching here in 2011, has been blown away by the condition of the field.
"It's plush," he said. "It's not very hard, it plays a lot truer and the bullpen mounds are just like the game mound.
"It's amazing. It's as good a playing surface as I've been on anywhere."
While antiquated Cashman Field has been much maligned for its lack of amenities, its infield has long been criticized for being as hard as a rock.
The sun-baked dirt — or infield skin, as Moses calls it — has caused countless balls to rocket past infielders and take bad hops, so much so that some visiting teams had stopped taking infield practice here.
"I was talking to (Sacramento) manager Steve Scarsone and last year he wouldn't even let his infielders go out there and take ground balls because it was so bad," Backman said.
That's no longer the case.
"It's played softer and played a little bit slower, so we're not seeing as many of those doubles that bounce over the infielders' heads or the fast infield hits, which is more fair," 51s first baseman Eric Campbell said. "There hasn't been that many bad hops. They've been true so far.
"The infield was so fast (last year) that the ball got on you quick. At least this year, it gives you a little more time."
All-Stars David Wright and Curtis Granderson were pleasantly surprised when they played at Cashman in March during a pair of Mets-Cubs Big League Weekend exhibition games, according to 51s third baseman Zach Lutz.
"They said they heard all these nightmare (stories) about the field, but then we went out there and it was smooth," Lutz said. "I think the field is unbelievable."
Mets general manager Sandy Alderson and manager Terry Collins also were impressed.
"I know they hired a new groundskeeper and the field looks absolutely great," Collins said.
Added Alderson: "I think the 51s would admit their facilities here aren't ideal, with an outdoor batting cage and things of that sort. But they continue to make improvements. They have a new groundskeeper here and I think they're moving in the right direction."
Moses, who helped prepare the fields for last year's World Baseball Classic games in Taiwan, first came to Cashman last summer as a consultant for Major League Baseball, which had him rebuild the pitcher's mounds and reset the bases to their proper locations.
He was hired in January by the Las Vegas Convention and Visitor's Authority.
"It's kind of exciting to be at this level of baseball," Moses said.
While he and his staff are responsible for all of the landscaping at Cashman Center, which encompasses 50 acres, Moses is the first groundskeeper with a professional baseball background hired by the LVCVA since the early 1990s.
"We haven't had a baseball guy in 20 years," 51s executive director Don Logan said. "The other guys were landscapers who had to try to learn how to take care of the baseball field. He's truly a baseball groundskeeper. He's outstanding."
Moses, 32, played Division III baseball at Cornell College in Iowa and aspired to become a history professor before discovering his true passion while working a summer job with the Single-A Lexington (Ky.) Legends.
"I was working as a grounds crew person and I fell in love with what I was doing," he said. "I went back to school, took turf classes and worked my way into it."
He became a head groundskeeper in 2007, for the Camden (N.J.) Riversharks of the independent Atlantic League, and has spent the past couple years working for Brickman Sports Turf Services on consulting projects, mostly overseas. In addition to the WBC, Moses helped prepare the field the Los Angeles Dodgers used for a 2010 exhibition series in Taiwan.
Moses said there's no secret to producing pristine conditions at Cashman Field — where the outfield grass was painted green once for Big League Weekend and the mound has required repairs during 51s games on more than one occasion.
"The biggest thing is water and not letting (the dirt) dry," he said. "That's the key right there, especially with how hot it's going to be in the summer. I know it's going to be a challenge but we've just got to stay on top of it.
"A lot of people in the industry say we're not so much turf managers, we're moisture managers. You can have grass and clay out there, but if you're not on top of it with water, it's going to fall apart. It's going to be too muddy or too hard."
Backman is impressed with Moses' work ethic.
"He's here from daylight to dark," he said. "He takes care of (the field) and tries to keep a lot of water on it. Probably 10 times a day, he's watering it. Last year, they watered it before we practiced, then before the game and that was it."
Now if only the batting cage located in the parking lot could be moved indoors, the Mets might be more inclined to renew their affiliation, which expires after this season.
Backman and the LVCVA have discussed the possibility of moving the cage indoors in the Cashman Center exhibit hall, but a decision doesn't appear imminent.
Regarding the Mets' future in Las Vegas, Alderson didn't show his cards.
"We'll just have to see how things develop," he said. "We didn't anticipate being here last year, so the last thing I'm going to do is speculate about next year. But we have a good relationship with the 51s staff here and there are some positive aspects to being out here."
Including a dreamy diamond.
Contact reporter Todd Dewey at tdewey@reviewjournal.com or 702-383-0354. Follow him on Twitter: @tdewey33.