New York Mets call up T.J. Rivera from Las Vegas 51s
August 10, 2016 - 5:26 pm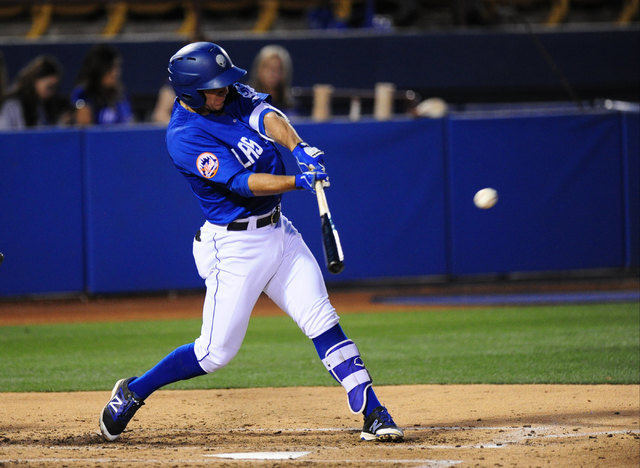 T.J. Rivera will finally get his shot.
Passed up for a promotion multiple times this season, the Mets finally called up the 51s Triple-A All-Star third baseman. He will make his major league debut on Wednesday against Arizona.
Following Tuesday's loss to the Diamondbacks, the Mets optioned outfielder Brandon Nimmo to Las Vegas.
They made the Rivera move official a day later, transferring Lucas Duda to the 60-day disabled list to make room on the 40-man roster.
"He played well enough to be called up earlier, but the roster's always an issue in the big leagues," manager Wally Backman said. "It was time for T.J. to get an opportunity. I really believe that."
Rivera played in the first game of Tuesday's doubleheader against Albuquerque and was absent for the second.
In between the two games, Backman informed him of his call up.
"I told T.J. that I was going to give him a couple days off because he's played hard and so we can make a run at the last 24 or 25 games that we have and he said he appreciated that," Backman said. "Then he started to walk out of the office and I said 'Oh, by the way go see (trainer) Deb (Iwanow) because you've got a flight at midnight tonight.' He went from serious to all smiles."
Rivera will start for the Mets at third on Wednesday. That's where he has primarily played this season for the 51s, but he has also made a couple starts at first, second and in left field.
Just this week, Rivera was named the Pacific Coast League's Player of the Week. He was leading the league in hitting at .349 at the time of his promotion. His 130 hits were fourth in the PCL and his 80 RBIs tied for third.
A native of the Bronx, Rivera went undrafted out of Troy University, but the Mets signed him as an undrafted free agent in 2011 and he has steadily worked his way up the system, compiling a .323 average in the minors.
"You can't teach a kid to hit .320," 51s hitting coach Jack Voigt said earlier in the season. "You can improve a kid's offense but not to that extent. That's why I really believe when he's given a real opportunity to play, that he's going to impress some people in the big leagues."
Betsy Helfand can be reached at bhelfand@reviewjournal.com. Follow on Twitter: @BetsyHelfand
Like Vegas Sports News on Facebook: