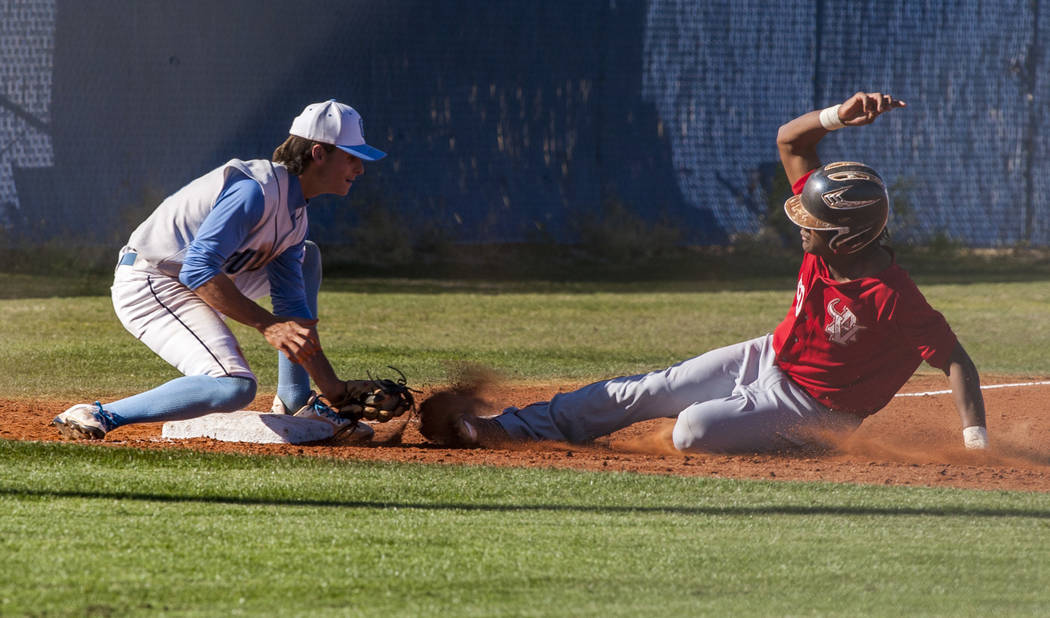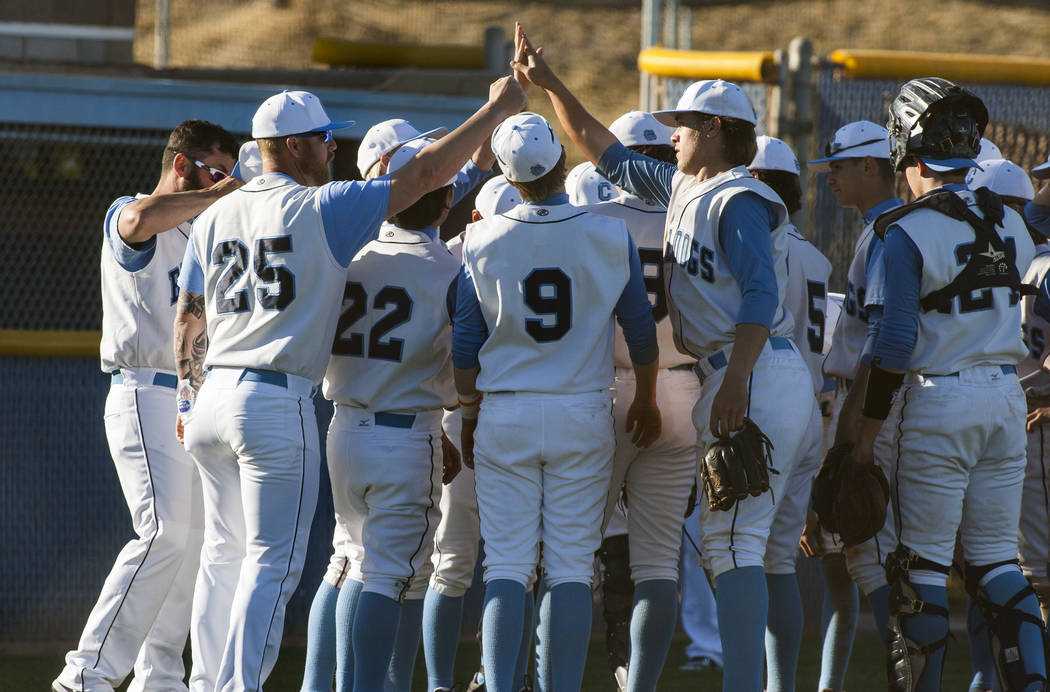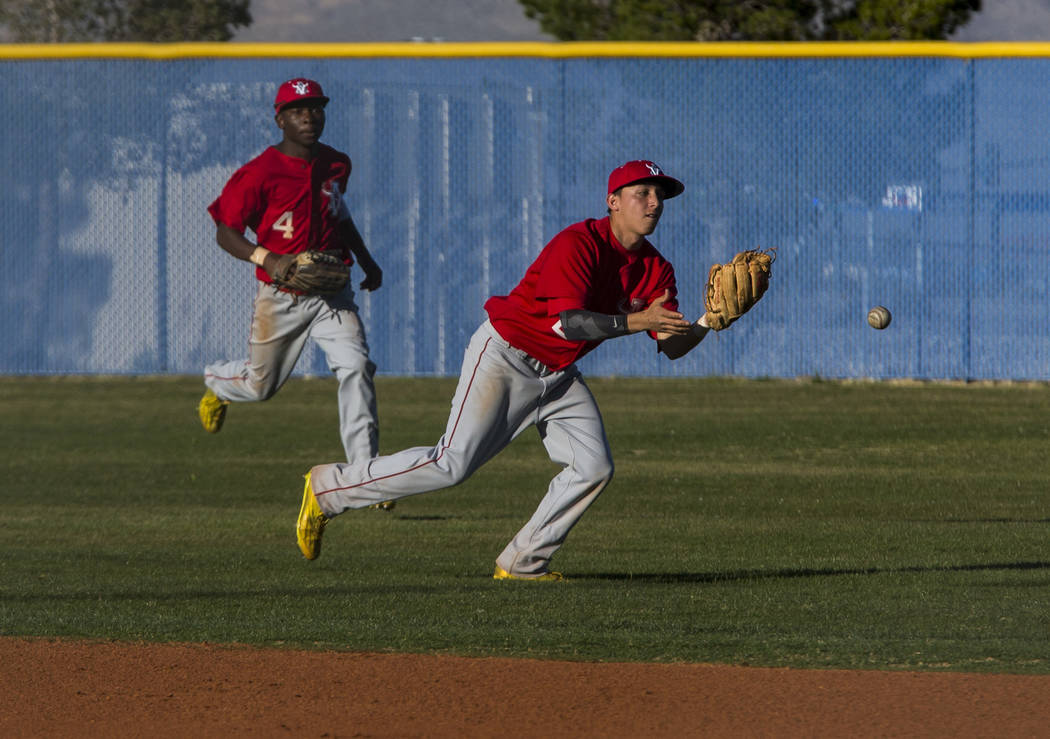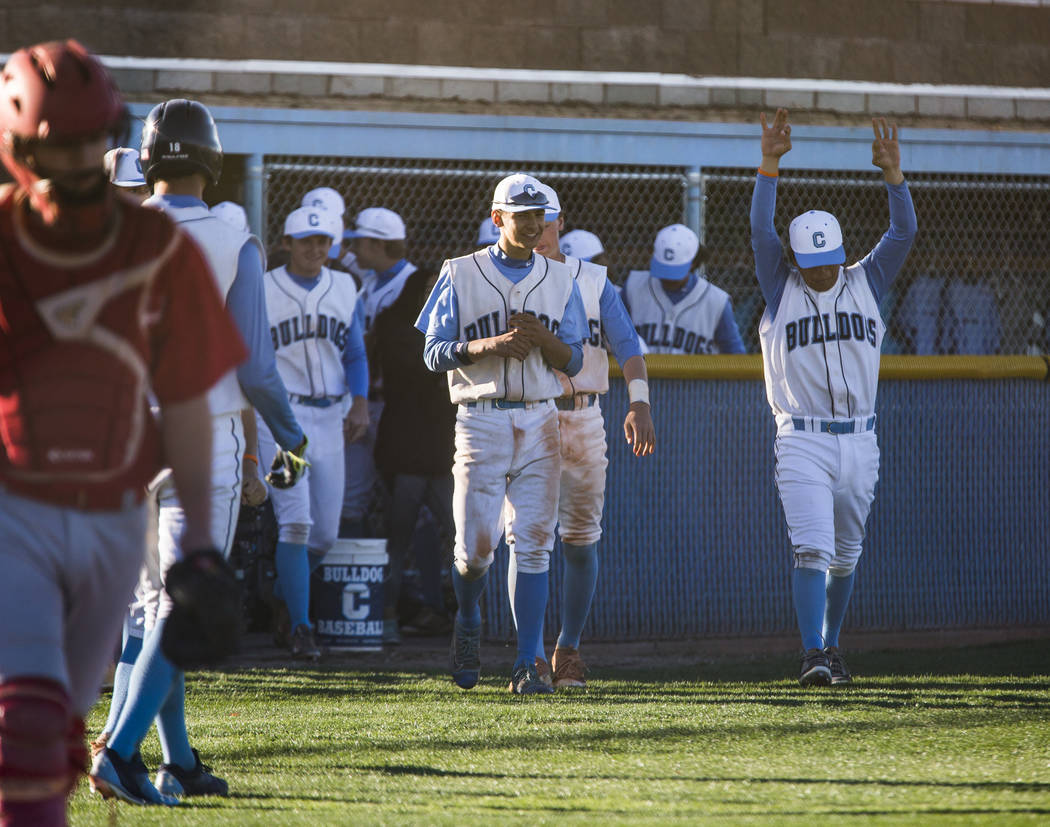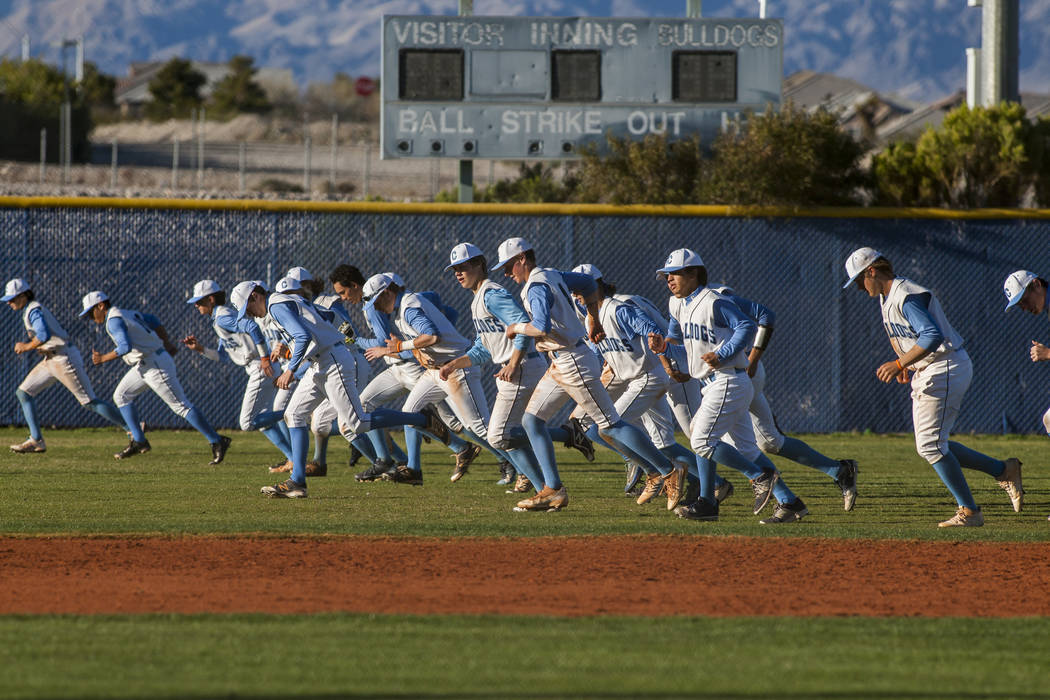 Centennial's baseball team lost plenty of offensive firepower from last season's Sunset Region runner-up squad.
You wouldn't have known that Friday.
The Bulldogs smacked 11 hits and rolled to a 12-2, six-inning victory over visiting Arbor View to complete a sweep of the three-game Northwest League series with the Aggies.
"We're still finding our way because we graduated so much of our offense," Centennial coach Charlie Cerrone said. "And the kids are coming along just fine. They're sticking together."
Centennial (9-2, 6-0 Northwest) has battled through some tight games early, winning three one-run games, including a 5-4, nine-inning victory over Arbor View on Wednesday. But the Bulldogs took control early Friday after a two-run homer by Austin Kryszczuk in the first inning.
"To send (Nik) Dobar out in the second inning with some runs, that was nice," Cerrone said.
Centennial added two runs in the second and seven in the third, and Dobar did his part by throwing strikes. He gave up two runs on seven hits in four innings to get the victory. None of Centennial's three starters in the series walked a batter.
"We've been very fortunate," Cerrone said. "Our pitchers have pounded the strike zone all week."
Kian Wilbur went 3-for-4 with three RBIs and two runs, and Zachary Hare was 2-for-3 with two runs and two RBIs for the Bulldogs. Kris Bow was 2-for-4 with a double and Kryszczuk drove in three runs.
"We're not firing on all cylinders yet, (but) we're finding a way to win," Cerrone said. "The best part about this group is they're resilient. They don't give up during any game. We've had several games where we've gone down to the wire."
Ryan Lystlund was 2-for-3 with two RBIs and Trey Urban went 2-for-2 for Arbor View (4-6-1, 0-3).
Contact prep sports editor Damon Seiters at dseiters@reviewjournal.com or 702-380-4587. Follow @DamonSeiters on Twitter.
Box score:
Friday's highlights
Baseball
— Foothill's Kelton Lachelt allowed one run on five hits with six strikeouts in a 2-1 home win over Coronado.
— Shadow Ridge's Jax Holzem had a squeeze bunt to score Tyler Black in the eighth inning in a 9-8 win over Canyon View (Utah) in the U.S. Bank Spring Dust Off in St. George, Utah.
— Del Sol's Chandler Miller hit a three-run homer in a 12-2 road win over Mojave.
Softball
— Foothill's Makenzie Andrews had a triple and three RBIs in a 4-3 home win over Coronado.
— Silverado's Megan Johnson was 4-for-5 with a double, a triple, a home run and six RBIs in a 15-4 road win over Eldorado.
— Green Valley's Savannah Fabro went 3-for-3 with a triple and three RBIs in an 18-0 home win over Canyon Springs.
For complete coverage, see nevadapreps.com.