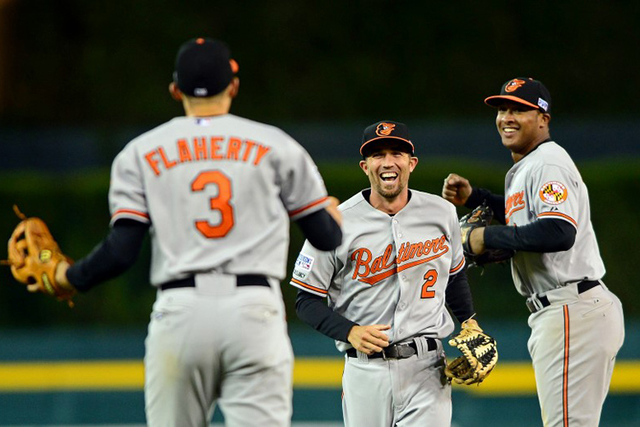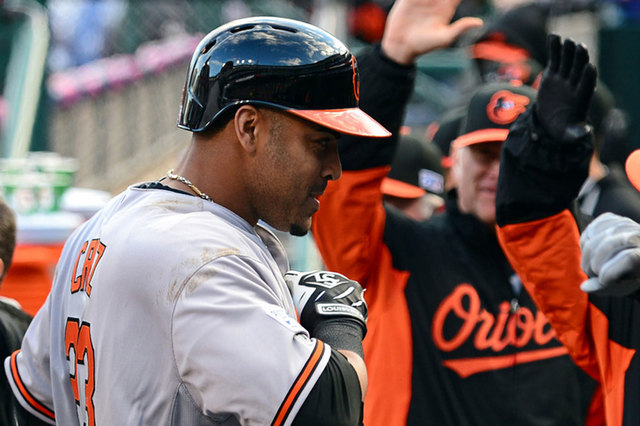 DETROIT — Nelson Cruz squeezed a two-run home run just inside the base of the right field foul pole in the sixth inning, leading the Baltimore Orioles to a 2-1 victory over the Detroit Tigers on Sunday and a three-game sweep of the American League Division Series.
Right-hander Bud Norris and two Baltimore relievers combined to throw a four-hitter.
The Orioles will play the Kansas City Royals, who defeated the Los Angeles Angels Sunday night, for the start the AL Championship Series on Friday.
The three consecutive losses marked the first time Detroit was swept out of an opening postseason series since the playoffs were expanded in 1969.
In the bottom of the ninth, designated hitter Victor Martinez greeted Orioles closer Zach Britton with a leadoff double to left-center on a 1-2 pitch. Left fielder J.D. Martinez rifled an 0-2 pitch off the base of the wall in right-center to ruin the Orioles' shutout bid.
Britton earned his second postseason save by striking out catcher Bryan Holaday, then getting pinch hitter Hernan Perez to hit into a 5-4-3 double play following an intentional walk to third baseman Nick Castellanos.
In the Baltimore sixth, center fielder Adam Jones grounded a one-out single up the middle before designated hitter Cruz lifted a 1-1 changeup from left-hander David Price (0-1) right down the line and into the first row of the seats.
Cruz feasted on Detroit pitching in two playoffs series, the first with Texas in 2011, for a total of eight home runs and 18 RBIs in nine games. He broke a tie for 10th place with Babe Ruth for most postseason home runs and is now deadlocked for ninth with Carlos Beltran.
Norris (1-0) went 0-2 with a 6.39 ERA against Detroit in the regular season this year, but he was masterful in mixing pitches and spotting his fastball Sunday. He kept the Tigers scoreless on two hits through 6 1/3 innings.
Norris walked two and struck out six. He retired 11 batters in a row until walking Castellanos with one out in the seventh. Left-hander Andrew Miller entered, got two straight outs, then set down the side in order in the eighth.
Price gave up two runs on five hits in eight innings, walking two, hitting one and striking out six.
With Detroit desperate for an early spark, shortstop Andrew Romine bunted to second trying for a single with two outs in the second and catcher Alex Avila on third, but he was thrown out on a close play. Avila doubled with one out and advanced on a fly ball.
Norris stranded runners at second and third in the third, a throwing error by shortstop J.J. Hardy prolonging the inning, by getting Victor Martinez to fly to shallow center on a 2-2 pitch.
The Tigers lost Avila in the sixth when he was hit in the mask by a foul ball, the third time this season he left a game due to concussion symptoms.
NOTES: CF Rajai Davis was absent from Detroit's starting lineup due to soreness in his left pelvic region. He was replaced by Don Kelly, who went 1-for-2. … Baltimore scored 12 of its 21 total runs in the eighth innings of its series sweep. … Tigers LF J.D. Martinez hit a home run in each of his first two postseason games, the 15th player in major league history to do so. … Orioles LF Alejandro De Aza, a left-handed hitter, did not start against Tigers LHP David Price. LF Delmon Young replaced him and went 0-for-3. Manager Buck Showalter moved 1B Steve Pearce up to second in the order, where De Aza was hitting, and Pearce finished 0-for-2 with a walk.