Outfielder designated twice, traded, reclaimed in two months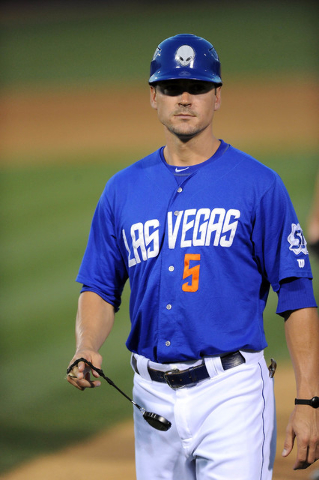 Similar to how an adept major league hitter is dealt off-speed junk in the batter's box, Las Vegas 51s outfielder Kirk Nieuwenhuis has not seen a lot of fastballs in the life department lately.
The Mets' former third-round pick, in fact, has gotten quite a bit of curveballs — the kind reserved for perennial All-Stars such as Miguel Cabrera, Mike Trout or Robinson Cano.
In a span of just two months, the 6-foot-3-inch Nieuwenhuis has played on two major league teams and has been designated for assignment twice, traded for cash and then reclaimed by the team that got rid of him. But all that seems to be ancient history, as the 27-year-old recently has begun living up to the expectations many set for him early in his career when he contended for National League Rookie of the Year honors in 2012.
"This year has really taught me not to plan ahead," Nieuwenhuis said. "Really to take it one day at a time. It sounds cliche until you experience something like this. It's really taught me a lot about where my priorities are and where baseball fits into that. I'd been relying on baseball a little bit too much for happiness. It's kind of put me in my place a little bit."
Nieuwenhuis, who went a combined 6-for-60 (.100) with the Mets and Angels this season, has seen a resurgence playing every day in Las Vegas. In just 10 games, he is batting .375 with six home runs and 16 RBIs.
He scored the winning run Sunday in the 10th inning of the 51s' 4-3 victory over the Sacramento River Cats at Cashman Field.
"I've had Nieuy before, and I'll tell you this, he's a major league player," 51s manager Wally Backman said. "He just needs to get the proper amount of at-bats and be with the right club. He's a good player."
While playing in the majors this season, Nieuwenhuis mostly was relegated to pinch-hitting roles. As a result, he never quite found a rhythm.
He opened the season 3-for-38 with 17 strikeouts with the Mets prior to being sent to the Los Angeles Angels for cash May 27. Following a 3-for-22 effort in Southern California, Nieuwenhuis was again designated for assignment June 10 and — to his surprise — was picked up by the Mets just three days later.
"The Angels thought it was pretty strange, too," Nieuwenhuis said. "I kind of thought I was headed to Salt Lake to be on the other side of the dugout. … It has definitely been a whirlwind. To be honest, I'm still trying to get my feet under me a little bit. The best way to describe it is you feel like you keep getting pounded in ways and you're not sure which way is up. That's kind of how it felt the last month. Just a lot of emotions."
Added Backman: "When you ask a young player to just strictly be a pinch hitter, it's the hardest thing you can do in baseball. That's what I did at the end of my career. But I had a lot of years under my belt. You take a guy like Nieuy at the start of this year, and he was basically pinch hitting. There was no regular playing time. You're facing the eighth- and ninth-inning guy. I don't care if you put a 15- or 20-year veteran in that spot, if that's all they're going to do, that's a tough spot."
Should the Mets suffer any injuries in their outfield, Nieuwenhuis has made a strong case for another call.
"It feels good to get things back on track and get some at-bats," he said. "It definitely feels good, especially after the year I've been having. … I always knew (baseball) is what I should be doing. But it kind of drags out when you pinch hit. It's a little bit magnified, I guess, because you're not out there every day. You can get down on yourself a little bit easier."
■ NOTES — Las Vegas, which has won four consecutive games, will be looking for the series sweep over Sacramento at 7:05 p.m. today. Right-hander Tyler Pill (2-4, 6.56 earned run average) will start for the 51s, while Sacramento has yet to announce a starter. … Las Vegas is 15-5 in its past 20 games. … The Mets optioned left-handed reliever Jack Leathersich to the 51s. Another move is expected Tuesday to clear space for Daniel Murphy.
Contact reporter Ashton Ferguson at aferguson@reviewjournal.com or 702-383-0430. Follow him on Twitter: @af_ferguson.