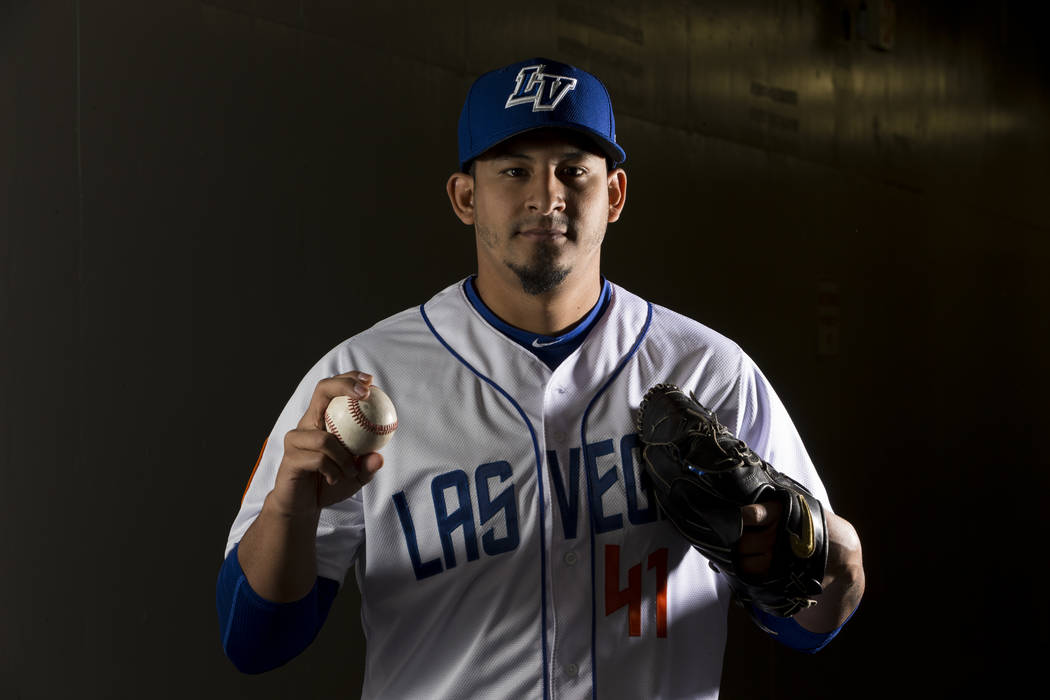 Las Vegas has seen plenty of the Aces in the past few weeks.
But finally, mercifully for the 51s, they are done with Reno after being swept in a four-game set by the Aces after a 4-3 to loss on Sunday night at Cashman Field.
The defeat marked the team's 12th loss in 16 games to Reno (77-57), including seven this month.
"Every year you have one of those teams where you can't quite get over that hump with them and they just have your number and it seems to be this year with Reno," third baseman Josh Rodriguez said.
Starters Wilfredo Boscan and Anthony Banda faced off for the third time this season and for the second time, Banda, the Diamondbacks' No. 4 prospect, outdueled Boscan.
The 51s had jumped out to an early lead, scoring on RBI hits in the first inning from Travis Snider and Rodriguez.
But Nick Ahmed, on major league rehab from the Diamondbacks, tied the game up with a two-run blast in the third inning.
From there, the Aces took their first lead an inning later, after Boscan hit Ahmed with the bases loaded to plate a run.
Back-up catcher Jeff Glenn tied the game up for the 51s (52-82) in the bottom of the frame with his first home run of the season but the Aces surged ahead once again in the fifth with an RBI single from Evan Marzilli off of Boscan.
Boscan went five innings in the game, giving up four runs on seven hits while striking out four.
"It's a good hitting ball club and when you're playing against a good club, you've got to make sure you execute pitches and unfortunately we haven't been able to do that even though that I thought Boscan made a couple mistakes," manager Pedro Lopez said. "Overall I thought he battled, he kept us in the game and just unfortunately … we couldn't get anything going with the bats against a good pitcher."
His counterpart, Banda, gave up the three runs on eight hits while striking out nine in six innings, including five of the last six that he faced in his outing.
"Early on he was attacking everybody with the fastball and we were able to get a few hits early but as he got around through the lineup a few more times, he started mixing up his pitches and throwing offspeed a little more," Rodriguez, who collected two hits off Banda, said.
The 51s will now head out on the road for four games to face Sacramento before coming home to face Tacoma for four to finish off the season.
"Just like I told the guys today, we've just got to make sure that we keep the same approach and the same intensity," Lopez said. "I understand we're down to the last eight games of the season but there's still a lot of guys out there that are playing for something so hopefully they can keep doing it but it's a different club. Most of the guys are up in the big leagues now. Either that or hurt and we've just got to make sure we keep battling with what we've got."
Up next
Who: Las Vegas 51s at Sacramento River Cats
When: 7:05 p.m. Monday
Where: Raley Field, West Sacramento, California
Starters: Luis Mateo (1-0, 5.32 ERA) vs. Andrew Suarez (6-5, 3.28 ERA)
Next five
Tuesday: Sacramento at Las Vegas, 7:05 p.m.
Wednesday: Sacramento at Las Vegas, 7:05 p.m.
Thursday: Sacramento at Las Vegas, 7:05 p.m.
Friday: Tacoma at Las Vegas, 7:05 p.m.
Saturday: Tacoma at Las Vegas, 7:05 p.m.
Update
The 51s placed right-handed starter Donovan Hand on the temporarily inactive list on Sunday as second baseman Dale Burdick was promoted from Double-A to Triple-A. Burdick was hitting .218 in 73 games across two levels this season.
Contact Betsy Helfand at bhelfand@reviewjournal.com. Follow @BetsyHelfand on Twitter.