Rivera farewell tour should be savored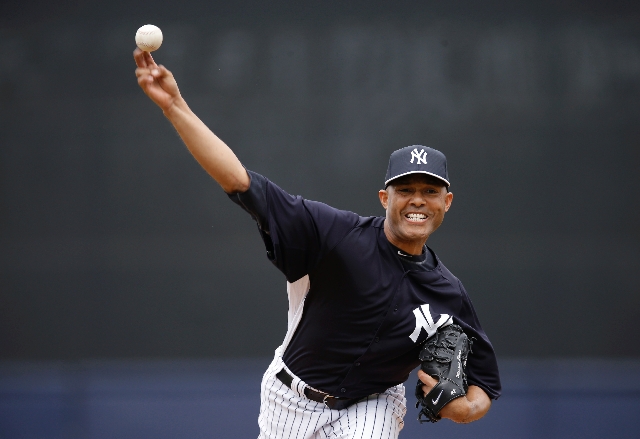 The last save will be the toughest of them all for Mariano Rivera.
The cities and stadiums all will be familiar after 18 years crisscrossing the country, glove in hand.
The reception in what will be his final season might be different because even fans who never wanted to see him get the last out will want to see his last hurrah.
The way the Yankees are aching and aging, it could end in, of all places, Houston, where the New Yorkers close the regular season against the assuredly hapless Astros.
But if all goes by the script Rivera envisions, the last pitch of his career will be made in the last inning of the final game of the World Series.
The only thing certain is that this season is the end. After nearly two decades in pinstripes, the greatest closer ever finally is closing it out.
He never intended to have a farewell tour, until he blew out a knee early last season. Now that he will, he's going to enjoy his last ride.
"There's nothing to be sad (about)," Rivera said. "I did everything within my power to enjoy the game, to do it well, to respect the game of baseball. Have so much joy, and no one can take that joy away from me."
That joy was evident Saturday in Florida, where Rivera threw in a game for the first time since he tore the anterior cruciate ligament in his right knee in May.
It was a fifth-inning appearance in a spring game, but the 43-year-old on the mound didn't look much different than he would in the ninth inning in the postseason.
A popup followed by two strikeouts. The master of the single inning barely broke a sweat.
It came just a few hours after Rivera formally announced it soon was to be over, that this season would be his last. Forgive Yankee fans if they never want to see it end.
If baseball is a game of numbers, his will make him a part of Yankees lore forever. He rarely pitched more than one inning at a time, but he goes into this season as baseball's all-time saves leader with 608, converting 89.3 percent of his 681 opportunities, numbers that might never be matched. He's won 76 other games and, pitching in a time when steroids reigned, has an ERA of 2.21.
Rivera has only one pitch, a cutter that over the years flummoxed hitter after hitter even though they knew it was coming. Most already are swinging toward where they think the pitch will be when it takes a sharp twist left at the plate and either eats up a lefty or finds the outside corner of the plate for a right-handed hitter.
He's not the first closer with a signature pitch. Bruce Sutter was about to wash out of baseball until he learned his, a split finger that looked like a fastball until it got to the plate. Now he's in the Hall of Fame, a prototype closer who became the first pitcher elected there who never started a major league game.
When it comes time to vote on Rivera for Cooperstown, there will be no debate. He'll likely go in on the first ballot, wearing the pinstripes he proudly wore his entire career.
The clock to that won't start ticking until the end of this season, one Rivera didn't expect to be playing. He wanted to retire after last season but wasn't going to go out with the last vision fans having of him writhing in pain after tearing his right ACL while shagging fly balls during batting practice in Kansas City.
In typical Rivera fashion, he was more concerned about his team after that game than himself.
"You feel like you let your team down," he said the night he was injured.
No, Rivera didn't let his team down. He never did, even if he occasionally failed, most memorably in the 2001 World Series when manager Joe Torre put him in for a rare two-inning save in Game 7 and he allowed the tying and winning runs to the Arizona Diamondbacks.
Mostly, though, he routinely was brilliant in a game in which brilliance is so hard to sustain. He was even better once the postseason began, once pitching 33 1/3 consecutive scoreless innings on his way to 42 postseason saves and five World Series titles.
Rivera was Most Valuable Player of the 1999 World Series, a year he finished with 43 straight scoreless innings, though he never was MVP of the American League. Incredibly, he never has won a Cy Young Award, either, a reflection more of the bias of voters to starters than the amazing stats he put up season after season.
Fittingly, Rivera's first inning of work this spring came on the same day Derek Jeter came back from his broken ankle to single in his spring training debut.
Along with Jorge Posada and Andy Pettitte, they were the core of the Yankees teams that won four World Series in five years as baseball entered a new century.
Their era is coming to an end, as all eras do. The Yankees of 2013 are an uncertain collection of aging and injured veterans, not the swaggering Yankees of a few years back. Some rebuilding likely is to be done before they are a World Series threat again.
Rivera refused Saturday to call himself the greatest closer of all time, and that's fine. We'll do it for him, and we'll miss him when he's gone.
Before that happens, though, we have one more season to celebrate everything about Mariano Rivera and his remarkable career.
Tim Dahlberg is a Las Vegas-based national sports columnist for The Associated Press. Write to him at tdahlberg@ap.org or http://twitter.com/timdahlberg.