Salt Lake snaps 51s' seven-game winning streak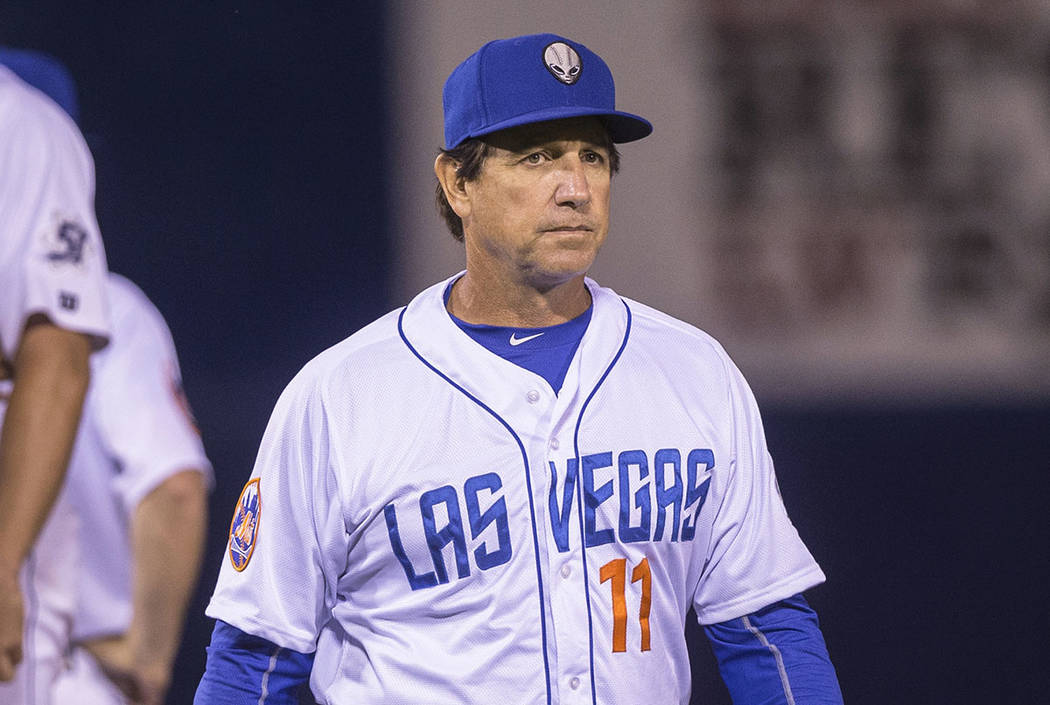 Every time the 51s got close on Tuesday night, the goalposts kept moving just a little bit further.
Las Vegas, which found itself down five runs before even hitting, battled back throughout the game but never grabbed the lead in a 14-12 loss to Salt Lake in the series finale at Cashman Field. The loss snapped 51s' seven-game winning streak.
"It was just one of those nights there where you just can't stop it," manager Tony DeFrancesco said. "Baseball gets like that in this league. It's one of those games, 14-12 games, you wish you would put up zeroes. Guys were trying to throw strikes and make pitches. That team losing seven in a row, they were bound to win a game."
Shortly after Zach Borenstein's two-run blast tied the game up in the bottom of the eighth inning and sent the announced crowd of 9,321 into a frenzy, Michael Hermosillo responded with a solo shot of his own off Jacob Rhame to give the Bees the lead back.
"That kind of took the air out of the balloon right there, as they say," DeFrancesco said.
Eric Young Jr. gave the Bees (45-40) an insurance run with a long double which plated Taylor Ward.
"A game like this tonight, nothing is for sure but with Rhame going out there the way he's been throwing, we definitely anticipated a scoreless inning and a chance to come back there and put one on the board," Borenstein said. "We could have done something there in the ninth but it just didn't happen for us."
Hermosillo, the Salt Lake center fielder, was a tough out for the 51s (40-45) all night, going 4-for-5 while left fielder Rymer Liriano finished the night with five RBIs.
Before Borenstein had tied the game, the 51s had been clawing back since the first inning as starter Cody Martin was rocked in his outing.
He gave up hits to the first four batters of the game and getting two outs, allowed a three-run blast to Liriano. He came back out in the third and faced four batters, but couldn't retire any of them, giving up four runs. In total, he gave up nine runs on nine hits in two-plus innings pitched.
"Sometimes it seems like he's either on or he's off and when he's off, runs come quick," DeFrancesco said.
But the 51s, who had scored a run in the first inning on a Jeff McNeil home run, came back with seven runs between the third and fourth innings to cut the lead to 9-8 before Kyle Regnault gave up a pair of his own runs in the fifth inning.
"You knew right away when you started chipping away — it was 9-5, 9-7 — we started getting back into it (that) it was going to be one of those games and it was kind of going to be one of those things where whoever scored … last in the ninth was maybe going to get that win," Borenstein said.
The 51s responded, scoring a pair of their own in the bottom of the fifth before finally tying the game in the eighth for just a brief period of time.
"Obviously even when you're playing hot you're going to lose games and this is definitely one of those takeaways where you say 'Hey, we got down early and nobody gave up,'" Borenstein said. "We all believed that we were going to win that game and I think if we had played another couple of innings we probably would have come away with it but just kind of ran out of time."
More 51s: Follow all of our Las Vegas 51s coverage online at reviewjournal.com/51s and @RJ_Sports on Twitter.
Contact Betsy Helfand at bhelfand@reviewjournal.com. Follow @BetsyHelfand on Twitter.