Slimmed down Dominic Smith adapts to Triple A with 51s
Updated April 14, 2017 - 10:05 pm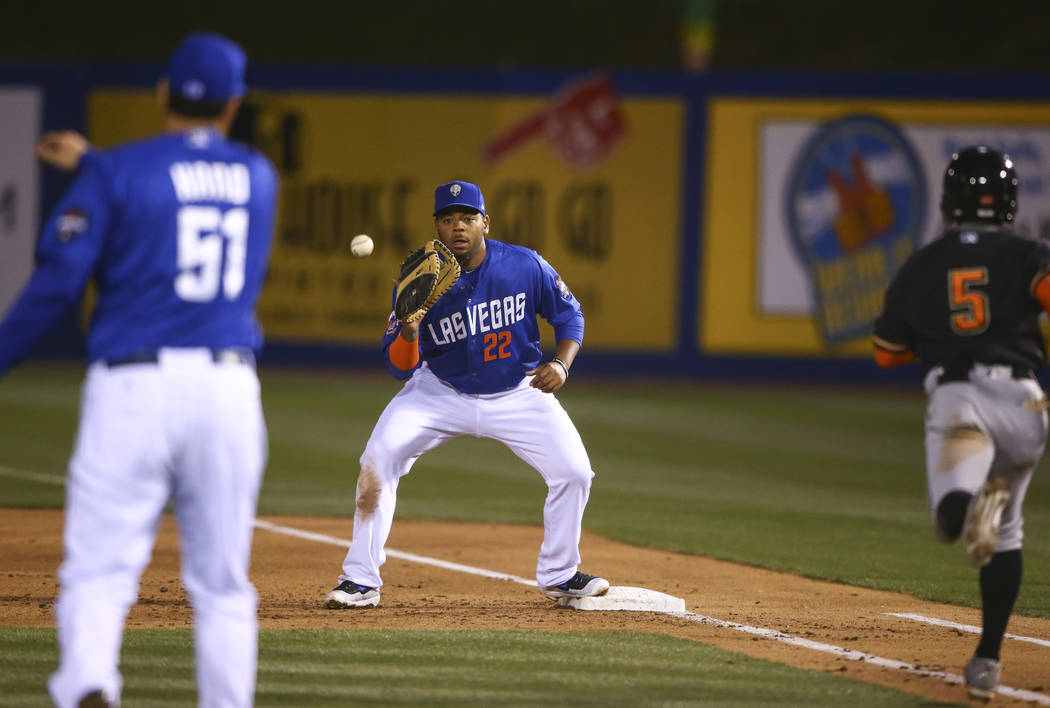 A season ago, Binghamton manager Pedro Lopez would see his big first baseman, Dominic Smith, bring boundless energy to batting practice.
Once gametime arrived, the manager noticed Smith's energy level had been drained.
"He used to tell me and he was like, 'I just don't sleep,'" Lopez recalled.
Smith, now with the 51s, missed a game last season at Double-A Binghamton to have testing done overnight. The result was sleep apnea, Lopez said.
"They took him to the hospital, got tested, so now he sleeps with a machine that allows him to sleep better," said Lopez, in his first season as the 51s' manager. "Of course, if you sleep better, you eat better and you're able to do certain things, so that's what he did and it paid off."
Smith also made other changes. He said he was out of shape and overweight at the end of the season, so he devoted himself to getting in shape as he prepared for his first season in Triple A, where the New York Mets' second-ranked prospect has gotten off to a quick start.
He lost 24 pounds by trading McDonald's and Pizza Hut and other "greasy and cheesy" foods for healthier options.
Breakfast typically would consist of four eggs, half a cup of oatmeal and half an avocado, and lunch and dinner was often grilled chicken, brown rice and broccoli. His trainer would allow him a cheat day on Saturdays.
"I joke with him all the time. I'm like, 'I don't want to see you eating anything bad,' because he looks great right now," Lopez said. "I'm really proud of him. He did his homework in the offseason."
Smith also spent time working on his swing as he prepared for the move in levels.
"I just wanted to work on pulling more pitches this year," Smith said. "I feel like if I would start pulling more pitches, I would start hitting more home runs, and so I really wanted to work on getting to my legs a little bit more."
Smith, the Mets' first-round pick in 2013 at 11th overall, flashed more power last season at Double A, hitting 14 home runs after having no more than six in a season.
He hit .302 with 146 hits and 91 RBIs in 130 games last season while providing the solid defense at first base that he is known for.
"He's major league first base ready right now," Las Vegas hitting coach Jack Voigt said. "He's got a really good glove, and he's got some power that … still needs to be developed, especially at this level on when and how to look for pitches to certain at-bats, runners in scoring position to when to look for one pitch, one location and do his damage at one time."
This season, Smith is hitting .417 with four doubles, five RBIs and one home run in nine games. He went 2-for-4 with one run, one double and one RBI in the 51s' 4-2 victory over the Fresno Grizzlies on Friday night at Cashman Field.
The 6-foot, 235-pounder said he's noticed a big difference between Double-A and Triple-A pitching, but he seemingly has adapted well.
"Triple-A pitchers, they're a lot smarter than Double-A pitchers," Smith said. "They don't give in too much. You've got to be patient. They could throw every pitch for a strike. They could start you off with it, and then throw an even better to strike you out with it, so stuff like that and (I'm) trying to just be smart and trying to just not chase pitches."
Smith was a nonroster invitee at major league camp this spring. Now that he's one level from the majors, he said he feels more relief than pressure because he knows what to expect.
"I'm pretty excited to be in this league," Smith said. "I've heard a lot of good things about it. We've got a great team, great guys around you that you can learn from, guys who played in the big leagues. It's pretty exciting when you can be around those guys, especially when they've had success in the big leagues and in this league as well."
Contact Betsy Helfand at bhelfand@reviewjournal.com. Follow @BetsyHelfand on Twitter.
Dominic Smith file
Age: 21
Bats/throws: Left/Left
Drafted: First round (11th overall) by the New York Mets in 2013 out of Junipero Serra High School in San Mateo, Calif.
Ranking: No. 2 among Mets prospects (63rd overall) by MLB.com entering 2017 season.
2016 highlights: Finished third in the Eastern League in RBIs (91) and hits (146) and eighth in batting (.302) for Binghamton.